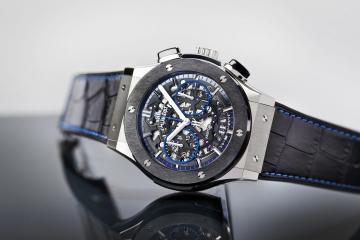 Watches today have become something beyond just a timepiece. Yes, they do tell the time, but they carry a lot of symbolism with them too.
There are many watches on the market these days, from minimal watches to watches with many complications, so anyone can find a watch that is suited for their needs, style and preferences.
However, when it comes to watches, many times people are looking for a piece that is special and not something everyone has.
For those who are looking for something that will make them stand out from the crowd, there are some pieces that are really outstanding. For example, Swiss watch brand Hublot has partnered up with The Watch Gallery and have created the " Chronograph Aerofusion " watch, which is equipped with brand's iconic HUB1155 movement and which features many interesting characteristics, such as the 45 mm polished and satin-finished titanium case, the rhodium-plated dial and the semi-mat black alligator leather strap, which is sewn onto black rubber. The watch, which features a vertical satin-finished black ceramic bezel and a polished titanium crown, is made in an edition that is limited to 25 pieces.
This watch is a truly unique piece that we love and that is really a good example of a great watch. But, if you have a great watch, regardless of what this means for you, you should enjoy it for all the right reasons. Here are the top three reasons why you should own and wear at least one watch: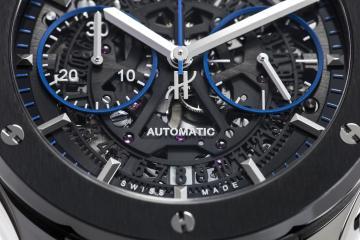 Since we can now tell the time from many sources: phones, billboards street clocks, towers, etc., a watch's main function has shifted from it being a piece that would tell the time to speaking about the wearer's style.
A good watch is an indicator of someone who pays attention to details. Moreover, the type of watch you wear is a strong indicator of your personality: dive and aviator watches go hand in hand with a sporty personality, minimal watches are obviously for the minimalism-oriented guy and classic watches are for those who believe in the timelessness of style.
Of course, watches are for some an indicator of economic status, given that many watches can cost a lot of money, wearing a rather expensive watch conveys a message of financial stability.
Whatever people might say, wearing a watch around your wrist is a very easy and comfortable way to tell the time. Phones show of course the time, but maybe you are not always in the ability to check your phone or if you simply don't like checking your phone so often, wearing a great watch can be a very practical thing.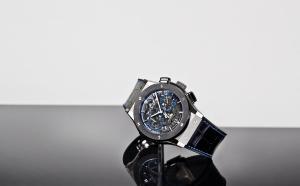 Watches are great accessories that can style up even the blandest of bland outfits. If you want to take your style to another level, but don't want to wear necklaces, bracelets, pocket squares and other similar pieces, a watch that features a great aesthetic is the best way to go.
Fortunately, most watches are very versatile and can be worn with a wide variety of outfits and in a large spectrum of settings.
One should however always remember that any accessories you might wear should be proportionate to your body size. For example, if you are a bigger guy, you should wear a larger watch, while smaller men should opt for thinner watches. Doing the opposite won't work well. Bigger men who wear small watches will appear strangled by their timepieces, while smaller men who wear large watches will look burdened by their watch. Of course, medium-sized men will look best wearing medium-sized watches.
Also, given that many watches feature elements made from metals, one should always remember that metals are neutrals. Therefore, they can be worn with any color, pattern or texture and with each other. It is not a faux pas to wear both gold and silver at the same it.
As you can see, wearing a great watch has a lot of advantages: you can communicate your style easily, you can always be on time and you can style up any outfit in no time.
The only thing one needs to worry about is finding that perfect watch that works for him and own it!
Fraquoh and Franchomme
Further reading:
What make a quality watch?
The complete guide to choosing a watchUniversality in elegance: Finding the perfect watchEmotion and design: The aesthetics of watches3 Reasons to buy a preowned watchThe guide to dive watchesDetails you should know about watchesHow to match your watch to your clothesThe guide to minimal watches
P.S. Why do you wear a watch? What watch do you wear? How did you choose it? Share your feedback, questions or thoughts in the comments below! For more articles on style, fashion tips and cultural insights, you can subscribe to Attire Club via e-mail or follow us on Facebook or Twitter!