While a majority of filled positions are due to "who you know," connecting is not the point of networking.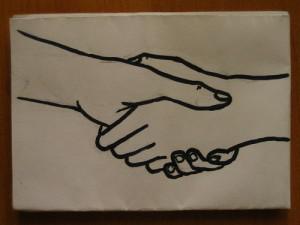 Photo from Aidan Jones, Creative Commons
How often are you looking for a new job? In 48 Days to the Work You Love: Preparing for the New Normal, Dan Miller shares that "the average job is 3.2 years in length, meaning the average person will have 14 to 16 different jobs in his/her working lifetime."
Networking isn't a 3.2 year occurrence. It's not a date you can set on your calendar. You can't attend the local Chamber event once a year to show your face. It needs to be an ongoing process.
So, although every 3.2 years you may need to use a connection to find new employment, what happens during that in-between period?
1. Mentorship.
If you don't say in touch with your network, how do they know you need to be connected? Or, better yet, how are they going to connect you?
Networking provides a great opportunity to meet people inside and outside your industry. It minimizes the phenomenon of groupthink and provides different perspective and experiences.
And, if the time comes, changing industries will be easier.
Ever heard of the Biologist turned Cupcakery Owner? (I watch Cupcake Wars on Food Network). Although you may not be that extreme, transition will be easier if you have a variety of mentors.
2. Reflection.
It is interesting to learn why someone wants to connect with you. The other day I mentioned my blog to someone who was taking photos of me, and in less than 5 minutes, I was back in her office talking about WordPress.
Networking allows you to see your social reflection. Do people come to you because of your job? Your industry? Your personality?
And better yet, why don't some people approach and connect with you? Reflecting on these things will help you understand where you need to improve and what your strong points are as a networker.
3. Improvement.
As we allow time for self and social reflection, we begin to realize things about ourselves. When we learn the why, we can start to improve. Maybe we seem grumpy or frumpy. In today's world, people want to connect with successful and fun people. If you have neither to offer, I'm guessing the line to greet you is short.
Luckily, it's not permanent. Attitudes are adjustable. And really, it's all about how you present yourself. Review your elevator speech (and if you don't have one –please write one). There is nothing worse than someone asking what you do or who you are and you stumble over the words. (I've been that stumbler before!)
Be confident. There is only one you, and you are here for a reason. Serve it well.
What are the reasons you network? Leave a comment below!
*Photo from Aidan Jones, Creative Commons.
Disclosure of Material Connection: Some of the links in the post above are "affiliate links." This means if you click on the link and purchase the item, I will receive an affiliate commission. Regardless, I only recommend products or services I use personally and believe will add value to my readers. I am disclosing this in accordance with the Federal Trade Commission's 16 CFR, Part 255: "Guides Concerning the Use of Endorsements and Testimonials in Advertising."