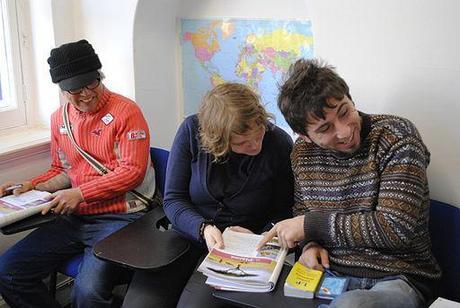 Image via Wikipedia
Foreign language school
Teachers in a foreign language school establishing basic definitions to provide worth teaching mainly to international students by looking at what the learning principles of teaching a definite language. They cautiously examine the ways of teaching in the view of the past what research has trained language teachers along the way.
And those principles are highly regarded in a language of any kind applying the basic and important methods for students to learn in order to compose a proper sentence.
There are various considerations that can be cleared as the broad area of learning methodology. From the grammatical translation to audio-lingual method, the series of method must be comprehended accurately; or else, false construction of words might give you a humorous impression to listeners.
That is why, these 3 primary views on the level of language learning that has been viewed centrally since 1980s:
1. The structural view (Grammar) – this indulge the system of language structure that's connected to the fundamentals to code meaning.
2. The functional view – this observes the language as means to attain a certain purpose including as requesting something.
3. The interactive view is the analysis for the construction and maintenance of community dealings that mainly focus on patterns of actions, negotiation and communication set up in conversational exchanges.
A learning method of learning a language, English for instance, is a plan to present that should be supported upon a chosen 'approach'. And to translate this 'approach' into a method, the pondering of the purpose of learning instructional system must be chosen and organized for the presentation of content, as well as the task to be accomplished, in additional to students and teachers roles.
To learn English at language school is a unique technique that is a very concrete way to get done an immediate purpose. Moreover, because of the standard teaching stratagem ways of teachers in language schools that have gone regarding the teaching of foreign languages, the success have granted massive changes over the century.