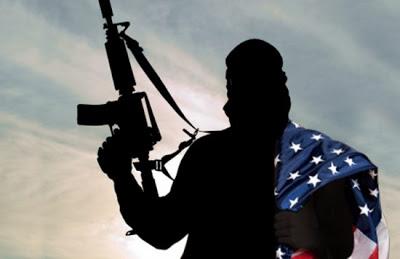 We have known for a while that there are certain elements in this country, like the armed militias in many states, that are on the verge of stepping over the line of patriotism and into treason. Some of them are already over that line. In fact, these people are more dangerous than islamic fundamentalists (and that has been verified by government studies). The only thing that has made me feel better about these nuts is the thought that they are a very tiny minority of our population.
But a new poll shows that might not be true. People considering a treasonous armed rebellion against our government may comprise a much larger percentage of the population than previously believed. At least that's what a new Fairleigh Dickinson University Poll (conducted between April 22nd and 28th of a nationwide sample of registered voters -- with a 3.4 point margin of error) seems to show.
The poll results said about 29% of Americans believed an "armed rebellion" might be needed in "the next few years" to "protect our liberties". I'm not sure just what liberties these people are worried about, since the poll didn't go into specifics about that (and the truth is that we are more equal now than at any time in our history -- except in economic terms). I suspect these liberties involve the right to discriminate against other Americans they disagree with, since the percentage who think armed rebellion might be necessary goes up significantly when only Republicans are considered. Almost half of Republicans (44%) believe this.
Here are the poll's numbers, with those agreeing being the first number given (and those disagreeing being in parentheses):
IN THE NEXT FEW YEARS AN ARMED REBELLION MIGHT BE NECESSARY TO PROTECT OUR LIBERTIES.
General public...............29% (47%)
Democrats...............18% (61%)
Independents...............27% (45%)
Republicans...............44% (31%)
Men...............30% (50%)
Women...............29% (45%)
High school...............36% (35%)
Some college...............31% (44%)
College grad...............22% (60%)
And it might be even worse than those numbers show. About 5% of the general public was unsure, and another 19% refused to either agree or disagree. As a loyal American, I have to admit that these are very disappointing numbers.