Summer Staple

s

. Here's another "3 of my fave things" post.  I tend to write a lot about beauty products on these posts. I think it's a fun change from writing about fashion since beauty is my second favorite thing to talk about. I've been MIA on the blog lately since I'm home in Aruba for a short Summer break. So excuse my lack of posts as the beach just seems to be calling my name the whole time. To go back to the topic- these are my  current favorite things for the Summer season:
"Butler Please": I discovered this color by Essie while browsing on Instagram. It seems to be a very popular color for this season and I'm definitely in on the bandwagon. I love how fun and bright this color is. I feel like it looks nicer with two coats on and honestly, the color on your nails actually looks much nicer then the color in the bottle, but that's just my opinion. 
Drop necklace: I bought this before my trip to Aruba at So Good accessories in SoHo. I talk about this accessory boutique a lot. Whenever I go into this place I can never just look-it's a problem. I love the bohemian feel and look of this necklace and how it can add that extra something to an outfit. I'm currently wearing it with a black maxi dress and I love how stylish and effortless it looks.
Lush's "Ro's Argan Body Conditioner": this has got to be the best skin conditioner I've ever used in my life- and no, I'm not overreacting. A girlfriend of mine gifted this to me for my birthday and I've been obsessed ever since. I noticed an immediate improvement of my skins smoothness. This is a must try for everyone who wants smooth skin and the calming Rose/Argan scent just completes the whole package.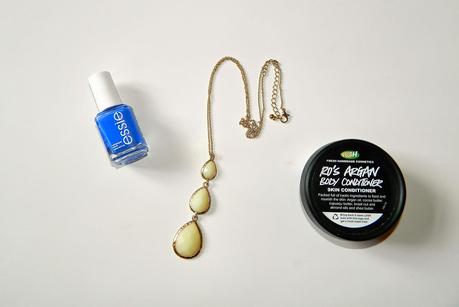 I hope you enjoyed reading this post. Have an awesome weekend! Xo