Beauty. Time for another three of my favorite things post. This time it's all about my current favorite beauty products. After fashion, beauty is my favorite subject to talk about. Whether it's the latest make-up launch, perfumes or nail art- I love it all.
Lush Fresh Face Mask: Lush is quickly becoming one of my favorite brands. They have a wide variety of organic products and the face masks are my personal favorites. I was looking for something that would make my skin feel fresh and smooth. Ever since I moved to the city, my skin has been suffering a little from the dirty polluted air (one thing that I absolutely hate about this city is its pollution). So this was recommended to me and I love it. It has ingredients like papaya, honey and coconut oil among others which are all known to do wonders for the skin. A must try!
Marc Jacobs Beauty: Marc Jacobs' beauty line has been receiving a lot of attention lately and I can completely see why. I love the packaging of all his make up and the options are just endless. I'm not the type of woman who wears bright colors for lips so after trying about 90% of the lip products, I decided to go with this subtle rosy pink shade called Role Play. I feel like this this color complements all skin tones and the vanilla scent just adds to this sleek lipstick
Peter Thomas Roth: sure, this just looks like another body lotion but there's just something different about this one. I've had this for a while but just never got around to trying it. I'm glad I did because I just love the feel, the smell and the results. If you're looking to try a new brand, check  Peter Thomas Roth out. I love how smooth and nourished my skin felt afterwards. I will definitely be using this a lot for the upcoming Fall and Winter season because dry skin is something that happens way too often during this season.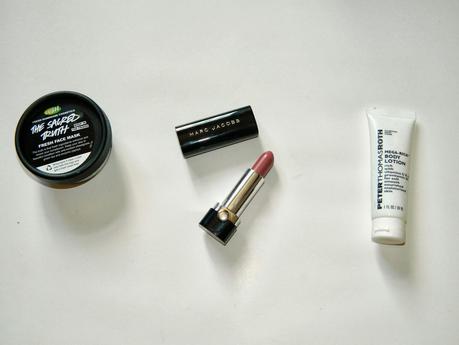 I hope you enjoyed reading this post and hopefully you have bit more knowledge about some beauty products! Xo