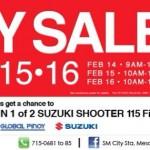 You know how you can save huge amounts of money in personal items like clothes and accessories as well as home appliances and other stuff? Just find out which mall in the Philippines is on sale! Every year, the malls hold sales on different dates, allowing shoppers to choose which mall to visit (or avoid) on a specific weekend. And yes, sales always happen on weekends! And this February, guess which mall is having a 3-day sale? If it hasn't been quite obvious by the permalink, it's
SM City Sta. Mesa
.The 3 day sale starts on 
Feb 14
,
Valentine's Day (!!!!!)
 so this is going to be a 2-in-1 big day (read: plenty of people flocking to SM City Sta. Mesa, and there will surely be a long line to the women's toilets!) with up to 70% off on selected items. Helping make the event spectacular are a live phone-patch at Magic 89.9 on Feb 14, between 7 am to 10 am, AND DJ Danny of MOR 101.9.  

I like that SM Global Pinoy partnered with Suzuki to give away 2 Suzuki Shooter 115 Fi's. It's not unusual for SM (or any other mall for that matter) to give away prizes for the masses, but I find the motorcycles an interesting choice.