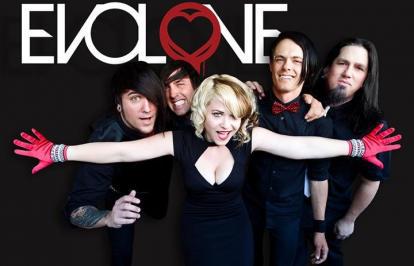 An unconventional claim to fame has branded these rockers as one to watch.
Fronted by a female vocalist, pop rock outfit EVOLOVE proves that the ladies can throw down with the best of 'em. Lucy Levinsohn provides lead vocals for the majority male band, with Billy Berman on bass, Dave C. and Colby Jensen on guitar, and Andrew Carroll on drums.
Hailing from Los Angeles, California, EVOLOVE is no stranger to the music (or television) scene. Thanks to FreeCreditScore.com's band search in 2010, EVOLOVE experienced their first brush with mainstream success. A finalist in the search, the band was featured on a TV spot for the company. The commercial first aired during the MLB All-Star game on FOX, with subsequent airplay on channels such as ESPN, CNN, and CNBC. (x)
Back in 2009, the band worked with Brian Virtue (30 Seconds To Mars, Deftones) to mix their first extended play, 2012: Countdown to the End, which was independently released. With this five-track album under their belt, EVOLOVE was thrust back into the spotlight; thanks to a music licensing agreement with MTV, EVOLOVE was yet again able to reach a nationwide audience. Music from their first EP was featured on MTV'sMade, True Life, and Teen Mom. (x)
In the summer of 2010, music from EVOLOVE was also featured on ABC Family's hit television show Pretty Little Liars; 3 of the 5 songs fromCountdown appeared on the show. (x)
In August of 2011, the band released their second EP through HeartChord Records. Another five-track release, Breaking Heartstringswas composed entirely of new material.
Only one year later, EVOLOVE has multiple things on the horizon. With two national tours behind them, the group is currently prepping for a few upcoming shows in support of their third release. On August 12th, the band will perform for 100 lucky fans via online venue, StageIt. They'll be playing their most requested songs for an overall 30-minute set, and tickets are still available. Additionally, EVOLOVE will be headlining theRockstars & Pin Ups show at the legendary Roxy Theatre on August 20th.
The group's debut full-length album, Acoustic Sessions Vol. 1, drops on August 14th.  An interesting début, Sessions seamlessly mixes old and new; with four brand new songs, the album is mainly composed of stripped-down tracks from their previous EPs.
"Everything's Falling," the album's first single, is a bittersweet ode to heartbreak. Lyrics like "you brought me back to life, and then you shot me down again" give the track a rough edge, setting it apart from other songs about love lost.
New tune and personal favorite, "The Dream," is a highly relatable track that touches on self-reflection and looks towards the future. Another noteworthy track is "Toyshop Girl." Originally released on their first EP, the song is stripped down acoustically, allowing for a much-needed grittiness to shine through.
Fans of female-fronted rock groups Flyleaf and Halestorm will appreciate this new addition to the scene.