When we want to break virgin territory around the world, we wheel out the big guns.  London, Paris, Munich, Billericay?  All covered by yours truly.  But what about New Zealand? What about events in the ASB Premiership?  We knew just the man.  Gary McDowell.  So we sent him off with no expense spared via London Southend, Riga, Vladikavkaz, Almaty, Saigon and Tuvalu with a small packed lunch.  We didn't hear from him for 10 days and were starting to get worried for the return of our Tupperware box.  But then the following report arrived in our inbox today.  hallelujah! The legend is alive and well and still propping up the bar at Auckland City!
Now earlier this year, the fates transpired for me to provide my first @theballisround match review and I was truly honoured. I happened to be taking a long weekend in Washington DC and the rest, well the rest you can read here.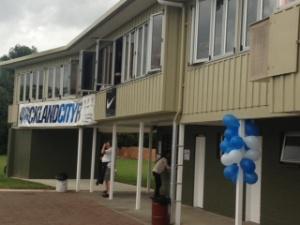 Now I'm not a cynical man
[TBIR: oh yes he is]
but when I had an upcoming trip to New Zealand and I mentioned this over a pint at the world-famous Market Porter pub in Borough Market, no sooner had the words passed my lips but theballisroundphone (like the bat phone but hard-wired to football) was whipped out, an app started and a match selected. It started to feel a little less like, 'good last review Gary, how about another' and more, 'we haven't had a review from NZ, can you go'. I'm not a proud man, and just like the last time, the footballing gods (not Pele and Chris Waddle) had worked things out beautifully. Not only were Auckland City playing at home whilst I was there, they we top of their league, it was my birthday (give or take a day) and they were 8 minutes from where I was staying. You can't thumb your nose at fate like that!
A couple of quick calls later and Stu confirmed that he could indeed cover my expenses. Unfortunately, this didn't mean my flight, accommodation and match ticket [TBIR: Don't forget the Tupperware!]. It turned out to mean your ticket and a pie, but don't go mad on the pie.
Now unless I've got this wrong, this will be the first NZ soccer…sorry football review for @theballisround so I hope it lives up to expectation and you enjoy.
For those of you that have never been to New Zealand, it's a land of great natural beauty, basically formed from volcanic activity and they are rugby 'til they die. Everything is geared to rugby and I mean everything. You're nothing at school unless you play for the first XV and it continues in that vein until you realise you won't be an All Black. That basically means that football/soccer gets the thin end of the wedge. Other things you won't find a lot of in NZ are gyms or dentists. The place has one of the highest heart disease rates in the world and that's not helped by finding pies sold on every street corner. They are great pies though!
On with the story. Now I have to give you a little backdrop to my visit, trust me it helps set the scene. My kids live permanently in NZ and I get to see them twice a year. This is a bummer (understatement) but more importantly means that I have Daddy duties to perform in order to keep the whole thing interesting each time I see them. This trip we were staying mainly in Auckland and upon arrival I did what any good Daddy does. I gave them a great big hug and then I played the guilt trip blackmail upon them a.s.a.p. 'Now kids, the only thing Dad really wants to do whilst he's here, for him, and for his birthday is to go and see a football match'. Reading this back, I can't believe I said that bearing in mind the game but I did. Now, if you're going to play a card that big, as Stu will tell you, there's got to be a bit of, what's in it for me and a bit of what's in it for you. So, on the day of the match, Saturday 14th January, I established that we would get up, go to a play gym in the area first, do something they like, then head off to the football for the 2pm  kick off, see the match.  Everyone's a winner.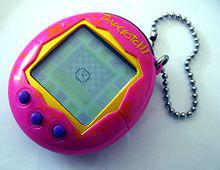 To make a short story long – the tale of the pre-match events went something like; absolutely pouring with rain (fingers crossed for Four Seasons in One Day); trip to play gym takes 1 hour not 20 minutes as the motorway is shut; upon arrival the kids pipe up that you need socks to go in this play gym (Kiwi kids invariably never wear shoes, let alone socks), it's summer, they are in sandals/jandals and 'we never thought to tell you'; turn around, go back, get socks, detour to avoid the motorway, clock now says 12pm ; play for an hour and a half, order some food whilst there otherwise the natives get restless and complain they are hungry 2 seconds after you leave (any of this familiar parents?); leave with 30 minutes to spare, feeling particularly smug, plenty of time, half way there and I happen to say
'where's the Tamagotchi?'
. Cue tears, it's been left behind, the end of the world is occurring for my 8 year old, who incidentally has been killing them left right and centre but this ones a keeper! I moan out loud,
'the one thing I wanted to do'
and the little sobber in the back says
'it's ok Dad we can leave it, I know you want to see the football'
. Heart strings snap, turn the car around, the whole way explaining someone might not have handed it in like we would, we shall see. Tamagotchi has been handed in, the universe which stood on the brink, rights itself and the US returns to defcon 4. Upshot, we get to the game about 12 minutes late.
I'm 'helping' the kids out of the car as quickly as I can to hear a medium cheer from Freyberg Field…the unmistakeable, 'the home side has scored' cheer. Bugger. Now, the entry fee is pretty reasonable, kids under 11 are free and adults pay $10. Bearing in mind it costs close to $5 for a coffee, it's pretty cheap and upon name dropping @theballisround and that I was writing a review somebody rushed me a programme to boot! Soccer in NZ is purely amateur but it's fair to say that Auckland City are set up in a professional fashion compared to some of the teams. They have a head coach, Director of Football, goalkeeping coach, multiple physios and a logistics manager. To illustrate this point, the opponents in the game I watched, Canterbury United, had a coach, an assistant and a manager. This has paid dividends for AFC over the years with them acquiring a Spanish coach, who brought Spanish players with him (from Barcelona I was told…but not Messi) and being geared towards winning or gaining entry to the Oceanic Champions League. This provides a showcase for the players (one just transferring to Dinamo Tbilisi) whilst also promoting the sport more in competitions such as the FIFA Club World Cup Finals. All the time this is trying to push for professionalisation and equalisation with things like the A-League in Australia. I doubt this will ever truly happen in NZ if I'm being honest. The population is just too small to really accommodate the infrastructure, players or even fan base but one thing you can never underestimate about this nation is the size of their heart or passion for their nation!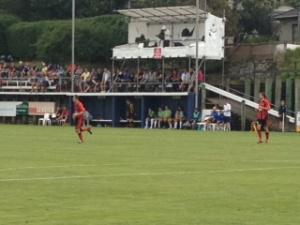 Now where was I ? Right, we'd just got into the stadium, blagged a programme and were surveying the savannah. The stadium was pretty full, it was the first game back after the winter break (an Oxymoron if ever I heard one – Winter break in the "summer season")  and the main stand, which had capacity for about 500 was burgeoning. The was a very small barmy army of expats bouncing up and down, obviously looking for their football fix but with 2 kiddies in tow, I decided we'd stay down the cleaner language end. The highlight from this bunch was a rendition of
'I am a City fan, I live in Sandringham'
to the tune of Anarchy in the UK. I was kindly informed by a nearby fan that number 9 or 11 had scored – that accurate and as I write this, with little Internet connectivity, I'm still none the wiser. I was pleasantly surprised with the skill level on show. There was some obvious quality on display but also some obvious lack of it.
Just like in Washington, I suspected that there would be one or two individuals that might look the men apart and capable of turning the game in either direction as the remainder of the half, which truly wasn't inspiring, played out in a familiar fashion. Both teams would get the ball at the back, hit it long to a target man or try for a wing man who had a turn of speed. The problem with this approach was that every time the wide players beat someone, there was nobody of any quality in the box or the final ball was too poor. The number 10 for AFC, who really were the more dominant team stood out, Luis Corrales. With a name as exotic as that, I was a little disappointed to hear a very broad Kiwi accent when he slid into the hoardings with an expletive or two.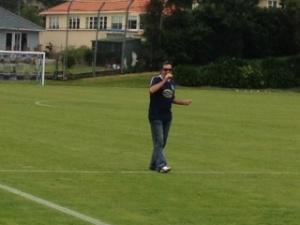 What wasn't disappointing was the catering and half time fair though. The two teams trudged off down a makeshift tunnel and we made for the food. Meat in bread and two hot chips later (cold chips are in fact crisps) we were greeted by Marty Clark, the half time karaoke sensation that is brought on to 'entertain' you. Marty belted out such classics as Sweet Home Alabama whilst we mingled in the clubhouse. This was a great little place. Full of scarves, trophies and locals out for the crack of the day. A lot of English accents merged with the Kiwi and the traditional non confrontational home and away fans shared a beer or two. The aforementioned Lionel Messi even has a place on the wall with a random I didn't recognise but I'm sure Messi was pleased with the snap anyway!
The second half was a much better affair. We moved ourselves to the half way line to be closer to the bench and the ref so I could try out some bone-fide Lewes FC style heckling. AFC were playing a very strange formation. They had 3 at the back but not in a classic 5-3-2 formation, they literally had 1 centre half and 2 full backs…they were that wide. Any pressure Canterbury applied was quickly swarmed with the Auckland number 13, Alex Feneridis dropping into the second centre half position. Out on the flanks Canterbury were also quite impotent with seemingly the numbers to really overlap and outnumber this formation but no tactical guile or on pitch sense to try it.
Auckland started much the brighter of the teams. They weren't going to sit or risk sitting on 1-0 and they kept pushing forward. They had a neat outlet in Corrales and they had direction. On 54 minutes they played an overlap down this right flank but the cut-back was over elaborated on and the shot tamely saved. The Auckland centre half and skipper, Ivan Vicelich was a step up in class. Tall and composed he dictated a lot of the AFC attack, direction and marshalling. Give Canterbury their dues, the game opened up and started to be a contest. As a consequence of pressuring themselves, they left themselves open for a second and through a counter attack on the left it came via Manual Esposito who tucked the ball over the on rushing keeper with a tidy right foot finish.
The game should have quickly been 2-1 as Feneridis, who I didn't think was having a good game, was turned far too easily in the area, the ball squared for the unmarked number 11 of Canterbury, Matt Thomas, only for him to shoot tamely and straight at the keeper. Feneridis looked more the part as either a centre half or midfielder but this duality of position saw him turned twice more, in less dangerous positions but turned nonetheless. It's at this point that the aforementioned class should tell. The tactically savvy would have said that attack was indeed the best form of defence. Throwing a second striker on, pushing someone up, overloading the flanks, all of these would have put AFC under more pressure but they were playing too far in their comfort zone. Only concentration or lack of it was going to beat them.
The referee sensing that no-one had noticed he was on the pitch so far took matters into is own hands. Corrales wriggled free one too many times down the right and was cut down by Cole Peverley. This didn't go down well with the mini maestro who promptly shoved his hands in Peverely's face. This of course turned into a push back but after 3 minutes of assistant and referee conferring, what should have been two yellows, shake hands, get on with it, turned into 2 reds…and it didn't serve any purpose. It's at this point I trotted out my favourite heckle from the Lewes game I saw earlier this season 'come on ref, we've all had a drink'. Canterbury were now lost, they weren't a man down but they we rudderless. Auckland fancied another chance on 81 minutes. The ball worked across the area with everyone too afraid to pull the trigger, eventually ending in one over the top, despite a cue of people available to hit it.
During these final minutes one of the leagues top scorers and cut above players Emiliano Tade made his entrance. This guy has a turn of pace, control and the greed of a striker. He made his presence felt with the blues third goal on 88 minutes. What seemed to have been over complicated by the more average players yet again, was returned to Tade who started the move. He swiveled and right footed, struck it in the bottom corner. This guy will score many more this season and although he's maybe not big league material, he's a big fish in this pond.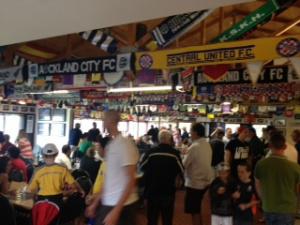 Game over. So how do I sum it up? A very enjoyable game. A very welcoming club. A major event to get there but incredibly worthwhile and my birthday treat. Thanks @theballisround!  Now about that packed lunch box..
Gary can be hired out to attend your random sporting events around the world.  He is an expert at making paper airplanes and is the only man on record to have his arm broken by a Swan in 2011.