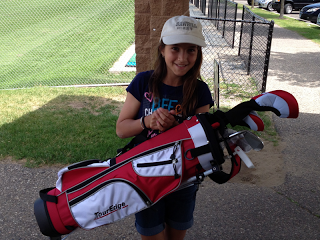 Golf retailer 2nd Swing is now a Gold Corporate Partner with charitable organization The First Tee.
Minneapolis, Minnesota (EatSleepGolf) August 13, 2013 - Twin Cities-based golf retailer 2nd Swing Golf recently surpassed $50,000 in donations to The First Tee, becoming a Gold Corporate Partner with the youth development organization, which introduces golf, and its inherent values, to young people. By taking club donations earmarked for The First Tee and selling them on its sales channels, 2nd Swing is able to convert golf clubs into cash for the program, which The First Tee then distributes to its local chapters across the United States. Since 1997, The First Tee has reached more than seven million young people, teaching them the basic skills of golf, as well as core values such as integrity, respect, responsibility and perseverance that help kids prepare for the rigors of higher education and life beyond school.
2nd Swing has helped set up club donation programs with courses across the country, allowing golfers to donate their adult-sized clubs and get junior sets into the hands of youth golfers.
"The club donation program through 2nd Swing is a great way for chapters to promote used equipment donations that result in financially supplementing their equipment or other needs," said Jennifer Weiler, vice president of strategic alignment and development for The First Tee. "Many chapters encourage these gifts in their community and rely on 2nd Swing to fulfill the sales and administration of the program. We are grateful to 2nd Swing for their partnership."
2nd Swing also donates directly to The First Tee of Three Rivers Park District and other Twin Cities youth golf programs, using a portion of sales of every junior set and buying new sets that are delivered right to the local chapters. Most recently, 26 brand new sets of junior clubs were distributed around the Twin Cities area by 2nd Swing buyer John Bezdichek, who initiated the partnership with The First Tee in 2011.
"Donating used clubs seems like the obvious way to directly benefit a youth golf organization," Bezdichek explained, "but many of those clubs don't work for young golfers as is. I saw our partnership as an avenue to get those clubs converted into monetary donations."
The donation program makes it simple to box up the clubs, send them in and direct the funds toward the local chapter of your choice. "It's a great way to give back to the game," 2nd Swing founder Simon Kallal said. "As a part of the community, the team at our small golf company is thrilled to help grow the game among kids and try to make a positive impact."
Michael Hinton, Executive Director of The First Tee of Minneapolis, sees that positive impact being made every day in the faces of youth golfers who receive the new sets.
"They just light up," said Hinton, who recently received a shipment of eight 2nd Swing sets at his Columbia Golf Course Learning Center in Minneapolis. "For these kids, it's like they won the lottery."
About 2nd Swing Golf
2nd Swing Golf is a Minneapolis-based retailer specializing in buying, selling, and trading golf equipment. With more than 20,000 golf clubs available online, 2ndswing.com has one of the largest inventories of new and used golf clubs in the United States. The company is committed to maintaining the highest integrity, offering outstanding values, preserving manufacturer brand experiences, and above all, providing a fun and service-intensive experience for customers.