2nd June. Gary Larson is one of my favorite cartoonists - and here's why: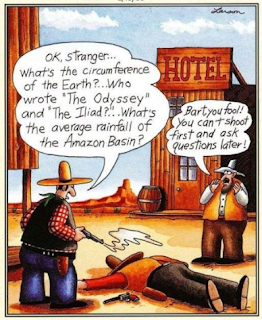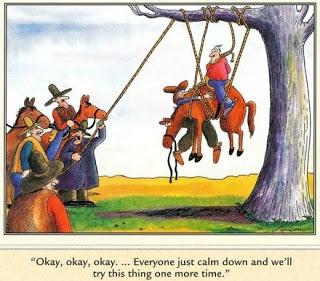 Very few makers of videos about Biarritz manage to escape the sea front - but here's one who starts with a relaxed stroll about the Place Clemenceau before moving down to the Plage de la Côte des Basques and continuing on to the Plage du Port Vieux - then on around the coast to the Rocher de la Vierge. The walkway to the statue is usually closed off when there's major storm brewing as the seas here can be quite spectacular. At 23:25, the golden expanse of the Grande Plage is revealed.. with the supremely elegant terracotta shape of the Hotel du Palais in the hazy distance. Our favorite café (Bleu Café) shows up at 27:56 - where you have a grandstand view of the waves. The viewpoint then walks around the seaward side of the Hotel du Palais to arrive at the Plage du Miramar. After which follows the jewel in the crown - a visit to the Hotel du Palais at 32:17. 
As evening falls, the softly lit Hotel du Palais makes you believe that anything could happen. Apparently nothing did happen - so the tour resumes at the foot of the Rue Gambetta.. an area dotted with wine bars, cafés, restaurants, individual shops and the ever-present real estate agents - plus the indoor market - and Bar Jean.. another of our favourites. It appears that this was filmed during the last week of July as people - dressed in white and red and hot to trot - are boarding buses to travel to nearby Bayonne to take part in the Fêtes de Bayonne..