These healthy dinner meal prep ideas cover a range of options including freezer meals, big batch proteins, ingredient prep and more.  Get a head start on your dinner to reduce your stress and eat healthier!
When it comes to meal prep, often we think of pre-cooked meals that we simply need to reheat. That is all well and good for breakfast and lunch, but when it comes to dinner, my family and I like a freshly cooked dinner. These healthy dinner meal prep ideas will help you get a head start on dinner.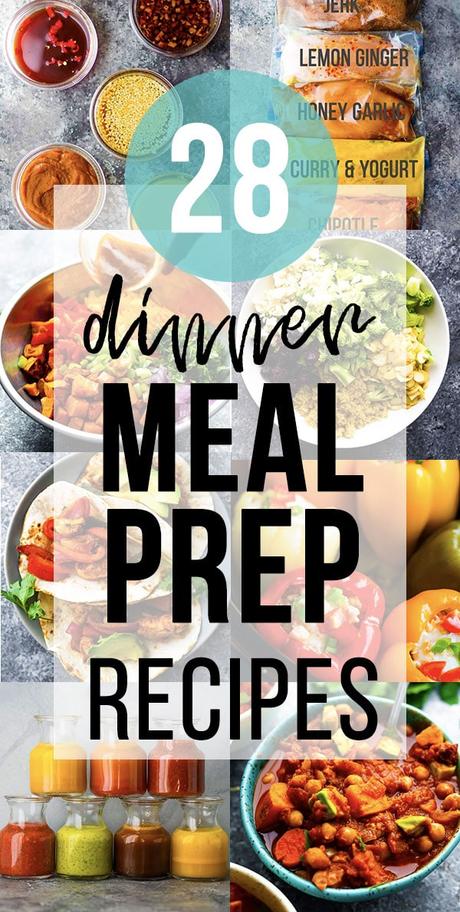 Meal prep has revolutionized the way I cook. It reduces our meal time stress, saves us money, and helps us eat healthier.
When it comes to meal prepping dinner, it isn't as clear cut as meal prepping lunch or breakfast. Cooking a full week of dinners ahead and reheating is a LOT of work, and most of us don't have the time to do that.
Here's an alternative: by being strategic in pre-cooking or pre-chopping certain ingredients, we can save a ton of time during the week, and get a big let up on dinner.
I'm sharing meal prep dinner ideas that will help you get a head start, while still eating 'fresh' food.
click to jump to different dinner prep strategies:
crockpot freezer meals
big batch protein
big salad
Freezer Meals
Stocking up the freezer with dinner components or fully assembled meals is always a good idea. Sometimes even just having that one component waiting for you makes your dinner decisions so much easier. Here are some popular freezer meals from the website, but check out our full freezer category page here.
7 Easy Stir Fry Sauce Recipes
SEVEN easy stir fry sauce recipes you can make ahead and freeze. They're each ready in just five minutes!
Check out this recipe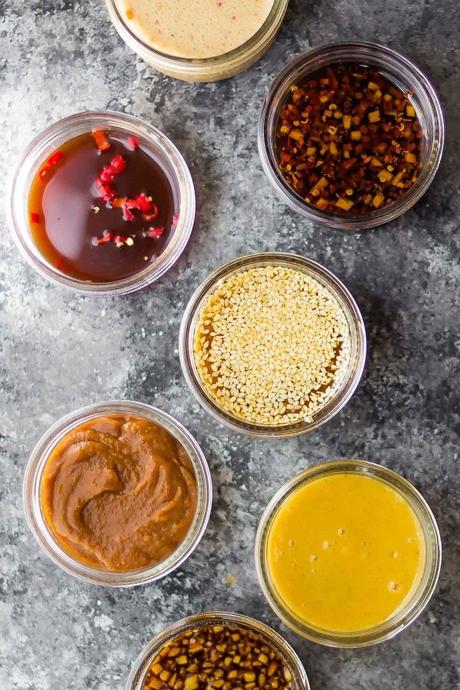 Meal Prep Chicken Fajitas (Sheet Pan)
Sheet pan chicken fajitas with juicy strips of chicken, bell peppers and onions tossed in a delicious homemade fajita seasoning. Works great for meal prep or for a simple weeknight dinner.
Check out this recipe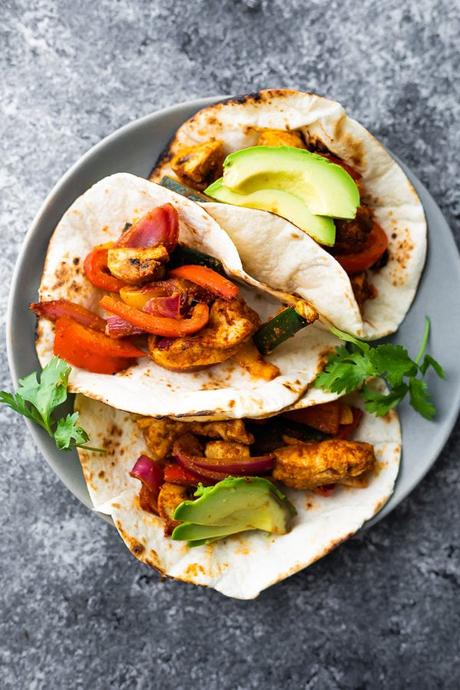 Best Baked Turkey Meatballs (+ 7 Flavors!)
The BEST baked turkey meatballs are juicy and delicious, made with simple everyday ingredients! Bake up classic turkey meatballs, or jazz them up with one of 7 different flavor options. Healthy, freezer-friendly and absolutely delicious!
Check out this recipe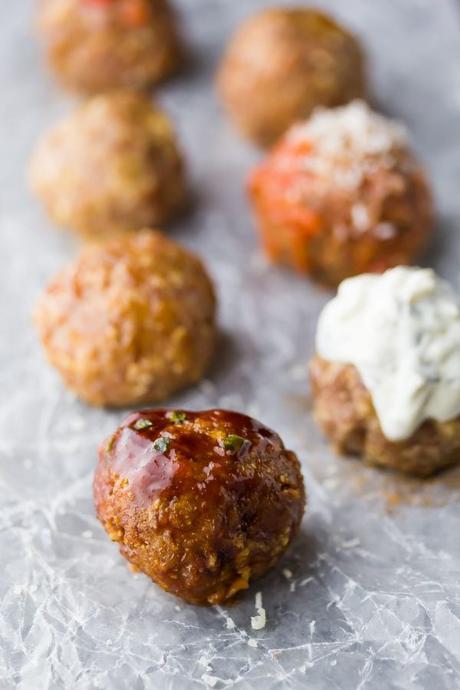 Freezer Cauliflower Rice Black Bean Burritos
These freezer cauliflower rice black bean burritos are lighter but just as tasty as the original!  Loaded with veggies, salsa, black beans and cheese, and so convenient to have stocked in your freezer.

Check out this recipe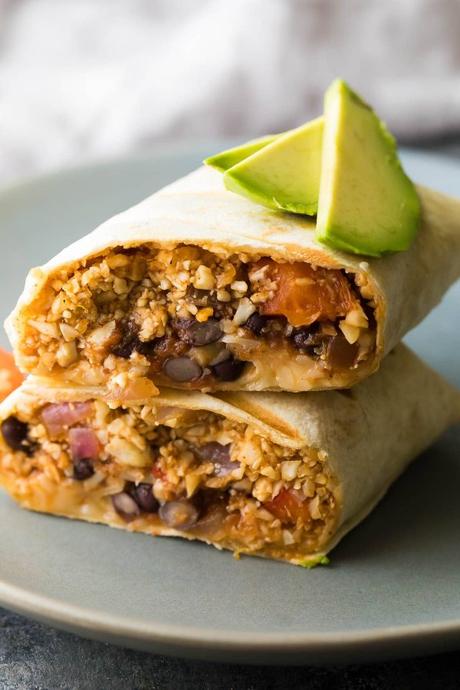 Taco Stuffed Sweet Potatoes
Taco stuffed sweet potatoes are a delicious lunch or dinner recipe and great loaded up with your favorite toppings! Perfect for meal prep and freezer-friendly.
Check out this recipe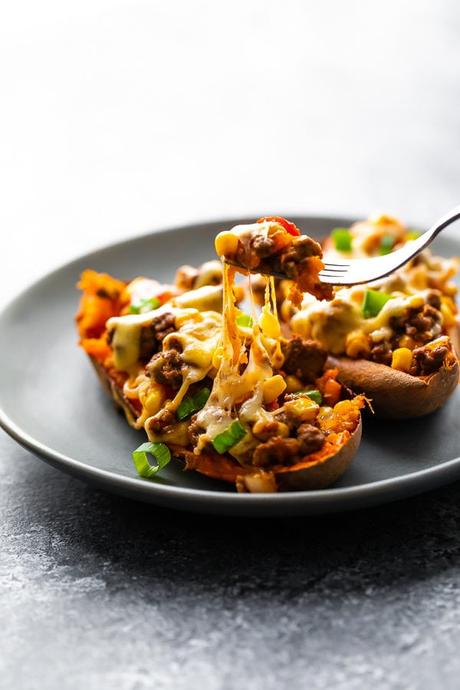 One Pot Black Bean Fajita Pasta
One pot black bean fajita pasta is creamy and delicious vegetarian pasta recipe. With bell peppers, onions, black beans and fajita seasonings, it's perfect for weeknight dinners or for meal prep.
Check out this recipe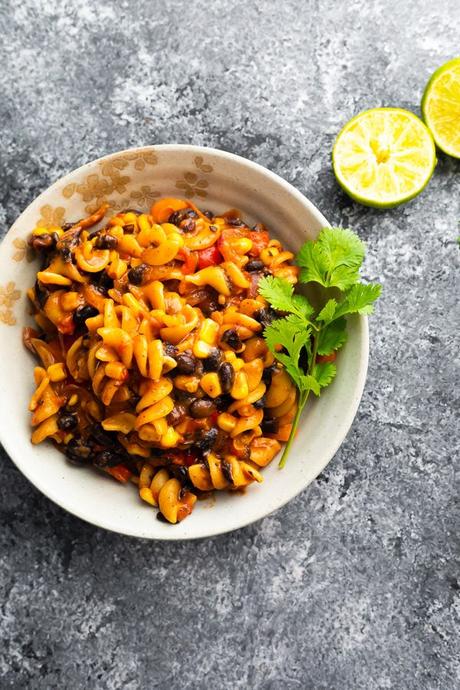 7 Chicken Marinade Recipes You Can Freeze
7 chicken marinade recipes to keep dinner exciting! Showing you how to prepare and marinate your chicken for the best flavor, and how to assemble ahead and freeze for easy dinners.
Check out this recipe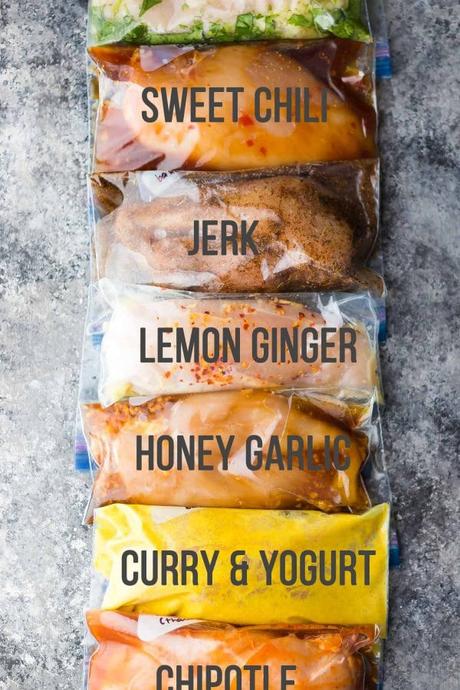 Prep meal components
Pre-chopping or cooking vegetables and shaking up sauces is another great way to save time on week nights. Here are some ideas to get a head start on dinners:
7 Basic Vinaigrette Recipes
7 basic vinaigrette recipes that will add so much flavor to your salads! These are ready in under 5 minutes and are so much tastier than the store-bought stuff!
Check out this recipe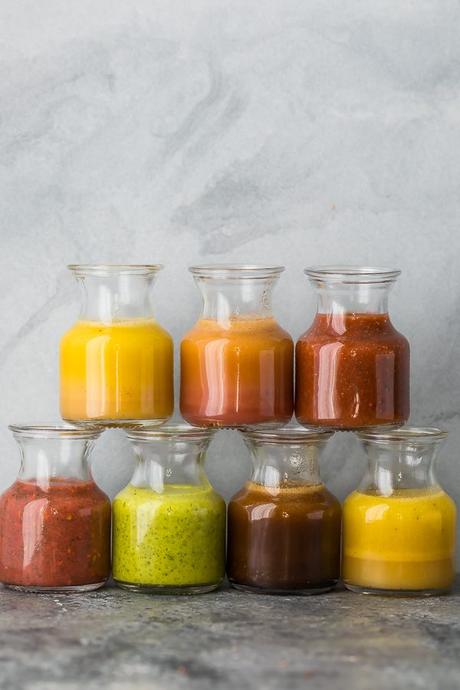 How to Cook Quinoa
How to cook quinoa and get it perfect and fluffy every time! Sharing three important steps for perfect quinoa, and how to store it.
Check out this recipe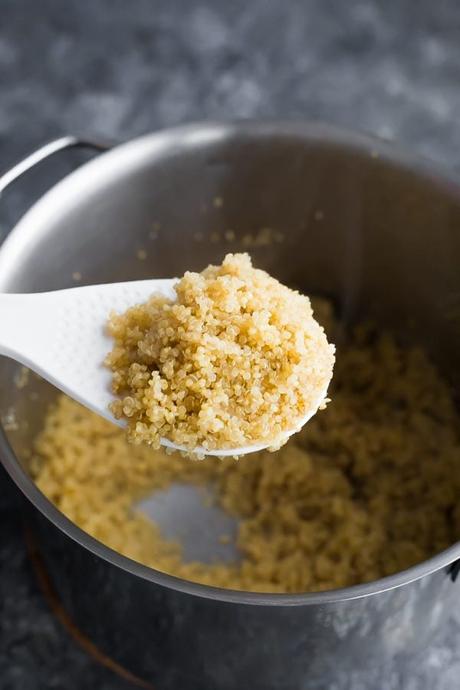 How to Cook Spaghetti Squash
Showing you how to cook spaghetti squash- the EASY way! Roast it whole, so you can avoid cutting through a rock hard spaghetti squash, or mangling your hand while scooping the seeds out.
Check out this recipe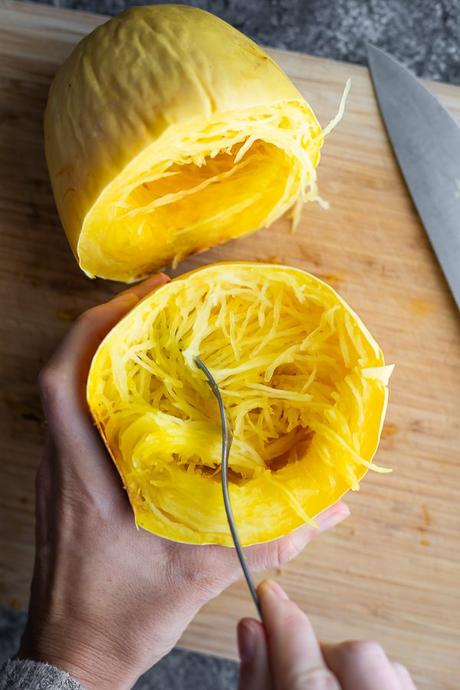 How to Cook Zucchini Noodles
How to cook zucchini noodles- showing you an easy 5-minute method for cooking zucchini noodles, plus how to make them ahead and store for meal prep.
Check out this recipe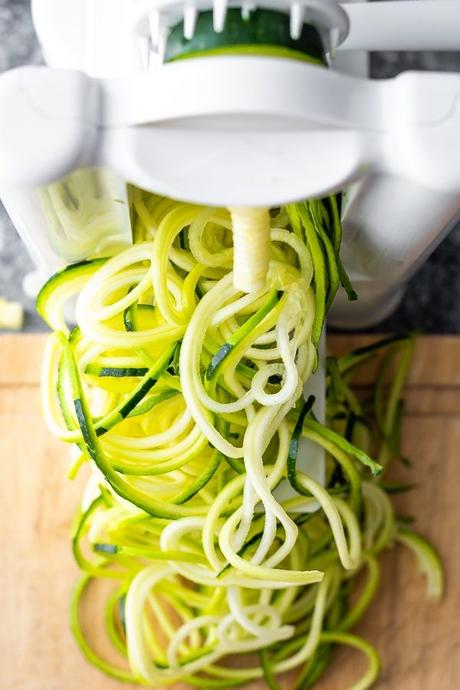 Perfect Cauliflower Rice (+ 7 Flavors!)
Cauliflower rice is a great low carb, veggie-heavy alternative to rice. This post shows you how to make, cook and store cauliflower rice, as well as seven different cauliflower rice recipes that are packed full of flavor!
Check out this recipe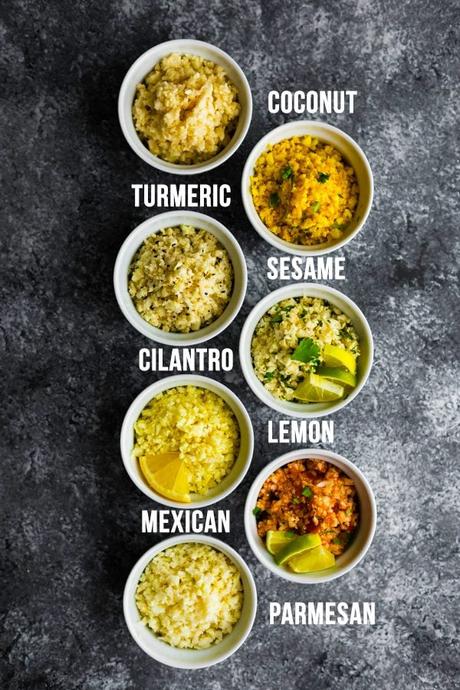 PERFECT Instant Pot Sweet Potatoes
Perfect Instant Pot sweet potatoes each and every time, with perfect, creamy insides. A time chart based on the width of your sweet potatoes ensures they are perfectly cooked each time.
Check out this recipe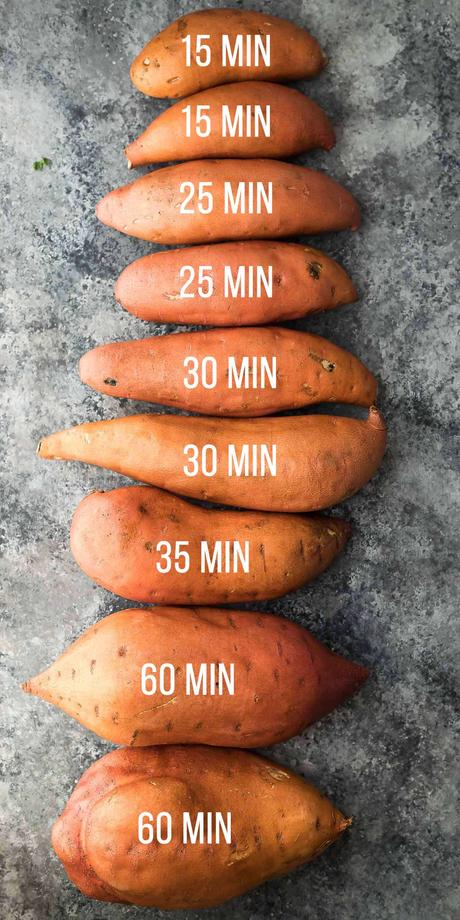 Crockpot freezer meals
Crockpot freezer meals are assembled ahead and frozen. When you are ready to cook, thaw, add to the slow cooker, and cook it up! This saves you time chopping and measuring in the morning. Find more ideas on the freezer slow cooker page.
7 Slow Cooker Chicken Recipes
SEVEN simple slow cooker chicken recipes that have a lot of flavor for very little effort! Easy to prepare and made with wholesome ingredients, these crockpot chicken recipes are meal prep friendly and can be frozen as crockpot freezer meals!
Check out this recipe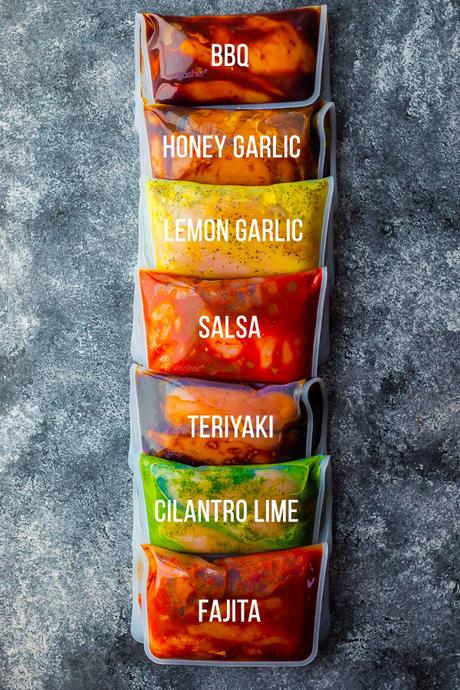 Smoky Slow Cooker Turkey Chili
This smoky slow cooker turkey chili is full of bold flavors with chili powder, cumin, and chipotle chilis. Easy to prep, and cooks all day for a hands off dinner. 
Check out this recipe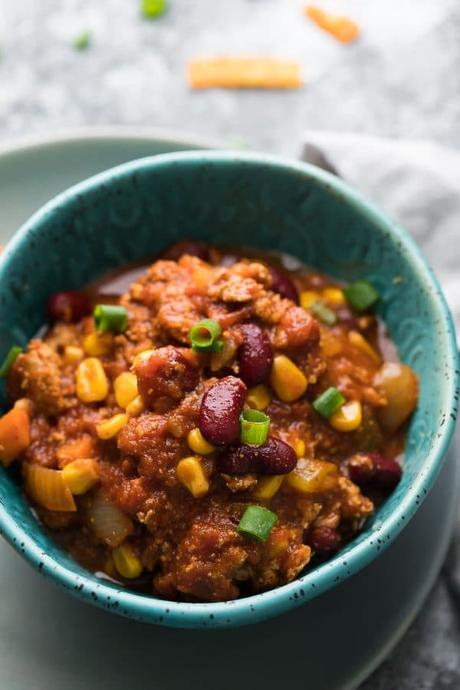 Spicy Slow Cooker Chickpea Chili (+ Instant Pot)
An easy and delicious 8-10 hour slow cooker chilli packed with chickpeas and sweet potato, and flavored with chipotle and lime. Ready when you walk in the door from work!
Check out this recipe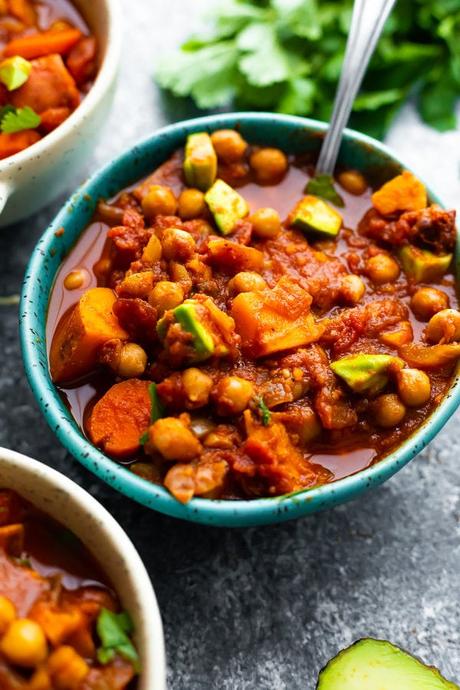 Slow Cooker Butter Chicken
Slow cooker butter chicken made with good for you ingredients and can be assembled ahead and frozen for easy weeknight dinners! Dairy-free, gluten-free, low carb and deeeelish!
Check out this recipe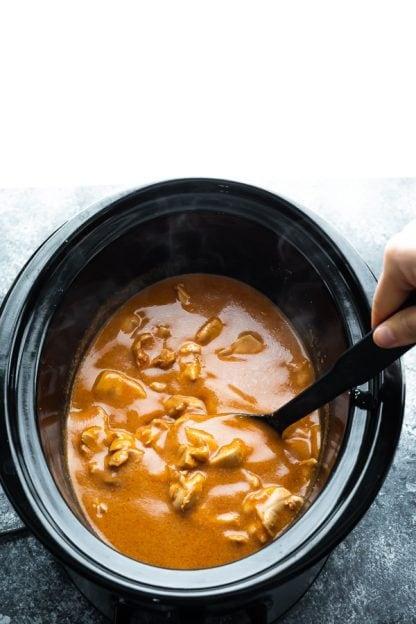 Crock Pot Stuffed Peppers Recipe
Crock pot stuffed peppers recipe with only five ingredients! You can prep this ground turkey stuffed peppers recipe with less than 15 minutes of effort...you can even freeze it ahead and thaw when ready to cook for a freezer crock pot  meal. Low carb and vegetarian options included.
Check out this recipe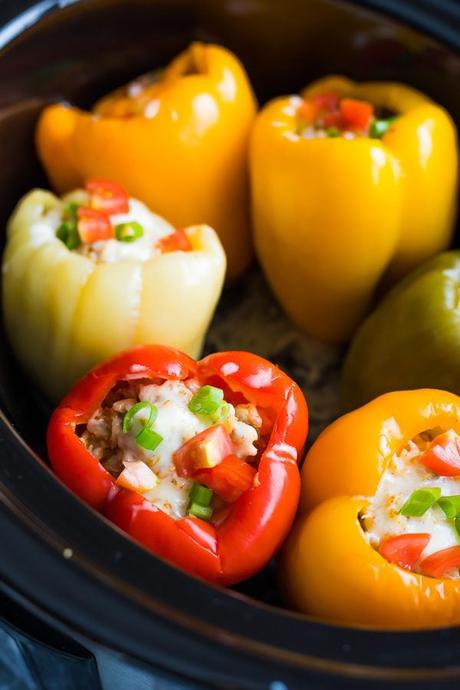 Vegan Slow Cooker Peanut Stew (Maafe-Inspired)
Slow cooker peanut stew is vegan comfort food at it's finest! With chickpeas, sweet potatoes, and peanut butter, it's inspired by the West African peanut stew maafe. You can assemble this ahead and freeze as a crockpot freezer meal.
Check out this recipe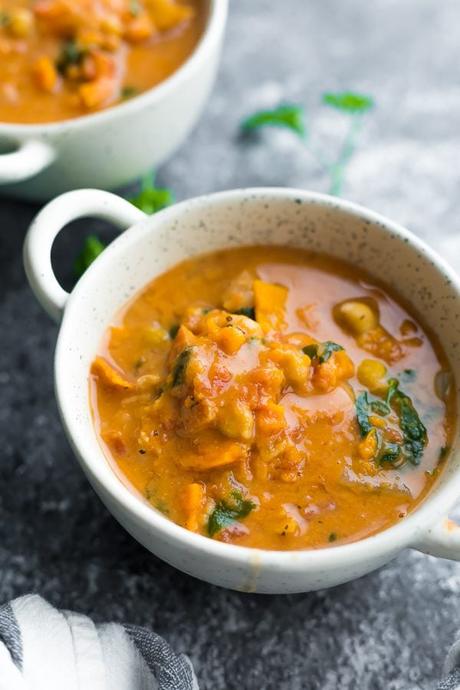 Big batch protein
One of my favorite ways to get a head start on dinner is to cook a big batch of protein and use it up in multiple meals. Here are some of my favorite proteins to prep ahead (some of these include a full meal prep plan and shopping list; find all of my meal prep plans here).
Instant Pot Whole Chicken
Instant Pot whole chicken is the most hands off way to cook a chicken on meal prep Sunday. Showing you how to cook a fresh or frozen whole chicken in the Instant Pot. This recipe is low carb, gluten-free and paleo.
Check out this recipe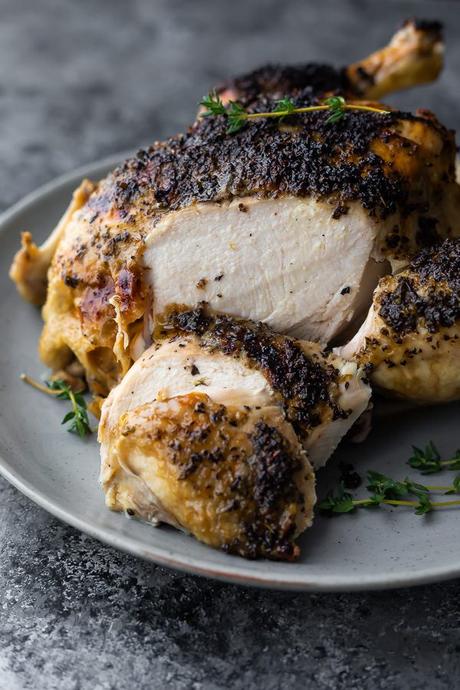 Instant Pot Chickpeas
How to make Instant Pot Chickpeas- no soaking required! Cooking your chickpeas from scratch will save you money and tastes so much better than canned.
Check out this recipe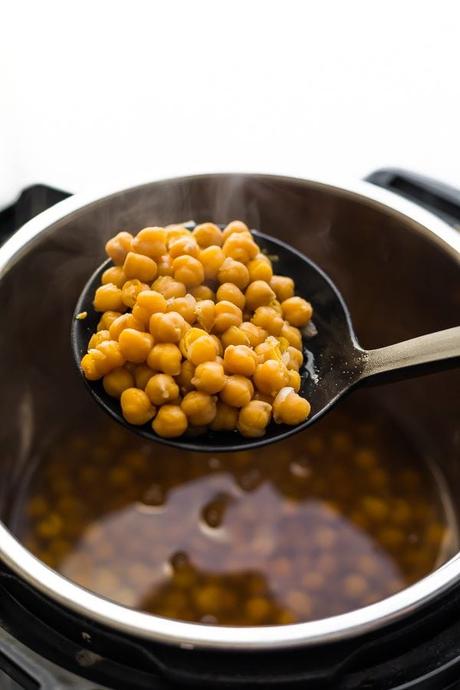 Slow Cooker Honey Lime Chicken
This honey lime chicken is an easy and delicious base slow cooker recipe with only 6 ingredients and takes only 10 minutes to throw together. Use it on sandwiches, tacos, salads and more. Gluten-free, meal prep- and freezer-friendly. 
Check out this recipe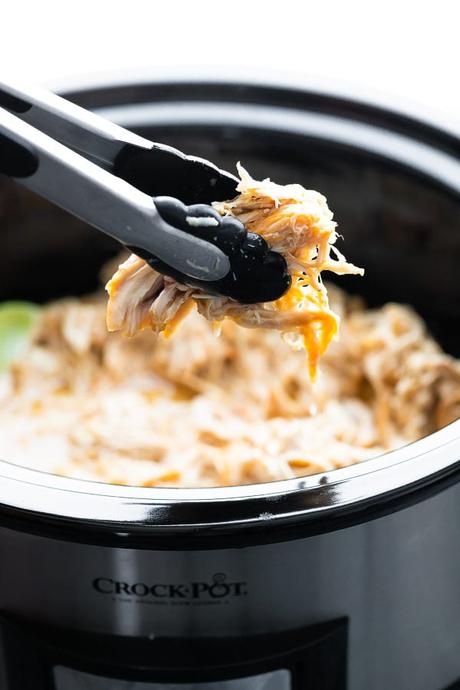 Crock Pot Pulled Pork
This crock pot pulled pork is made with pork shoulder simmered in clean ingredients (no sodas or pre-packaged ingredients). Makes a great freezer crock pot recipe!
Check out this recipe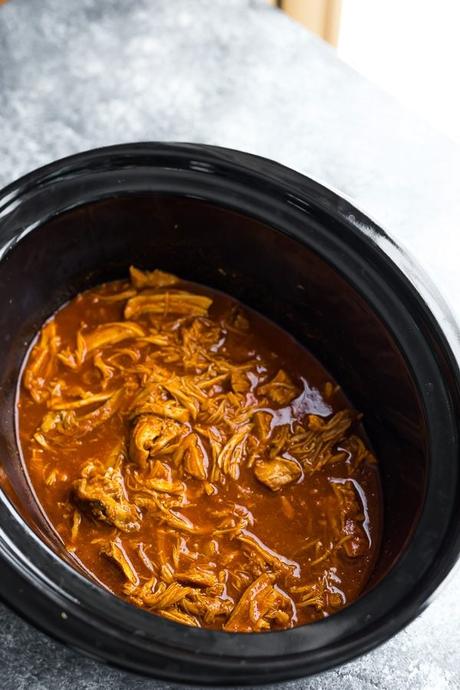 Big salad
I love a good 'big salad'. Often, salads taste better as they sit and the flavors meld together, and it can take care of the side dish for multiple meals. Here are some of my faves:
Southwestern Wild Rice and Sweet Potato Salad
Wild rice and sweet potato salad is loaded with healthy veggies and tossed in a chili lime vinaigrette. Gluten-free, vegan-friendly, and perfect for lunch or a side salad!
Check out this recipe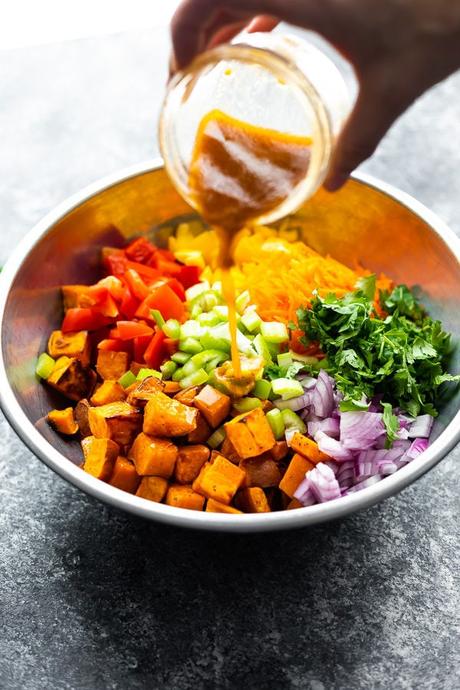 Kale Barley Salad with Feta and a Honey-Lemon Vinaigrette
This barley salad is full of whole grain, nutrient-rich ingredients that will nourish your body. Easy to prepare, vegetarian, and meal prep-friendly!
Check out this recipe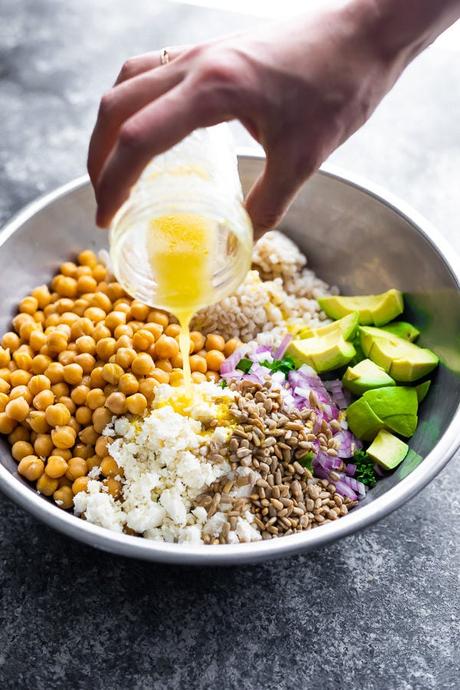 Healthy Greek Chicken Pasta Salad
Healthy Greek chicken pasta salad recipe- whether you're heading for a picnic, a potluck, or meal prepping your lunches ahead, this salad is perfect for you! Tastes even better after the flavors marinate together for a day or two.
Check out this recipe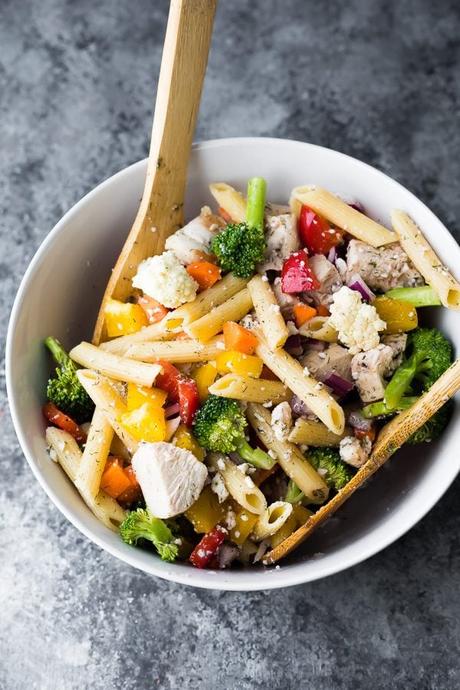 Refreshing Quinoa Black Bean Salad
Refreshing quinoa black bean salad is a big batch salad you can prep ahead. Perfect for a picnic, pot luck, or meal prep lunch! Gluten-free, vegetarian (vegan-friendly!), and clean eating.
Check out this recipe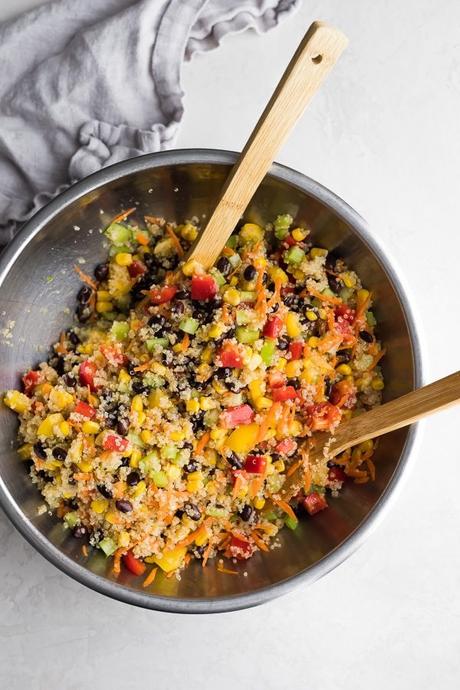 Broccoli Salad Recipe with Almonds and Quinoa
Broccoli salad recipe gets a healthy makeover with almonds, quinoa and an apple cider poppy seed vinaigrette. Easy to prep for a barbecue or for meal prep!
Check out this recipe