2nd February.
What a thunderous opening match for the start of the 2019 Guinness 6 Nations Rugby tournament as France hosted Wales in Paris in very wet conditions. France raced to a 16-0 half time lead that looked unassailable courtesy of two well-worked tries by Picamoles and Huget - followed by a opportunist drop goal by Lopez just on half time. Wales dug deep and showed great character to come back - in Paris of all places - by replying with three second half tries and a Dan Biggar penalty to clinch the match 24-19.
The match was full of talking points - the failure of Morgan Parra's kicking game, the chalking off of what seemed to be a perfectly good try by Liam Williams until the replay showed he'd lost control of the ball just when he needed not to. There was a moment of magic when Wales abandoned the bish bash bosh "pick and goes" as Adams ran through a static French defence before passing to Tomos Williams for a wonderful score. France had a nightmare second half in which they gifted Wales two tries - the first by Huget (that should give him sleepless nights for years) and then a hapless long pass by Vahaamahina that George North intercepted and scored from to give Wales the lead and clinch the win in the closing minutes.. Here's how that final try was reported here:
Well done Wales - and it's not often you'll hear me saying that! (Match report
here
)
1st February
. We went to
Irun
in Spain this morning for some minor shopping and so I was let loose with the dog while Madame enjoyed some retail therapy. It was a sunny morning but with a cold wind and as I wandered the streets, I was amazed to see how many shops had closed down or were empty - I'd say maybe one in four.. and of the ones that were still open, I'd say that 80% had sales on. Sad to see and definitely not healthy. Reasons why? I have my own ideas - but I'd be interested to hear yours. Send me your thoughts via the email link - in the left hand column.
After Irun, we drove to Ascain to try our former 
favourite restaurant
 that we heard is now "under new management" - a phrase that when associated with a restaurant is often the kiss of death - but hopefully in this case, it might just be the kiss of life. Unfortunately it was still closed for their winter holiday, but there was a note on the door that said it would be open for lunch on Sunday. We're tied up then so I expect we'll be giving them a visit sometime very soon. More to follow.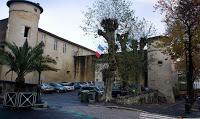 Château-Vieux, Bayonne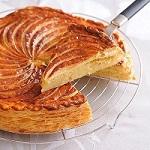 Yesterday, I was privileged to be invited to the 11th century 
Château-Vieux
, Bayonne - a medieval castle in the heart of Bayonne where it played a central role in the history of the town for hundreds of years. It was actually built on the site of a Roman
castrum
(a fortified military camp). However, today, it serves as the home of the Officer Commanding the 
1st RPIMA
, as well as being their Mess, and the occasion to which I had been invited was the serving of the 
galette des rois
& drinks. There were some impressive-looking characters there. (More
here
)