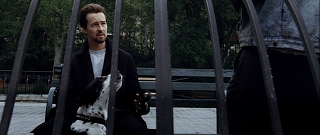 After Bamboozled's divisive reception, Spike Lee moved into more conventional territory. Based on David Benioff's novel, 25th Hour (2002) is a slow-burn drama, sloppy but usually compelling.
Drug dealer Monty Brogan (Edward Norton) is busted by the DEA. He receives one day to put his affairs in order before heading to prison. He reconnects with his friends Francis (Barry Pepper), a broker, and Jake (Philip Seymour Hoffman), an uptight teacher, at a party with a mobster boss. He wonders if his girlfriend Naturelle (Rosario Dawson) betrayed him, and finds his father (Brian Cox) distant. As time expires, Monty debates whether to cooperate with the law or try and escape.
25th Hour focuses on the sour consequences of a wasted life. Monty's a tragic antihero, a brilliant man who fell into easy money and couldn't go straight. He alienates friends and family, only connecting with his dog Doyle. He distrusts Naturelle and ignores his lifelong friends for gangsters, whores and hangers-on. Lee sympathizes with Monty's hollow existence but doesn't defend it. Some fall into crime out of necessity; what's Monty's excuse?
Benioff's story clicks when depicting Monty's dilemma. It's shakier elsewhere. Long passages of 25th Hour focus on Monty's friends, delving into superfluous subplots. Jake's tempted by a sultry student (Anna Paquin) in an underdeveloped storyline; he and Francis have a running argument about attractiveness that's amusing but irrelevant. Lee's main misstep is the ending, an overwrought montage that mutes its impact.
Perhaps because the film's based on a novel, Lee's direction proves uncharacteristically restrained. Only a few scenes reflect his sensibilities: slow motion bits in the nightclub, pervasive 9/11 imagery, Monty's monolog cursing everyone from Enron to Osama Bin Laden. Mostly Lee's content delivering a slick, well-heeled studio product, enhanced by Rodrigo Prieto's immersive cinematography.
Edward Norton does brilliant work, projecting tough, weary despair in a powerful characterization. Barry Pepper is equally compelling, cocky bravado masking deep-seated guilt. Philip Seymour Hoffman is always enjoyable, but his character seems an afterthought; as does Anna Paquin's Lolita figure, for that matter. Rosario Dawson and Brian Cox breathe life into less-rounded characters. NFL player Tony Siragusa plays Monty's mobster friend.
Unlike most Spike Lee joints, 25th Hour is an exercise in craft rather than personal vision. But a good story's a good story, and beyond its rough passages it's somber, thoughtful entertainment.