Some of our posts contain affiliate links to products we personally use and believe will benefit our readers. As Amazon Associates and members of other affiliate programs, we earn from qualifying purchases.
When you've got close friends or relatives that are on the road a lot, it can make often finding them the perfect gift for Christmas or birthdays even more of a challenge. The ideal travel present has to be thoughtful and useful, and yet lightweight and small enough to fit into an empty cranny in a carry-on.
We've picked the best gifts for travelers, whether it's for someone about to embark on a new adventure, a colleague at work, or a friend who travels at every opportunity. Some are perfect for a practical-minded minimalist, while others are cool travel gifts that are a bit of a treat. Because while travelling the world is awesome and enlightening for the most part, let's be honest, it's not always easy to be on the road. Perhaps you need to find gifts for or you're looking for cool travel gifts for someone going on vacation.
Have a look at these fantastically unique travel accessories and gifts that you can get for the globetrotter in your life.
Tinggly experience vouchers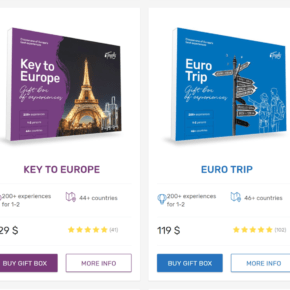 Gift cards are always a favorite when it comes to receiving gifts. They allow you to give something they really want, which in our book makes it a thoughtful present. Tinggly has created one of the best travel gift ideas we've come across.
The company has collected thousands of unique adventures and experiences and grouped them into various themed collections, such as Time Together, Dream Wedding, Euro Trip, Happy Birthday, and even things like World's Best Helicopter Flights.. Each collection features literally hundreds of activities that your loved one can choose from, all over the world.
Gift vouchers begin at $79. It's a really great idea for the person who has everything.
Kindle e-reader
Kindle e-readers are another now indispensable gadget for the traveler. We resisted them for years because we like the feel of paper; it enhances the reading experience. That is, until we ended up in a Spanish-speaking country and couldn't find a single bookstore that carried books in English.
E-readers have their advantages, not the least of which is that you're effectively carrying around a small library on a device that's lighter than a paperback.
Buy it on Amazon.
Lonely Planet's Travel Atlas - Kindle edition
Scratch the World Travel Map
This scratch off map of the world is a unique way for your favorite adventurer to record their journeys. It works exactly like a scratch card - scratch off the gold coating over visited countries to reveal the huge world map underneath.
This is the top selling scratch-off map on Amazon. It is printed onto high quality silk art paper with a gloss coating, and comes rolled in a tube for safe delivery, so it arrives ready to frame.
Mini speaker
Mini speakers make a great gift for travelers, because there are occasions where you want to watch a video with someone or set the mood with music. The problem is that you can't share it with headphones, and most phone speakers are pretty tinny.
Mini speakers are small, their batteries last a good long time, many can be USB-charged, and a lot of them are nice and robust. All of these qualities are essential for travel gifts, so go for it, we say.
Buy it on Amazon.
Rusoji Premium Packing Cube Travel Luggage Organizers
6 in 1 Travel Accessories Kit
Scrubba Portable Clothes Washing Bag
Travelling and living out of a suitcase can have its challenges, especially when you only travel with a carry-on. One such challenge is having fewer clothes, which means you have to deal with dirty laundry while you're traveling. If you know a traveler who prefers to visit more rural areas, chances are they may not find a laundromat as often as they may need.
The Scrubba portable washing bag allows them to wash their clothes on the go. It weighs less than 145g and folds up small enough to fit into a pocket. A flexible washboard inside the bag help to scrub clothes clean.
To use the Scrubba, just place dirty clothes inside the bag, fill with water, add some detergent and rub the bag to scrub the clothes inside. Then drain the bag and hang the clothes out to dry. Perfect for camping, as well as backpacking and even day hiking.
Buy it on Amazon.
Water resistant hanging travel toiletry kit

Fancii Cool Mist Personal Mini Humidifier
This cute little humidifier fits into the palm of one's hand. All that is needed is a standard water bottle in order to turn this compact device into a fully functional humidifier. We love that idea - breathing dry air can cause no end of discomfort!
The humidifier runs both on battery and USB power. It also has a timer, so set it for 2, 4, 6 or 8 hours while sleeping, and it will automatically switch off when the timer finishes. It also has a smart shut off function when the water runs out.
Buy it on Amazon.
Bluetooth selfie remote shutter
Mobile Cell Phone Camera Lens Kit
When travelling to new and exciting locations, the urge to indulge one's inner photographer can be strong. This cute camera lens kit helps make holiday and travel photos look even more amazing.
Purchase this product, and get a tripod and phone holder, lens clip and 3 lenses - fisheye, wide and macro. It all also comes in a handy carry bag, keeping the items together and safe.
The lens clip is adjustable, making it fit on most smartphones. This kit suits a fun hobby and allows users to experiment with their photos but is not recommended for anyone looking for professional options.
Buy it on Amazon.
Carry On Cocktail Kit Travel Pack
Imagine being able to craft unique cocktails - mid-flight. This gift allows for just that. The cocktail kit travel pack holds ingredients for three traditional cocktails, all that's needed is spirits from the airline's beverage cart.
This will not only keep hands busy during long flights, but also allow passengers to enjoy a well-made cocktail in the sky. The pack contains three tins, each holding one of the following cocktail ingredients:
The standard pack's tins also include a bar spoon, linen coaster, recipe card and suitable syrup flavor. All ingredients are TSA approved. There are different recipe options, as well as color and bag options to choose from.
Buy it on Amazon.
Premium Leather Journal Notebook
Collapsible pocket-sized travel water bottle
Travel foldable electric kettle
Bodum Travel Press
We'll confess to being serious about a good cup of joe - you might even call us coffee snobs. If you know someone who appreciates a good cup of tea or coffee as much as we do, this guarantees they won't be caught short with packets of instant in their hotel room.
The stainless-steel press acts as a press and a mug in one. All that is needed, is to place ground coffee or tea with hot water into the press, then press down slowly as you would with a French press.
This is not just any coffee press, though. The coffee or tea can be drunk straight from the press through the mouthpiece. The non-slip silicone grip comes in many colors and protects hands from the hot steel.
Buy it on Amazon.
Anti-theft waterproof travel backpack
Travel scarf
Sleepy Ride - airplane footrest
Denali Outdoor Compact Pocket Blanket
How to Pack: Travel Smart for Any Trip
Not only is this hardcover book full of useful information on how best to pack when travelling, but it also has a brilliantly designed cover. Hitha Palepu is a former consultant and has travelled over 500 000 cumulative miles around the world. She has now written How To Pack to help other travelers get the most out of their suitcase space.
The book is more than just a simple read on packing for a holiday, it's a guide on the best way to pack - wherever you are headed. Reader's learn everything from the right clothes to pack to what beauty products to take with you.
The following chapters are covered in the book:
Power Pieces vs. Fantasy Pieces: How clothing earns its place in your suitcase
The Accessory Math Secret: The precise formula for all you need to finish off your outfits
Folding versus Rolling: What's right for which items
Globetrotter Gorgeous: Editing your beauty routine while still looking great
The Packing Timeline: How to avoid "I'm forgetting something" syndrome
Pack Perfect Lists: Samples and blanks for any kind of trip
Buy it on Amazon.
I Was Here: A Travel Journal for the Curious Minded
Moleskine Travel Passions Journal
A fantastic gift for any globetrotter who is serious about planning new adventures, this journal is more than just a place to jot down thoughts and ideas.
The stunning journal has great resource guides that have world time zones, international weather and climate info, as well as weights and measurement equivalents and conversions. It also includes information on the following:
International currency
Capitals
Languages and religions
Passport and customs information
A directory of foreign embassies in the U.S.
We have a thorough review of this journal on this website. We think it makes for a magnificent travel-related gift.
Buy it on Amazon.
Hopefully now you have a much better idea of what to buy for the travel-loving people in your life. From practical to quirky, you should have no problem finding the ultimate birthday, Christmas or farewell gift.
Happy shopping and safe travels!
Inspired?
Save these gift ideas for later - Pin to Pinterest!
- OR -
If you're a traveler yourself, share this on Facebook to give your friends a not-so-subtle hint as to what you'd like to receive.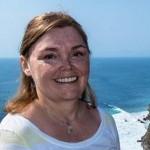 Written by Linda
Linda is multilingual and has been to over 50 countries. Her insatiable love of travel, cuisine, and foreign languages has inspired her to create As We Saw It with her husband Dan, a professional photographer. Her goal is to make travel easier for others and to offer a brief escape to another land.
You may also like...