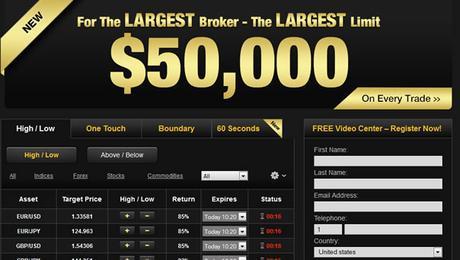 The reputation of this broker is good and many users claim they have had a good user experience when using them, the broker takes the necessary steps to shelter its customers and keeps them safe from various fraudulent practices that can occur on its website. Referring to the testimony and reviews of the Internet we can say that the 24option shows good faith and has a good track record. In this review of 24 option we will be taking a look into how it operates and is it a good option to use when trading binary on line.
24 option is an on line trading platform that gives flexibility to beginners and expert investors to start trading binary options smoothly and safely. To trade binary options with 24option you must open an account, for that you need to visit the 24option.com site. Then once your account is open you must credit the amount of a minimum of $250 you will then receive a 30% welcome bonus to start trading.
The minimum amount to open a position is 24 euros/dollars, The broker offers many different binary option trades within three possible dates. One of the other advantages when using 24option is the early closure of a position as soon as it is winning, this feature is highly appreciated by on line traders because it also reduces the losses in case of missed trades or heavy losses.
History of 24Option
24Option was one of the first brokers to offer binary options. Operating offshore and illegally at first, the broker now has a license in Cyprus, which opened the doors of Europe. Today it is the largest and most successful binary options broker in the world.
24Option The trademark was registered in 2010. It changed hands three times, bought in turn by investment companies and Israeli media. Currently, belongs to the group Rodeler 24Option Ltd. (which also owns other brands like ZoneOptions and GrandOption).
Sponsoring 24Option 24Option is a company with about 150 employees. Mostly business which are distributed desk in Italian, Spanish, German, English, and French ….
No data on the company is public. However, turnover is certainly in the millions of euro, evidenced by the recent sponsorship of the Madrid Open! Lately, binary options are recognized as a trading instrument in Europe. In 2012, then obtained a 24Option financial regulation in Cyprus (CySec). 24Option must implement capital protection measures: Cross-compensation for third party dispute resolution, segregated accounts, etc.Note the recent release of 24FX, which is the extension of 24Option to the world of Forex trading.
Identity and offers
24option has a very strong identity with advertisements that usually wear a good dose of provocation. The site design and logo is easily identifiable with black and gold colors. The binary options trading platform is located on the site of the broker, accessible by logging on to the member zone.
Yields and associated services (support, training, signals …) depend on the size of the account.
The economic model is not based solely on the losses of the traders, but on volumes. However, 24Option do not really provide credible explanations on this point.
Terms of trading
24option offers to trade binary options Type High / Low, Zone, and One-Touch on equities, currencies, commodities and indices. The minimum trade is 24 euro for a deposit of 250 euro. The maximum exposure permitted on the same option reached 50 000 euro, which is huge!

There are several bonus offers throughout the year. However, the conditions for withdrawal of these are sometimes restrictive and they are almost impossible to obtain.
Finally, traders have the ability to close a binary option before expiration date (early closing) with a return on investment of 10% when the position is winning.
Attention withdrawals (in 48-72h) are paid and can penalize small accounts.
Withdrawals from 24option
The money withdrawal process is often painful with other on line brokers who trade with binary options. In our own opinion and experience of using many brokers/traders they often use loopholes within the withdrawal process.
However with 24option they offer withdrawals straight and forward from its platform. 24option does ask by email when your first withdrawal is received you may need to produce certain documents proving your identity. I.E your ID, certificate of residence, credit card copy you used during your initial deposit and the last four digits. But once your first withdrawal has been received this information will not be asked again.
To remember about 24option
24option is a well known binary options broker. Regulated in Cyprus, traders have a minimum regulatory framework to secure their investments. So it is a safety. However, 24Option remains an opaque society, blind, or actual trading offers.
Headquarters in Israel, regulating Cyprus
A strong brand has existed for 3 years
Rate of return (payouts) are high