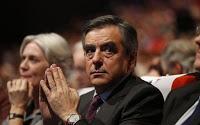 1st February. I wrote a few months ago that I thought François Fillon would be the next president of France. Well, recent events may have proved me wrong. It was alleged in the Canard Enchainé - a whistle-blowing satirical French newspaper - that Fillon's (Welsh) wife Penelope had been paid 900,000€ for what was claimed to be fictitious work and that furthermore two of his five children (who were students at the time) were employed as parliamentary assistants, earning another 84,000€. I would have thought, perhaps naïvely, that as the couple had both been trained as lawyers that somewhere in the mix that we could have reasonably expected to find a spot of integrity. I should add that, so far, these are allegations and that maybe he has a satisfactory answer for this story. I must admit that at first I thought this was simply a well-timed smear story, released by someone with the intent of derailing the Fillon presidential campaign but I have to say that the omens aren't good for him. 
I think this story might well see the end of his presidential ambitions. If so, it leaves the field wide open as the other candidates are, with one exception, something of a dog's breakfast. Representing the Parti socialiste is Benoît Hamon, and he's cut from the same cloth as the UK's Jeremy Corbyn - therefore unelectable in 2017. The far right Front National will be represented by Marine Le Pen and she might make it through to the second round. At the moment, it's unclear who will be the candidate for Les Républicains - whether it might still yet be Fillon, or perhaps the septuagenarian Juppé will step forward. 
The one exception I referred to earlier is Emmanuel Macron. He is young (40 I believe) and he could well attract votes from those disaffected PS voters who feel let down by Hollande and who refuse to vote for the far Left Hamon. For those on the Right, Fillon now has a question mark over him - is he damaged goods? And Juppé will be seen as a safe pair of hands perhaps by some, certainly - and by others as far too old and lacking in dynamism. It's difficult to judge the appeal that Marine Le Pen has for the voters. I'm not sure that she could win the second round if she makes it through the first. The one wild card is Macron - he's a technocrat in the classic French mold - and he's a highly intelligent énarque. He's positioning himself somewhere around the center and he believes in more, not less, Europe. I read the other day that he is proposing that the EU adopts a common debt policy. This means that all members of the eurozone are responsible for the debts incurred by member states. Have a think about the implications of that for a moment. Can he connect with the ordinary voter - enough for them to vote for him? As Madame says - it's a panier de crabes!
Meanwhile, in the UK, there is much hand-wringing among the usual suspects over the proposed State visit by President Trump to the UK. The figure below on the left is Jeremy Corbyn.. who spent 30-odd years as a backbencher in Parliament before his surprise accession to the leadership of the Labour Party. He is seen by many as unelectable.