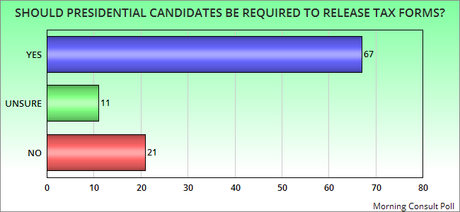 Donald Trump has refused to release any of his tax returns -- even though Hillary Clinton has released about 33 years worth of her and Bill's tax returns. What is Trump trying to hide. Could it be that he has successfully avoided paying any taxes at all, in spite of making millions each year?
Trump claims the reason is because he's being audited by the Internal Revenue Service (IRS). That's an exceptionally weak excuse, since the IRS has said it has no problem with Trump releasing his returns. And in the past, another presidential candidate (Richard Nixon) released his returns while being audited.
Whatever the reason for his reluctance to comply, it's not popular with the American public. About 67% of Americans say presidential candidates should be required to release their tax returns to the public, and that includes 60% of Republicans. If he continues to refuse, it's going to cost him some votes.
The chart above was made with information from a new Morning Consult Poll -- done between May 19th and 23rd of a random national sample of 2,001 registered voters, with a 2 point margin of error.