15th March. I spent Sunday with a mixed group of walkers from both sides of the frontier in the Baztan valley* retracing a route used by evading Allied airmen during WWII as they made their way across the Pyrenees into Francoist Spain for onward passage to Gibraltar and then England.  *

we were fortunate to have Georgina Howard with us. In addition to running walking holidays in the area, she's a polyglot - speaking English, French, Spanish and Basque!  

Several of the Spanish walkers had family ties with the Comet Line's wartime guides and it was clear that there was much common ground between us. Basque speakers from both parties were soon swapping notes. 
I've walked other routes like this several times before but this was one of the hardest I've experienced. It wasn't helped by the rain-soaked ground that caught some of us out (not me) with slips into water-filled boggy areas - I needed a soggy foot like the proverbial hole in the head. 
We dropped our cars at Amaiur-Maya then took 2 minibuses to the vicinity of the former safe house at Jauriko borda from where we'd start the walk proper. Jauriko borda was a 'safe' farm that lay just inside Spain and which had been used by many airmen as a place where they'd catch their breath and rest up after their gruelling night hike that threaded through the numerous border patrols, guided by mountain guides in the service of the Comet Line. 
After an hour or two, we came upon a clear area on a hilltop to find a Spanish 4x4 there with a small team preparing an alfresco Spanish-style breakfast for us.. spicy sausages, ham and fresh bread, with cider and/or red wine! (breaking the habits of a lifetime, I stuck to water) This was followed by brioche and coffee.. This surprise meal really hit the spot and gave us the time to talk more with our Spanish Basque hosts.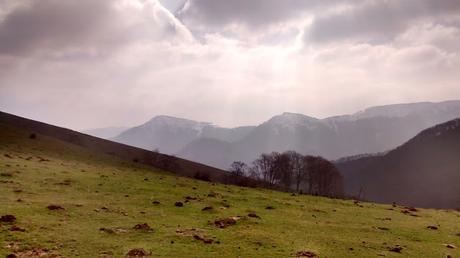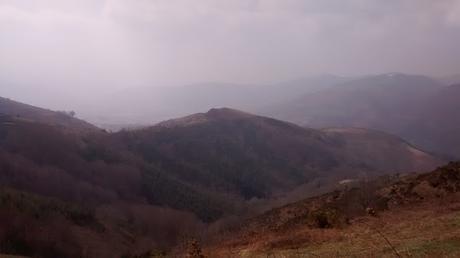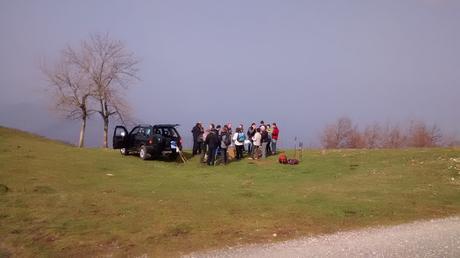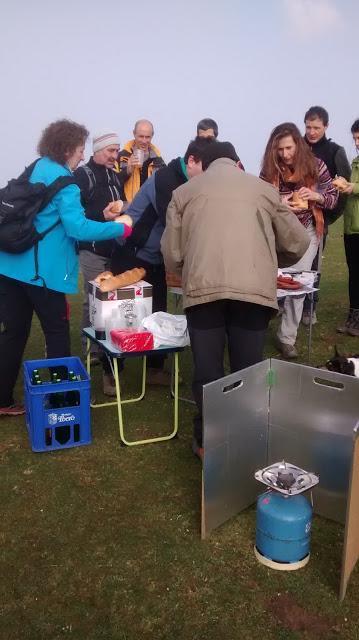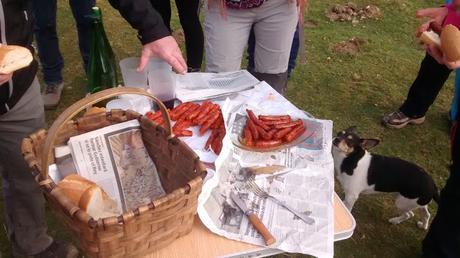 Refreshed and replete, we set off again and, for some of us (viz your correspondent), the pain kicked in.. However, loins were girded, teeth were gritted and aches and pains ignored as we traversed some of the most stunning scenery in this part of the world. Wild cattle and horses were in evidence and mountain oak clung on to the hills as we climbed higher and higher until we reached the snow line. Soon it was time to descend again which unfortunately turned out to be just as painful as climbing.. 
Finally, we arrived at Amaiur-Maya, a picture postcard Basque village where we'd left our cars 6 hours previously. After changing our mud-splattered walking shoes, we entered a restored mill where the promise of a cold beer awaited us. We were served thin corn flour pancakes filled with cheese and bacon.. and later with dark chocolate. The whole was a totally beguiling experience and I'll be returning there with Madame before too long.  
I managed to catch the second half of the Scotland - France 6 Nations rugby (well done Scotland!) and then after a bowl of soup, I hit the hay at 8pm.. Instant oblivion..