Sunday, 17th May

. We had a recommendation from a friend a few weeks ago about

La Tantina de la Playa

- a fish restaurant that overlooks the sea at

Bidart

..(just to the south of Biarritz). We thought we'd try and find it yesterday and take a look at its menu. It looked promising so we booked a table for lunch today. 


This is not somewhere that you'd find by accident, it being approached via a tangle of narrow roads (many one-way) before finishing up with a winding descent of the cliffs - with the sea within touching distance, front and center.. (the address for your GPS is Rue de la Plage, 64210 Bidart) There was only limited parking space down below as we found today so after dropping off Madame and the dog, I squeezed through the tight press of manoeuvring cars and went back up the steep road and was lucky to find a vacant spot within the same time zone.. In the height of summer, parking must be a real problem.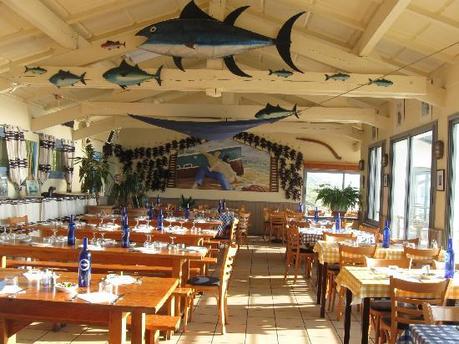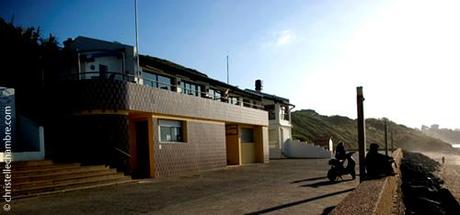 I think the restaurant has been repainted since the above photo was taken - but with the stunning views of the ocean outside, I doubt if many diners would be scrutinising the décor. The restaurant is on the upper floor of an admittedly unattractive concrete building (left) that looks out on the pounding surf below. 
I won't bore you with the details of what we had - suffice to say we'll definitely be returning. All I'd say is that if you are ever in the vicinity and are looking for a seaside restaurant with a stunning west-facing sea view, La Tantina de la Playa will not disappoint. The only slight downside is that there's no set menu, it's all à la carte. Reviews here.  
If you intend to visit with a loved one for a 'special' dinner in the evening, the thing to do would be to look at the time of sunset and book a table for perhaps 45 minutes earlier..