Part 5? Yes, this fifth installment of 'Reverse Culture Shock & Me' comes from a place of observation, I take notes wherever I go! East Lake settings in Wuhan saw me making that 'Dong Ting' metro connection, 'Line 4' had me in my feelings! That 2019 East Coast USA comeback trip served serious contrasts, for real, real! 'Tai Koo Li' became my Beijing shopping bestie! 三里屯!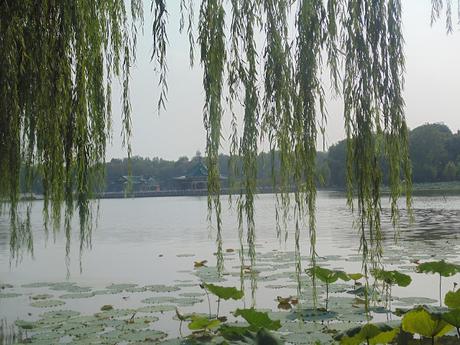 Wuhan will always be my Chinese number one, although Wuhan's own Line 4 had those thoughts contradicted for a split second! '东亭地铁站/Dong Ting Metro Station' tripped me up, looking over my shoulder I found my 'East Lake' path. I kept things local during the summer of 2016 with snatched days spent in either a central location or within a scenic spot, I wanted to experience it all! Already thinking that I knew where I was going, that slice of directional dysphoria caught me off guard! Regardless, fronting that moment before Line 8 had even been dug I found East Lake's '听涛景区/Tingtao Scenic Spot'. Sure those scenic East Lake views were out of this world, well for me they impressed me visually with a sweeping scene of Chinese beauty! Even before having an iPhone and not being able to use an English map, I made those directional mishaps seem like a minor hiccup, I look back and feel proud of myself, unapologetically! Sure, Wuhan naturally prepared me for Beijing life, you know I loved it! Yes!
'Reverse Culture Shock' had me bugging out when I suddenly found myself stepping down from that Megabus in Nottingham, England. I had no idea that a simple bus journey from the city's bus station to Sherwood Forest would have me asking directions quick-time! England was really trying to try me, I had those Chinese maps on lock but when fronted with a simple point to point trip in my native England, I was dumb! Robin Hood, Maid Marian and those Merry Men were nowhere to be seen! Now, that was some shady shade as I nearly missed the last bus back to the city! Rude! With dusk settings already served, locating my hostel without mobile data for the first time in a long time, well you know I felt that 'foreigner' feeling! Asking actual directions with my paper printout, I had gone from scanning my WeChatPay after having a Chinese Mandarin taxi conversation to a less than appreciated 'home-country' situation! 2020 wanted to turn things sour for me, England had me feeling some kind of way! Why did ENG do me wrong?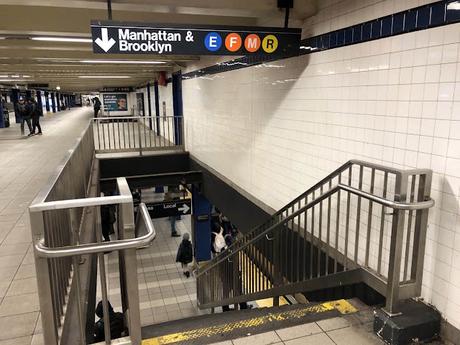 From February 2012 through January 2013, I had the year of my actual living life with my university placement located in Newark, NJ, USA! Brick City greeted me with attitude and I was living for every single Newark moment because it was all love! My working days saw me work my hardest as a 'Passenger Services Agent' for a well-known British airline. The persona created for me, well BB showed the way as my armor because that 62 NJ Transit bus had me on edge sometimes. I got used to the raw energy and visible reality of Newark, taking much care to spend most of my days off running around NYC. Sure, I used the New York City Subway with much appreciation for that 'off the wall' nature that it constantly served. I became used to the 'Realness' with each passing month, 2012 had me prepared for pretty much anything. When an environment becomes familiar, well those settings don't pose as a shock, keeping things on a level. I navigated myself fully without an iPhone, trusting the city! Newark Penn educated me! 
Returning to that part of the United States of America without question would happen, seven years since the baddest of them all departed EWR, I returned! My China life had me feeling secure, I was down with the measures the Middle Kingdom kept in place because that became my life. Once I took my first Subway ride in New York City, I wasn't ready to see a full frontal view of mental health playing out in front of me! I had not seen homeless people sleep on both on the platform and onboard the trains, straight up, I was shook! Newark's nature had stayed in my head as the vibrant Ironbound District hugged me as I walked down Ferry Street. On the other hand, the display of homelessness and sorrow displayed by those loitering outside Newark Penn Station had me stunned, watching items on my person I had never had that issue whilst in China. Where was the mental health, drug rehabilitation and housing provision for those troubled souls who I saw outside that Jersey station? An epidemic? Yes! The poverty shook me!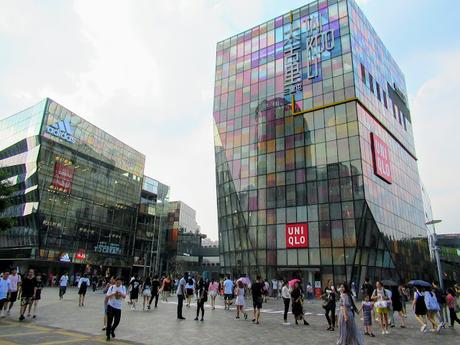 Material Girl! 三里屯/Sanlitun knew I wanted that shopping 'Tai Koo Li' truth without any hesitation! Beijing already knew that I didn't mess with those 'Pedestrian Street' brands because I burned up that well earned pay cheque! Birmingham's Bullring looked sleepy, there was no denying that Beijing's central shopping mecca had me searching for my old faithful, 'H&M!' I was on the hunt for a Saturday night outfit, baby those fresh threads weren't the only eye-catching thing stopping me in my tracks! You already know that '朝阳区/Chaoyang District' situation had me clocking those gentlemen folk, not only the humidity made me feel the heat! I'm not joking! Being within that shopping mainstay, Beijing showcased to me something that I'd never seen before in China. That was a scene of designer brands that had been fashioned amongst a development that impressed me much! It was giving me future vibes! Of course, my everyday views didn't serve that cool but I could handle that! Take me back to 三里屯 & 太古里! 
Riches 2019 certainly served and more, the years onward to present day haven't served such delicious shopping settings! No, they have not! In the United Kingdom, you already know things just won't be, I cannot abide by such a location! Bilston doesn't match up with even my former Shunyi Suburban '北京市' district, I find myself walking along that West Mids high street feeling bewildered by my location. No brands other than 'Bargain' focused outlets stand along that high street, I am not traipsing all the way to Birmingham for shopping options because finances spent in that area cannot be justified. That Bilston high street location might well be walking distance away from my current house but I'd rather walk off into the sunset than be fronted by such nature. Reverse Culture Shock this might well be but I'd like to take things back to a certain Middle Kingdom. Only then within such settings, then will my shopping habits return to those weekend splurges! You already know that my '英国' stint has opened my eyes and then some, B!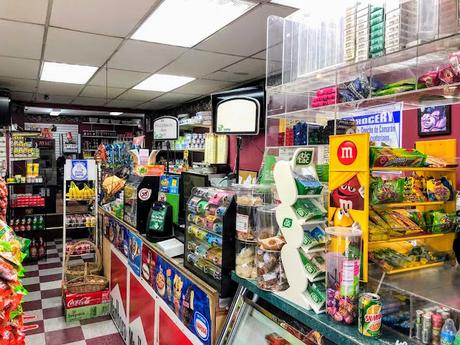 As my United flight crossed the Pacific Ocean, I made sure that I dirtied my beige trousers with grease from my in-flight pasta dish. On my way to Newark Liberty International Airport from Beijing's Capital Airport, I already knew that I would need something to put in a washing machine at my former 'Laundromat' the next day whilst in Newark's Ironbound District. Had I lost my whole damn mind? No, there was method applied to that madness! After jumping off my PATH Train at Newark Penn Station and skimming past Market & Broad, I made my way under the tracks with Ferry Street as my intended destination. I had my Dollar coins ready for my detergent from 'Amazing Dollar', it was crazy to hear people speaking Spanish again! Feeling that Reverse Culture Shock in the best way, the 'My Little Pony' hairstyles clocked in the Downtown had transitioned into Portuguese American daily life. Clocking everything with enough time paid, I headed towards that former 'Laundromat' located on Pulaski & Elm. EWR!
Putting those trousers into the machine on a hot wash had me feeling smug, I had pulled off my plan! Choosing my time correctly, I left that wash in motion with the 'Spott Deli Grocery' bodega style shop in my sights. During those 2012 laundry service moments, I would dip over to the shop during the summer months for a bottle of pop and a Snickers ice cream. Pausing to gather my senses, I saw a can of 'Sumol' in plain-sight! I had made it my mission during 2016 to visit the former Portuguese colony, Macau to find a slice of Newark's Portuguese nature that I had become accustomed to during that placement. Yes, it felt very correct to have my washing on the go and a can of 'Sumol' in my hand. Feeling the best feelings, was like one extreme to the other, that Reverse Culture Shock had reunited me with Brick City! I wasn't mad, I had paid full homage to the 'Realness' and to the everyday nature, it felt golden to experience that New Jersey, USA location after life had boomeranged me back from China. Sumol, baby! I'm done! 
Home Can Be Anywhere! 
Desperately Seeking Adventure