2022 deserved one final 'Recipes With...' blog installment before the year leaves us. Retracing those 'Miss Northern Ireland' steps felt like a natural process, I wanted to lovingly remember my trip through food. Recreating my 'Ulster Fry' had to be done, a certain 'Norn Iron' pop tested my patience but all was well in the end. Sure, I filled in the gaps with much attention paid. So, I did!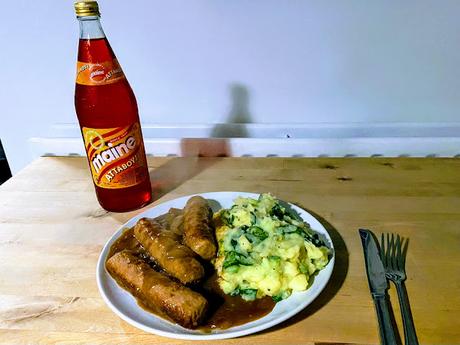 'Bangers & Mash? I don't think! Before my 2022 visit to Northern Ireland, I made my own tick list, I wanted to try as many local variations as possible. 'Colcannon' she better don't! I chose 'Champ' over the Southern recipe, I wanted to keep things as Northern as I could! Nowhere during my trip in Belfast, Bangor, Derry and along the North Antrim Coast did I find any champ, as November 2022 rolled around I made sure I cooked my own version up with the quickness. Taking note from a certain 'Ulster Scots' YouTube channel, I switched some of the ingredients up to make my own buttery spinach champ mashed potato sensation. Accurate measurements weren't going to be for me that evening, making a wish with every movement there was nothing for me to worry about. Flavoursome and then some, I added spring onions liberally because 'Miss Northern Ireland' deserved the most! Accompanying my yet to be mentioned sausages, the final result had me wanting more of that champ goodness! 'YODEL' was about to try me! Yes, B! 
To accompany my 'Sausages & Champ', I ordered some bottles of pop from 'Maine' to add the same flavor I had enjoyed along the 'Shankill Road'. Orange in appearance, I chose to pair my meal with an 'Attaboy' bottle of Maine. The wait was worth it in the long run but the courier company only snapped into action after I went 'Karen' on the complaints department. So, those thick and delicious sausages were lovingly cooked within an onion and cider sauce. Adding more onions and seasonings to the mix, I kept things simple with the cider and browning seasoning thickening up nicely. Served up on that chilly November evening, those favourably cooked sausages and Northern Irish style mash acted as the perfect warming dish. The 'Attaboy' bottle of pop, well it added a familiar taste which, reminded me of my time in Belfast, Northern Ireland. My own version of that favorite turned out famously, I was left feeling utterly stuffed! No, it did not matter that I didn't find such a dish whilst I was in 'N.I.' Definitely an easy meal!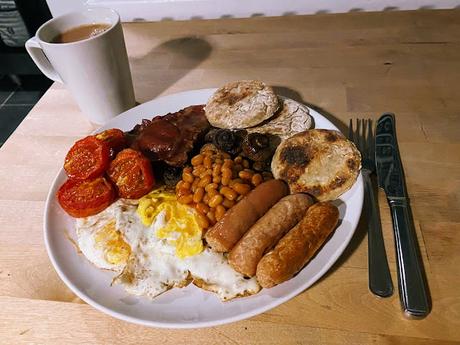 My 'Sunday Service' evening of drinking in Belfast, Northern had left me feeling a little hungover. I needed something mighty fine to eat so I could push that hangover feeling away, something breakfast-like would only do! I knew about Northern Ireland's own 'Ulster Fry' before that May 2022 visit. Choosing to check out the Protestant stronghold corner of Belfast during that rainy Monday morning allowed me to find that 'Tudor Cafe' made breakfast. Served up like a super-charged 'Full-English Breakfast', I already had high expectations for that 'Miss Northern Ireland' breakfast treat. My own Ulster Fry would not have any pancakes present because all of those fried components would fry my mind, I don't do multi-tasking! Portioning off some leftover mashed potatoes from my 'Sausages & Champ' allowed me to roll up on 'Potato Farls' with some porridge oats rolled into the mixture. That 'Ulster Scots' channel had more to show me. Known as 'Rousel', those oaty potato farls tasted amazing! Fadge? Yes, I did my homework! 
Proclaiming that my Shankill made Ulster Fry was the best breakfast in the whole of the United Kingdom, even back in May 2022 I knew that I would need to cook my very own! Blue top full fat milk would only do, I wanted my cup of tea to taste just like the brewed pot had tasted in that Belfast cafe. I managed to keep a lid on the mess in the kitchen, ensuring that the bulk of the components cooked independently in the oven. The potato farls took a little bit longer to cook through and if truth be told, they tasted better the following day after they had been frozen and then toasted back to life. Tudor Cafe better watch out because my Ulster Fry is coming for theirs! Nevertheless, the whole breakfast experience tasted on-par with that Belfast breakfast moment, albeit the hangover because I didn't have time to entertain any headaches with all of those things sizzling away. At this halfway point, I felt rather accomplished with two meals already cooked with 'Miss Northern Ireland' represented at all times. 'Guinness Stew' or what? Yes, let's get it!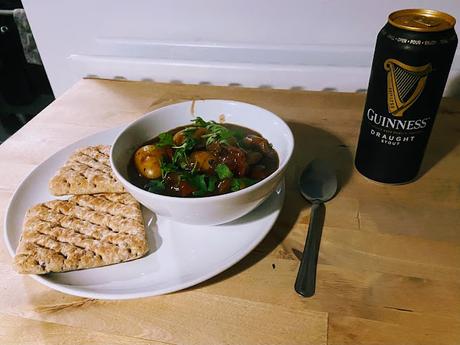 My third and final substantial 'Recipes With...' creation had to be 'Guinness Stew' because 'McEnaneys' Monday Club didn't serve up any stew as their promotion promised. No stress, I waited until the time was right to make my own 'Monday Club' happen for real. Now, I didn't embark on a mad session like I did during that West Belfast afternoon/evening drink up. Yes, I did buy some Guinness cans because I had 'Miss Northern Ireland' in mind. Throwing my braising steak into a slow-cooking oven dish, I added some potatoes and carrots into the stew mix. I decided to leave those dumplings for another day because 'Miss Jamaica' had already served some up earlier on in 2022. Making use of those residual spring onions, they found themselves diced and thrown in that burgeoning stew sensation. Of course, a whole can of Guinness was liberally poured into the mix before it met the heat of the oven. 'Soda Bread?' No, my local budget supermarket did me dirty because I settled for sandwich thins instead. Lovely! 
With hardly any washing up to do, that Guinness infused stew effortlessly was placed into the oven to cook. To add flavour, I had added six garlic cloves for good measure. Preparing one extra can of Guinness from the fridge had to be done, I had no desire to embark on a ten pint session. Cooking for around two hours, at the stews own pace I proceeded to add a healthy measure of beef gravy granules to add to that bubbling stout stew situation. Those sandwich thins acted as the perfect dunking agent, I didn't feel the need to use thick white bread because the stew turned out to be hearty and healthy at the same time. Portioned up and in the freezer, those generous portioned amounts went on to last me a few days after that initial cooking day. Telling the truth, the braising steak tasted great, it was a melt-in-the-mouth sensation for sure! What's it with leftovers tasting better the next day and thereafter rather than just after the dish has come out from the oven? That's some witchcraft, if you ask me! Sure, the stew was lovely! Oh, 'Miss N.I!'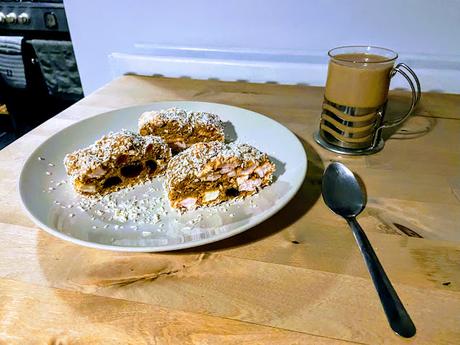 To add something sweet to this edition of 'Recipes With...', I embraced this numerically sounding 'Northern Irish' dessert known as 'Fifteens'. A digestive biscuit based no-tray bake fancy, I ran with this option because I am yet to bake a cake from scratch. I had done some digging, apparently the Starbucks in Belfast sold 'Fifteens' in their city center locations and with a busy schedule for that trip, grabbing a pre-made slice sounded like a great plan! My path did cross two Starbucks locations during my trip to Northern Ireland with one being in Belfast and the other in Derry. Unfortunately, both N.I locations didn't carry the locally known dessert. Collecting my 'Digestive Biscuits', 'Glacé Cherries', 'Desiccated Coconut', Marshmallows' and 'Condensed Milk', it was then over to those online video tutorials and website guides, I wanted to assemble this Norn Iron dessert for myself. What would I have to drink with this 'Miss Northern Ireland' sweet treat? An 'Irish Cream Liqueur' iced coffee milky drink? That would work nicely! 
Brewing some coffee, well that didn't take much thought to do, from there I mixed some leftover condensed milk and the Irish cream liqueur to a mixing jug. Spicing up that yet to be chilled dessert pairing drink, I added cinnamon and nutmeg powder to the liquid along with a healthy splash of vanilla essence, into the fridge it went. The 'Fifteens' comprised of 15 biscuits, cherries and a healthy measurement of condensed milk, mixing with my hands, I then folded in the marshmallows. Using my hands, I placed the mixture onto some parchment paper, I moulded the biscuit based desert into a log shape. From the log shape motion, I coated the 'Fifteens' with the desiccated coconut before wrapping completely and placing into the fridge. I couldn't wait any longer, I gave it 2 hours to set before cutting my first piece. I enjoyed the second half two days later, patience became my nemesis once again but such it tasted sweet either way! 'Miss Northern Ireland' truly served, I can't wait to take 'Recipes With' to another U.K home nation! 
North Of The Menu! 
Desperately Seeking Adventure