Enough is enough, I really need to break free from this locked down England! Real talk, I took myself out for another bit of daily exercise because with nothing else open at the time, what was I going to do? Nothing! In my feelings? I think so! Category was 'Hometown Glory! For the win 'Bilston Town Centre' became my 'Main Stage!' B, brought it to the 'Runway!' Come on through!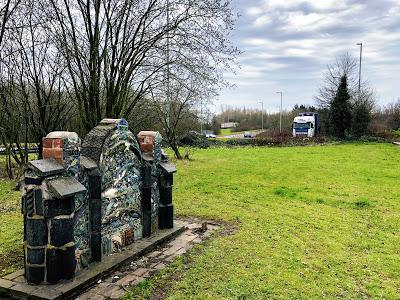 With life still under Lockdown at that point, I had to get out of the house once again! I didn't fancy walking all the way through to Willenhall through Darlaston like I had before. Choosing Bilston as my destination, I focussed on a route that I hadn't took for a very long time! Walking down Darlaston Lane from my family home, I passed my former and only secondary school. From 2000 through to 2008, I studied at St. Thomas More Roman Catholic School. As I walked past that former 'everyday' place, I thought about how relieved I felt that I never had to go back into that building ever again! I would love to give a speech to those young people that attend that school because life can be confusing and school damn tough to navigate! In a sense of that relief, I felt how far my life had progressed since I left that school for college and then university! The fact I had been locked down at home in England after working in China had me feeling some kind of way! That educational place will always be a part of my life and that walk. Just be kind! 
Turning right instead of walking straight ahead, I made my way down the famous 'cycle track'. Passing the coal-pool that has seen a lot of shady business, back when I was a kid it wasn't a place that I was aware of. Neither the gunfire and foolishness, I grew up knowing more about the goings on around the local estate. I saw the different installations of art that can be found along the 'cycle track', I wasn't surprised to see them defaced. But I took comfort in the fact they still stood because it shows passerby what reckless behavior and a lack of appreciation does to actual things. Clocking the Black Country Route within my view, the walk down the 'cycle track' was really reminding me of countless bike rides I had been on down there with my Brother and Grandparents. Memories we made before it was questionable to ride bikes down that Lunt Road to Darlaston Lane path. No, tell me those youth weren't dealing something illegal? I was 98% sure that some shady dealing was being dealt! Yes! Come on, do better! Yes, you have been read!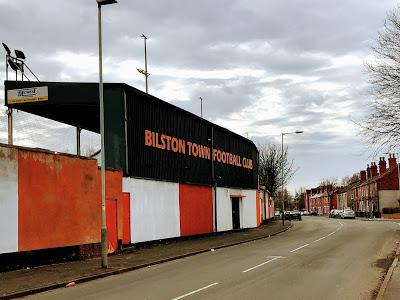 Telling the truth, I am not a fan of that game they call 'football' absolutely not, but I clocked Bilston Town Football Club as I walked closer towards Bilston's town center. Just off to the right of Queen Street where the football club is, I remember visiting Ormond Place many times when I would visit my Great-Grandad Tom. I might not have been to a match at Bilston Town but Ormond Place and the surrounding area will always trigger a memory when I walk down that road. If truth be told once again, I enjoyed walking closer to home because it was a real 'down to earth' moment. For real, the international life that I have lived has given me an undesirable chip on my shoulder, I am not proud to admit that but Bilston's 'hometown' nature has me feeling humble for those far flung addresses that I have lived at. Making it to the half-time phase of my Bilston walk, I knew that in that moment anything else that wasn't in my control wasn't worth stressing about. I have such a love to hate relationship with this 'hometown' of mine. OK, WV14! 
Had I gone and lost my actual mind? Bilston's walk that day had taken me from my Darlaston Lane current home, past my former secondary school during the first phase. Deciding against a Darlaston state of mind, I veered right to follow the path that is known as the 'cycle track'. Yes, for what I saw, nothing more needs to be mentioned about that 'mess'. Queen Street allowed me to see Bilston's own football club, along with Ormond Place with a 'Grandad Tom' connection. As I neared Bilston Town Centre, I passed the half way point of that Bilston to Bilston walk. I had walked this route many times during the period between 'Lockdown 1 and 2', within the grips of a third UK Lockdown that didn't impress me much. All that I knew in that moment, the next walk along that 'cycle track' free walk would be during the relaxation of Lockdown. I feel that that this current 'pandemic' blog series has allowed me to turn something mundane into a memorable event. Was I rushing? Was I in a hurry? Miss Rona, I have time because of you! Oh!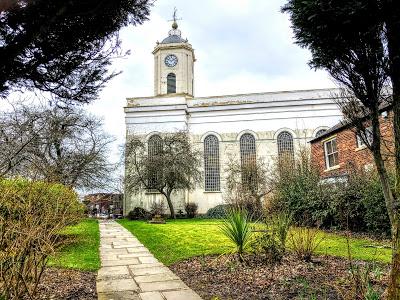 Did I need some divine intervention? Did I need to say a little 'prayer?' Not quite, I had people walking around without their masks on in all directions, was I walking into a Rona 'hotspot?' Yes, I was! Bilston had me wanting that 'Jesus' character to come help me out, those reservations for their stay in hell needed to be fast forwarded to that flaming hot fiery 'devil!' My own words don't trigger me, pressing your buttons then? Oops! St. Leonards Church had me sending some 'COVID Safe' vibes to those heavens, I have no religious conviction but jeez, I needed my 'two metres' respected! Seeing the church locked tight didn't bother me during that part of my walk, the human part of me did think about how the community have had to change the way they worship during the pandemic? That was a question that didn't linger in my head, I don't have a problem with saying that. Judge me! Nevermind, did I want another McDonald's meal? No, I firmly left burgers out of the equation, I knew what I wanted! What was that smell?
On the other side of the road, one of the shops that led to the 'High Street' had helped me out throughout the last few months. At 'Grewal & Daughters', I had found plantain! Yes, that family run general grocery shop had me looking twice and maybe even thrice! With time on my hands during the Summertime without any holidays, I was able to buy items that I wasn't able to find in the Morrison's. Getting those exotic ingredients allowed me to experiment with some Puerto Rican and Dominican dishes. From those purposes I was able to put together my 'Recipes with Miss Rona' pandemic blog series. During my Bilston to Bilston walk I did not have any need to purchase any food items because I didn't plan on doing any cooking or washing up! No! Bilston has its moments, I clocked a new 'Afro-Caribbean' cosmetics shop had opened up next to the Pharmacy on Church Street. Bilston's Church Street boasts many 'Afro-Caribbean' food stores, cosmetic outlets and even Caribbean takeaways! So, was I walking in Bilston or Bridgetown????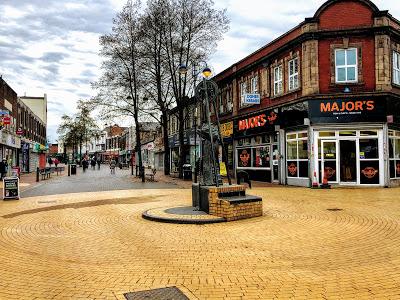 Now, I was feeling exceedingly hungry once I had made it to Bilston's 'High Street!' The decision that  I mad about my lunch choice was 'Major!' Coated in the secret bright 'orange' batter, I had to choose Major's for my lunch that Bilston to Bilston walk! Taking heed of the one way entry and exit system, I made my way into the 'takeaway only' Major's. I ordered a medium battered sausage and chips because I wanted to! The chips are always delicious even though I find they always leave a greasy after-taste but I don't eat them everyday, I can live with that consequence. I try to live dangerously from time to time, I say this because I sat on a bench outside of Major's that had a few passing pigeons with their chooky necks. I ate a few chips and then scarpered! No, I know that I didn't live dangerously in that moment! Leave me alone! I would eat my Major's battered sausage and chips on my way home, of course Baga Chipz's love for battered sausages and a chippy tea was my culinary motivation! Those pigeons repulsed me, not a good look! No!
My observation of Bilston's high street was in full motion, I was impressed to see life during that Lockdown moment. Bilston would be a patient that had had COVID-19 twice and recovered fully each time, I mean that because during my walk I saw many shops get on with their trading. Even before the pandemic, Bilston would have more life than anyplace else in the area! Fronting the entrance to the Market Way, I had ensured it wasn't market day because some of the stalls had reopened to trade 'essential items'. I don't want to be shady but I must, I avoided market day because unfortunately the local market-goers don't social distance, nor do some people wear masks. Trade is trade but people must listen, distance and wear their masks within the indoor market because that 'Miss Rona' hasn't gotten up to leave just yet! My third installment of 'I'm Just Going For A Walk' has been quite a therapeutic affair, life isn't normal for me right now, this distraction has been much welcomed. Bilston isn't for everyone, it is for me though! 好吧?? 
I'm On My Way... Just Walk It Off! 
Joseph Harrison