Miss Rona, that pandemic causing parasite persists to give us something to remember during this 2020 nightmare! Hungry, Rona? Tell me what you would like? Let's cook those pandemic blues away because only delicious food would shift my 'COVID cloud!' Real talk, I was looking for some Peruvian and Filipino meals to enjoy. Miss Rona, tek yuh virus and gweh! Walk good!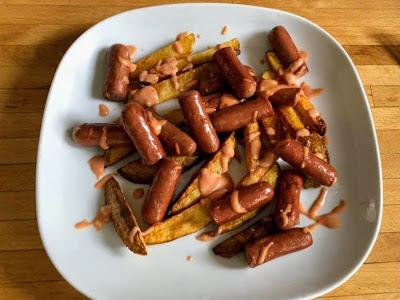 Not content with my previous eight meals cooked, I embarked on a third theme for my pandemic cooking project that I named 'Recipes With Miss Rona'. After consulting with my friend, Fiorella, she had suggested that I cook a dish called 'Salchipapas' which translates from Spanish to English as 'Sausage and Fries'. Being from Peru, Fiorella told me that this easy dish is a popular fast food choice with Peruvians and the wider Pan American region. Staying with my Grandparents the week that I cooked 'Salchipapas' was a godsend because they had a spare potato and a can of frankfurter sausages that I could use. Cutting up one potato into chip/fry sized pieces, to then fry them enough for them to be crispy on the outside but to be soft on the inside. Not peeling the potatoes allowed me to enjoy a crispy texture from the potato skins that had been fried in the pan. Being honest I am not a fan of sauces but in the name of 'culture', I made my own 'Mayoketchup' for taste and decoration. No, don't let Rona cancel more culture! 
Lost in between the islands of 'Cuba', 'Dominican Republic' and 'Puerto Rico' with a certain Caribbean hype throughout the first two editions of 'Recipes With Miss Rona' but with that Peruvian flare activated I was able to look to another culture for inspiration. Still without meaningful news about the next step, I looked once again to cooking because it really helped me get out of my 'COVID cloud'. I really enjoyed my light lunch, the sausages were slightly cooked off with a crisp with the bitter-sweet tasting 'Mayoketchup' I was experiencing a new world taste from the security of home. Damn, that 'Mayoketchup' was good! With this almighty grounding as Miss Rona continues to fool governments who are flapping under their faltering systems, I needed to once again inject the culture back into my West Midlands holding location. I look forward to cooking up more Peruvian foods in the future. Fiorella will come on through with those suggestions? Yes, I have every faith my Peruana friend will help me. ¡Comamos! Let's eat!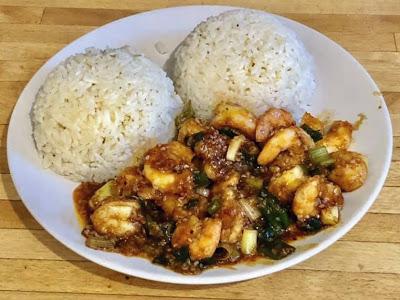 How I had not used all of those frozen king prawns was an absolute mystery! No joke, I felt like I needed to make another prawn dish to warrant their price! Yes! Batch cooking some white rice, I headed to the local ASDA to hunt down some cost effective ingredients for my Asian style sesame prawns. Now, I don't want to complain because I know the shop workers in the supermarkets have dealt with the public and certain food shortages, all I wanted was the supermarket own 'soy sauce' rather than the Amoy brand. Having to deal with the bare shelves I got what I needed regardless of that slight inconvenience. Loosely following a 'Chinese' style recipe it did not look Chinese from my experience living in the real 'Middle Kingdom'. BBC Good Food, be gone with your bad-self! We know how you cook that rice the wrong way! BBC, gweh! With my day old rice only needing heating up in the pan, I was laughing as I only needed to make the marinate for the prawns, that was made quick-time! Being book smart, I had change! 
Never living to impress the other person, I mixed my soy sauce, ground paprika, mild chilli flakes, sweet chilli sauce, salt and black pepper with some honey squeezed in for that sweetness. The concoction mentioned would be used for the prawns once they were ready. Searing the defrosted king prawns in the oiled pan for about two minutes was fine, they had been mixed in with some flour and ground paprika. Chopping some spring onions, I added half of the current quantity into the pan, adding the sauce I cooked it up for a few minutes to activate those flavours, adding the sesame seeds in last. With only two more minutes needed in the pan I lastly added the already sealed prawns into the pan. After a few moments my 'China-sick' meal had been put together without stress. I had forgotten to buy sesame oil, the meal didn't lack with that not being present within the dish. The dish wasn't strictly Chinese by any stretch to the authentic taste of China but it was a welcomed taste. I had the thought of a Chinese style week in motion!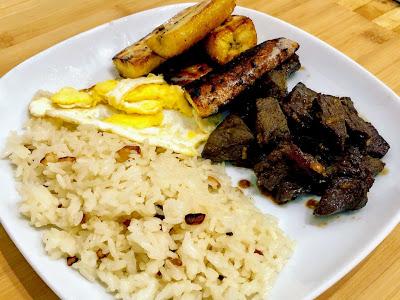 Remembering Thanksgiving 2012, I had the immense opportunity to experience a Filipino feast with a former friend during my time in New Jersey, USA. Following on from that previous event and the research made for a possible trip to the Philippines, I asked my friend Valerie for some cooking ideas. With my Filipino idea intact, I took the name 'Tapsilog' over to YouTube to find a tutorial that would show me the way. I found one video from a channel called 'Kusina Sentral' meaning 'Central Kitchen' in English from the Tagalog language. Sourcing my ingredients gave me another chance to do some walking without thinking about the step count, I was cooking up good food but making sure those steps helped to burn some of those calories. With my marinate shopped, I took my chopped pieces of steak and soaked them in the 'Tapa' marinate that consisted of soy sauce, crushed garlic and sugar. Talking of garlic, I needed to toast some for my 'Sinangag', that's Filipino garlic rice for those who didn't know. I loved bringing in the PH vibe! 
With my 'Tapa' ready to be cooked, I made sure my 'Sinangag' had been taken care of and plated up. The 'Tapa' had been marinating for about thirty minutes, that was just enough but not for any less. Cooked separately with care, I moved onto my plantain because I had consulted with another Filipino friend, Andrea had told me that 'Bananacue' is enjoyed in the Philippines like 'Platanos' are enjoyed in Puerto Rico. With my 'Bananacue' and 'Itlog' cooked and plated, I could then piece together what 'Tapsilog' actually meant! Taking its name from the fried steak, rice and eggs, I managed to piece together the 'Tagalog' words that brought together the name of this delicious Filipino breakfast meal. Taking a few steps back, the flavours from each component blended so well and complimented the overall taste! When I do go to the Philippines I will be finding some home-cooked 'Tapsilog' for sure! Thanking Valerie and Andrea for their advice I was able to enjoy a slice of the Philippines! Where would the final plate be from? Hey, Europe?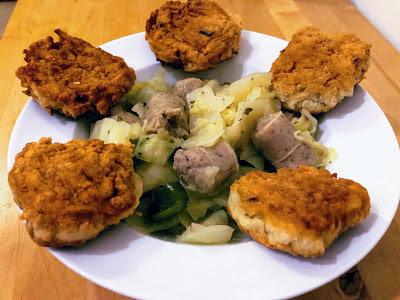 Looking for something that would warm during this sharp autumnal decline into winter, I looked towards a Polish recipe. Surprisingly I couldn't find any Polish cured sausage, settling with the British un-cured equivalent I bought a head of cabbage, a green pepper and some onions. How I despair, British food can be so uninspiring! Creating my one pot Slavic wonder didn't take much thought, when I'm back in China I know that Chinese cured sausage will work perfectly with the original Polish recipe. As my one pot wonder bubbled away I didn't have much to do for the moment, I had already peeled and grated the two potatoes that were needed for my potato cakes. Adding my sausages to the cabbage, onions, garlic and peppers, allowing that to blend together I added a chicken stock cube and some water. That water and stock allowed my soup to form without any work required. Not knowing how the potato cakes would turn out, I turned up the heat and hoped for the best as the oil bubbled away. I needed to add flour? Yesss! 
Shaping my potato cakes one by one, I used some flour to bind them together because the mixture was much to0 eggy! Bubbling away in the pan, the oil cooked my potato cakes as my cabbage and sausage soup waited in a bowl for me. After a few minutes the potatoes had browned nicely, just a few more moments were needed to get the desired crunch. Both the soup and freshly made potato cakes complimented each other famously. It was something different because the previous two meals had been Asian, to have something European to compliment my first dish that was Peruvian gave me a worldwide dining state of mind. The pandemic had stopped me from leaving England but my tastebuds were on a wild adventure, my stomach needed a passport to access the lands where these foods hailed from! When will Miss Rona actually get up and leave? I'm alright for the time being with these 'Rona Recipes' because they are giving a bit of life but I want my traveling life back, like now! Yes, I wanted a Chinese week! 
A Passport For My Stomach? Yes! 
Joseph Harrison