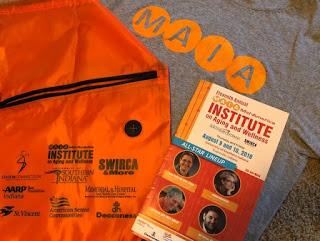 MAIA 11th anniversary swag bag, program, and tee.
What Is MAIA?
For the last eleven years, the
University of Southern Indiana
in partnership with
Southwestern Indiana Council on Aging & MORE!
(the local Area Agency on Aging) has organized an inter-professional gerontology conference. This year, the conference ran August 9th and 10th with a pre-conference workshop on the 8th.
Located in
Evansville
, Indiana, this two-day event offers keynote and plenary speakers with nationally--if not internationally recognition. In addition, dozens of other presenters also offer great information about promoting wellness across the entire life span. 
The participants are local health care workers, university students, and members of the broader Tristate (
IN, IL, KY
) community.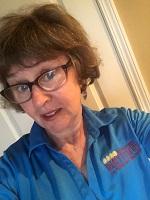 Last week was the third time that I attended the Mid-America Institute on Aging and Wellness (MAIA). However, it was my first time serving as one of the organizers as a member of the Blue Shirts team. 
This gave me the opportunity to see the amount of work that goes on behind the scenes. I'm grateful for all that USI, SWIRCA, the sponsors, vendors, and all the presenters do in order to make this event informative and exhilarating. 
By looking at the program ahead of time, I had a chance to
read more about all the presenters
before they arrived. However, with six concurrent sessions happening three times a day for two days, it was impossible for me to attend all 36 sessions!
Let me first report some key details about the keynote and plenary speakers. (Details about the concurrent sessions forthcoming.)
Keynote and Plenary Speakers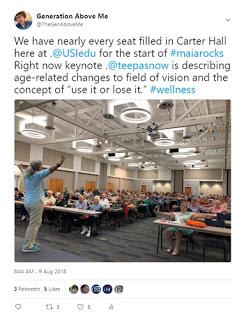 Click on photo to enlarge.
Teepa Snow led the pre-conference workshop on Wednesday and the keynote address on Thursday. 
She is one of America's leading educators on dementia.
Snow's work
emphasizes how care partners need to learn more about the changing needs of those living with dementia. 
While Snow does talk about the cognitive, physical, and emotional changes people experience while living with dementia, she focuses on the care partners' language, behavior, and attitudes. 
Snow's presentation style is not only informed by her years of clinical experience. Her speaking style is dynamic, interactive, and laugh-out-loud funny. 
She takes a challenging situation and gives the attendees tools, principles, and a positive outlook. 
During her keynote address on Thursday morning, Snow explained various stages of dementia while asking the attendees to use gestures to help remember neurological, biological, and psychological concepts. She also asked attendees to do a few exercises that helps them adopt some of the physical and perceptual changes experienced by people living with dementia.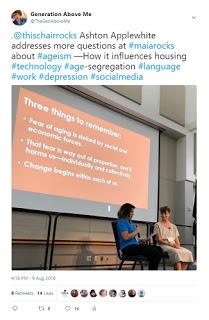 Click on photo to enlarge.
The plenary speaker for Thursday afternoon was
Ashton Applewhite
, noted author, speaker, and activist. She uses her wit to observe overt and covert ageism that affects people across the lifespan. 
How we perceive the aging process is everyone's experience.  As she commented, "Aging is living. If you are alive, you are aging. Think of aging as you do breathing. It's vital." 
Her presentation unearthed the economic and social forces that promote ageism. Capitalism is particularly at fault for defining aging as a disease and transforming a natural process into a problem to be addressed by the purchase of anti-aging goods and services.  
Ageism also pits various generations against each other, denying them the benefits of collaborating in order to support each other and to address broader cultural, economic, and political challenges. 
Applewhite included specific examples of ageism lurking in language, media images, workplace practices, and government spending.  In preparation for her visit, I
watched her 17 minute address
to the United Nations. The content and style of her address was mind altering. If you would like a shorter version of her remarks, watch her
11 minute Ted Talk
.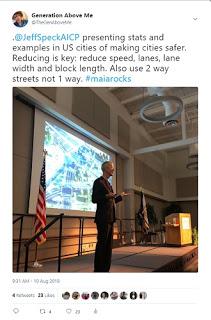 Click on photo to enlarge
The second day of the MAIA conference started off with a keynote by
Jeff Speck
, city planner, urban designer, author and speaker.  
Speck explained the ways that cities have developed in response to complaints about driving commutes. 
Tragically, the short-term and short-sited responses by myopic city planners have led to increased dangers to pedestrians.  These dangers are twofold: acute dangers are traffic accidents causing a significant increase in injury or death; chronic danger is the decrease of walkability, leading to worsening health outcomes for residents. 
Speck then showed examples of designs and redesigns of various U.S. cities that resulted in increased safety.  Often strategic changes to streets, lanes, and intersections doesn't even require a decease of car flow if a well-crafted design is implemented.  He also included some discussion of the safest ways to add bicycle lanes. 
The attendees let out an audible gasp when seeing how some cities place their bicycle lanes between parallel parked cars and the sidewalk, offering a "steel barrier" instead of just relying on paint to keep moving cars out of the bicycle lane.
(
This
wasn't his photo, but it shows a similar design.)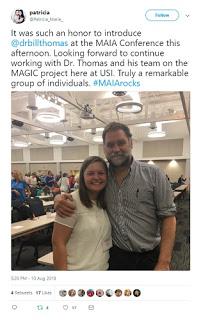 Click on photo to enlarge
Friday's plenary speaker was Dr. Bill Thomas, geriatrician and culture change agent. Thomas has worked for decades on to transform the
housing options
for older adults. 
One of his key concepts is the need to reintegrate people from across the life span so that there is less isolation and more cooperation. 
Thomas led an interactive session on the
MAGIC
project at 12:30 pm before delivering an address to a larger audience at 3 pm.  In the Loft, there were large banners showing floor plans and completed Minka homes constructed at other locations. 
There were also member of the
Changing Aging
team members on hand to talk with conference attendees.
Thomas' acronym MAGIC stands for multi-ability, multi-generational, intentional community building. The USI campus and members of Evansville are working together to build this housing model that brings people of various ages and abilities together. 
Keep up with the unfolding MAGIC project:
http://www.usi.edu/magic
Related:
2018 MAIA Preview
USI Hosts Dr. Bill Thomas and the Aging Avengers
Teepa Snow at 2017 MAIA 2017 MAIA Report