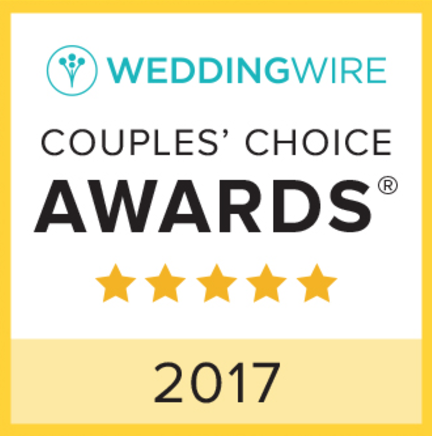 So thrilled to announce that we are a 2017 WeddingWire Couple's Choice Awards® winner! 
The WeddingWire Couples' Choice Awards® recognize the top five percent of local wedding professionals on WeddingWire who demonstrate excellence in quality, service, responsiveness, and professionalism. Winners are determined by reviews from over a million WeddingWire newlyweds! 
I was crossing my fingers that I would be on the list this year – as many of you know, my family and I moved more than twice in the past 2 years and I was afraid of restarting my bridal makeup business from scratch in a new city. I worried about everything under the sun but ultimately realized that hard work, passion and a little belief in yourself can move mountains. This isn't just a "job" to me. Being apart of the most special day of so many women's lives brings me so much happiness. I love sharing your love stories and getting to know all of you – I love making you feel happy, beautiful and self-assured. 
From the bottom of my heart, thank you to all the lovely brides I had the honor of working with this past year. Your heart-felt reviews and the love you have shown are truly wonderful. Thank you for allowing me to do the job of my dreams! 
Stay up to date with our fun bridal adventures, before/afters + all things makeup via social media: 
Facebook | Instagram | Pinterest