2017 Movie Watched List
Movie Watched list are always interesting to read to see what order people watch films in, over the past two years I have started doing watched lists with two different styles to talk about the over 1000 movies I had seen. This year I decided to mix it up once more. This time I will be listing the films in 10 like before and then picking just my favourites on a couple of subject's I am picking favourites over best because sometimes the best films are difficult re-watches which is why I like the term favorite.
Here is 121 – 130
1.   Peelers
2.   Safe Haven
3.   Balto
4.   Belle
5.   The Blob
6.   Believe
7.   Burnt
8.   Out of the Furnace
9.   Strange Magic
10. We Still Steal the Old Way
Favourite Film
Believe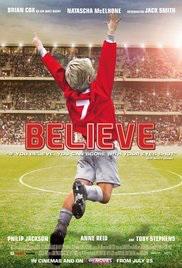 As a football fan I enjoyed the idea of one of the greatest managers helping a group of kids find their potential from the streets of Manchester.
Worst Film
Safe Haven
Romance films are not my favorite and this one just sums up everything I struggle to enjoy in the style of film.
A lot of these films were incredible forgettable and I couldn't find the best or worst character in the end.
Any other question you would like to know about the selection feel free to leave a comment and I will answer or maybe even add to future Watched Lists.
Advertisements