2017 Anticipated Countdown
Through December I am going to look at 31 films I am looking to watch in 2017, some I am looking forward to and others I want to see where the film idea will go next.
Saw: Legacy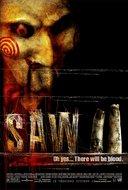 Main Cast – N/A Yet
Reasons I want to see
·   I wanna see where this will go next.
·   Who will return?
·   Will this be pre or post Saw?
·   Too many questions to ask really.
Will it be successful? This will make money for Halloween release.