Over the past year I have seen an incredible amount of films and I have decided to share with you all which ones I have seen in what order. I am going to be doing these in groups of ten, where I will pick my favorite of the bunch and the worst of the bunch.
So without further ramblings here we go with 271 – 280:
One Day in September

This is the documentary following the tragic events in the Berlin Olympics where terrorist killed Israeli athletes. Oscar winning documentary that should be watched.
Kingsman

Second viewing of the year, and it is still one of my favorite of the year.
Chappie

 When one man wants to turn his police robot into a friendly robot it gets caught up in the middle of a battle he didn't need to be. People hated this one but it does have some good moments.
Oliver, Stoned.

A slacker must learn to grow up and give up his drug habits. Solid low budget comedy.
Siren

A young woman who has the ability to make male do anything for her finally meets her match in a guy with no sense of smell who can finally see her for who she really is. Nice low budget film worth a watch.
Transit

A vacationing family becomes target of thieves after they use the family car to transport their loot past police barricades. Basic action film that all works well.
Blood Cells – We follow a man traveling across England to see his family after a tragic event pushed them apart. Good drama that has been winning indie awards.
The Man Who Knew Too Much

When a man befriends a stranger on holiday not everything is what it seems as he needs to uncover the truth. Early Hitchcock work here.
Lizzie Borden Took an Axe

The famous crime in America that never really got solved which adds mystery to it all. I thought there was a supernatural side to the story so I was disappointed with this one.
Spring

When an American goes traveling to get other personal issues he finds himself drawn to mysterious woman who has a secret that has a secret. A very weird but beautiful horror film.
The Best – Kingsman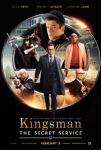 The Worst – Transit