Over the past year I have seen an incredible amount of films and I have decided to share with you all which ones I have seen in what order. I am going to be doing these in groups of ten, where I will pick my favorite of the bunch and the worst of the bunch.
So without further ramblings here we go with 231 – 240:
Open Graves

 This film follows a group of young adults who find a bored game that predicts their own death only for them to start dying. I actually wanted to watch Open Grave instead and this turned out rather boring.
Jurassic World

 The reboot/remake/sequel whatever you want to call it with Jurassic Park fully operational things go wrong once they try to make their own dinosaur. A good reboot but I think it would be fair to say not as special as the first film.
Closer to God

A modern day attempt at a Frankenstein story that doesn't quite reach the levels it should have.
Lake on Clinton Road

Group of friends go for a weekend away on the lake on Clinton Road, when things start going wrong as a killer is on the lake. Basic slasher with low budget.
Last Five years

 An all singing all dancing story of a romance over five years. I will say this is original but then again I really don't know how much this will pay off for everyone.
Insidious Chapter 3

The prequel that gave away all the scares inside the trailers. I personally didn't like that I knew when the scares were happening.
Ghost Rider

The much slammed film that I didn't think was that bad following the comic book character the Ghost Rider.
Ghost Rider 2

The even more hated film that while is worse isn't that bad when you have been drinking slightly.
All is Lost

The brilliant story of one man who gets stranded in the middle of the ocean while he boat sinks, no words just drama. Finally we get to the better end of the list here.
Inside Out

Pixar brings us emotions in our head that will leave us feeling all five of them. One of my favorite films of the year.
The Best – Inside Out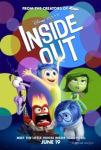 The Worst – Open Graves