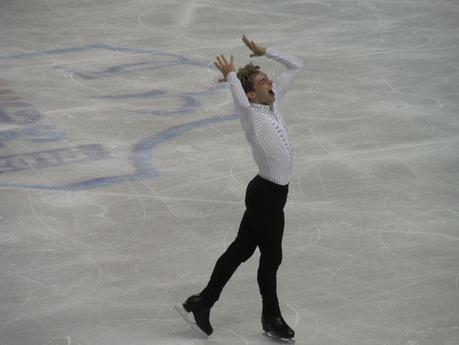 I think the above photo of Adam Rippon perfectly sums up the men's free skate overall. What an afternoon of skating! It was one of the best competitions I've ever seen, and I'm so psyched to see how far these guys can keep pushing each other. Is Adam's triple Axel FINALLY a solid jump for him? Can it really be?? If it is, he is going to be a huge force the next few years.
As a Josh Farris uber fan, it's definitely driving me a little batty to think he could have won if not for the extra double toe, but I'm rationalizing the situation by looking at the little bobbles he had. His performance probably didn't deserve gold. But I'm just so happy he skated so well and fought for every landing when the pressure had to be unbelievably intense. Skate gods, please keep him healthy so he can build on this competition and continue to grace us with beautiful performances like we saw from him this weekend. 
The gala wasn't one of the better ones I've seen. One of the highlights was during the closing when the skaters were spontaneously dancing together. Check out the video here.
Check out all my photos from the men's free skate, medal ceremony, exhibition, and Friends of Figure Skating breakfast here!