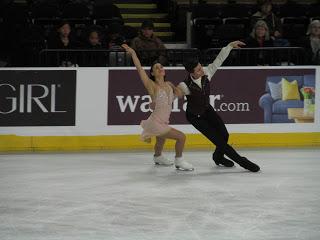 Hello from Milwaukee!! Today was practice day, and I caught most of the men's, pairs, and dance groups (had to step out on the first group of pairs for a quick lunch). My overall impression is that there is some great program music at this event, which is always a plus! :)
The Japanese men were part of the first group on the ice this morning, and I watched Shoma Uno very closely because he is my "little Daisuke Takahashi." He did a full run-through of his short program and nailed all the jumps, including a quad toe. I am in love with Brendan Kerry's LP music - a mix of "5 Secrets" by the Piano Guys and "Secrets" by One Republic.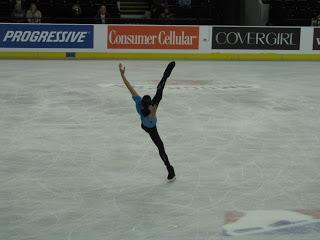 The second group of men included the American guys. Max Aaron had some trouble with his quads in his long program run-through, but he landed both triple Axels. Jason also had trouble with the quad, both in the program and on its own. He fell on his second triple Axel, but nailed most of his other jumps. I still wish the tempo transition of his music happened sooner in the program. It starts off so beautifully, but I feel like it stays at one level far too long in the middle section.
I got back to the arena for half of the first group of pairs, so I missed Sui and Han :( Stolbova and Klimov looked surprisingly good on their throws. I say surprisingly because of the issues they had at Nebelhorn. The long program looked better in person than it did on the Nebelhorn stream. I really love the joy with which the second Chinese team Wang and Wang skate. They are so pleasant to watch.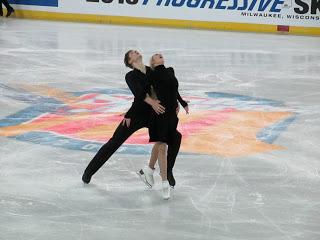 The dancers were up next, and I enjoyed Yanovskaya/Mozgov's Great Gatsby free dance. I'm a sucker for "Young and Beautiful," though. I thought Sinitsina and Katsalapov looked more locked in and cohesive than they did last year. Wang/Liu also impressed me. They're making great strides under the DSC coaching camp.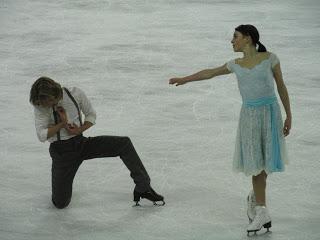 In the second group, the Americans dominated the roster. Hawayek/Baker's free dance looked much smoother than it did at Finlandia. Kaitlyn just had one misstep in one of the step sequences. I love, love, love Cannuscio/McManus' free dance! They put so emotion into it, and I can see it bringing audiences to their feet. Chock/Bates also ran through their gorgeous Rachmaninov free dance. There are so many stunning moments in it.
I skipped the ladies to do a little sight-seeing around town, so nothing to report there! Here are the rest of my photos from Thursday => PRACTICE PHOTOS