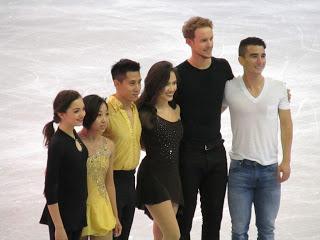 I

apologize for not being more timely with my photos from the event. I usually try to do my blogs after I return to the hotel each night, but the late times of the events plus technical difficulties with Google Photos threw a wrench into my routine. Regarding the late times, if anyone from USFS is reading this, PLEASE consider moving up the start times of the events in the future so we are not leaving the arena at 11pm or later. There's no reason why we can't start earlier. This week's events at Skate Canada all end before 9pm. I will gladly have a 4pm senior citizen dinner before the night session if it means getting back to my hotel at a decent time to hang out with friends/work on my blog/catch up on sleep (especially when the Friends of Figure Skating breakfast starts at the ungodly hour of 7:45am after an 11:30pm medal ceremony the night before). Sorry, rant over!




On to the skating, the event started in fine fashion with an almost perfect pairs short program. There was one fall in the entire event, which came from Stolbova/Klimova. Sui/Han had a slight stumble in their pair spin, which cost them the entire element and first place. They would have had a comfortable lead if not for the zero points on that element. I continue to be amazed by how far they've come artistically since they were two kids zooming around the rink. They've developed such beautiful flow and body movement between their huge elements. While Sui and Han have been together for many years, a team that has only been together a short time also left a big impression on me. Pfund/Santillan have skated together for only six months, and their jumps and throws are better than many veteran pairs. If they can work on their speed and add a triple twist, look out!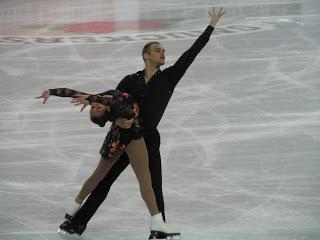 The ladies' short was next, and I was surprised at the commanding lead of Medvedeva. Her jumping ability can't be denied, but I don't think her program component scores should be so generous at this point. She still has a bit of a juniorish quality to her skating (understandable since she's 15!) I thought Satoko and Chen were underscored compared to her. Chen lit up the whole building and skated "big" in her Nessun Dorma short.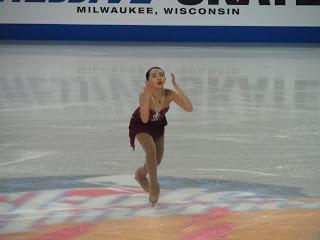 After a rainy trek to a nearby sub shop for dinner, we were back at the arena for the night session. The short dance kicked it off, and it appeared from the scores that the technical panel was being stricter than ones we'd seen during the Challenger series. I'm not crazy about Chock/Bates' new music choices, but they performed the heck out of the program – an impressive feat since it was only the third run-through of the program they'd done. They were the clear head of the field with their command of the ice.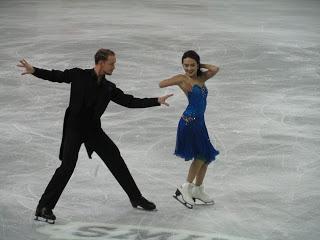 The men closed out the evening with more surprising results. Nessun Dorma is a piece that brings audiences to its feet more times than not, and Aaron capitalized on that with perfect jumps and much-improved connection to the music. I'm not a fan of Uno's music, but I just love watching him move effortlessly across the ice with those soft knees. I was impressed with Kerry's skating skills (I hadn't seen him compete before), but I wish he'd give more "face." He needs to project more to the audience and not look so nonchalant about his skating.
You can find all my Friday photos HERE.
The pairs started the action again on Saturday. I can't gush enough over Sui/Han's long program. I'm a sucker for Samson and Delilah to begin with, and their interpretation is stunning. It's like watching a beautiful painting come to life. The second Chinese team Wang/Wang had some trouble on the jumps and throws, but they are also so pretty to watch. Kayne/O'Shea also had some early problems on the SBS Salchows and the quad Salchow throw, but they really fought hard for everything after that. After seeing their beautiful clean quad in practice, I was so hoping they'd land it in the competition! Another young pair who showed their mettle was Seguin/Bilodeau. In a very tough field they took the bronze (should have been silver) with two strong programs. The joy in their skating is really palpable.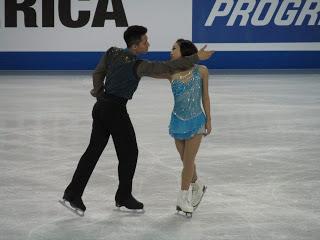 The ladies' free skate is always my least favorite event. It just seems to last a long, long time. I thought Satoko wuzrobbed again. I'm not sure why the judges think Medvedeva is so far ahead in artistic ability because I don't see it. She's better on the PCS front than most of the other baby Russians that have come along (I'm looking at you Radionova, Lipnitskaya, and Pogo), but she still needs more time to mature. Gold threw down an impressive free skate, and I thought she'd win easily since she's more polished than Medvedeva.
The free dance started off the night session and provided a little bit of everything. I really enjoyed Yanovskaya/Mozgov's Great Gatsby free dance. The costumes fit the theme, and they had a lot of fun with the music. I was so happy to see Cannuscio/McManus earn a great score for their Beethoven program, which they delivered with such heartfelt emotion. The story they tell is clear and moving. Another couple who told a moving story was Hawayek/Baker. It's obvious how much the program means to them as they embody the characters. Chock/Bates looked a little more tentative than they usually do in their free dance, and I suspect it was due to the short dance issues and Evan's illness that they had to contend with the past couple of weeks.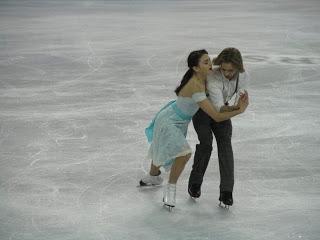 The men wrapped up the competitive action Saturday night, and it wasn't a pretty event. Aaron and Uno were again the standouts for me. Brown also performed very well. I love The Piano soundtrack, but I just can't get on board with his music the way it's cut right now. The lack of tempo change until more than three minutes into the program drives me batty. Uno's jump landings were also driving me batty. He drags his free leg a lot on the landings so it looks very messy. Everything else about his skating is sublime, so I want him to clean this up!


You can find all my Saturday photos HERE.
The FOFS Breakfast on Sunday was a fun event as always. It was especially great that all the Team USA members could attend since they were finished competing. Jason Brown's line stretched across the ballroom and lasted over an hour. He received so many gifts from fans, and he was so appreciative of the support. I thought it was a bit odd that Kori Ade was there taking photos with fans since I've never seen a coach at this event in ten years of attending it. Josh Santillan had the best outfit I've ever seen at the breakfast. He was showing his patriotic pride!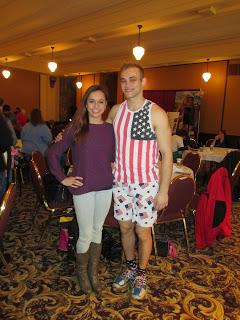 The Exhibition closed out the weekend on Sunday afternoon, and it was a great show! My favorite programs were from Kayne/O'Shea, Gilles/Poirier, Sui/Han, and Chock/Bates. Max Aaron put on an impressive display by doing two full programs back-to-back. And there was the usual cringe-worthy moment that always seems to happen in these exhibitions. This time it came from Julia Lipnitskaya and her attempt at sexy dancing to Beyonce.
You can find all my Sunday photos
HERE
.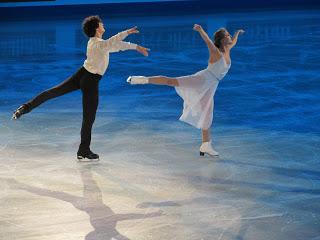 I know attendance was pretty poor at the event, but I wouldn't mind seeing Skate America in Milwaukee again. The airport was easily accessible, the arena was a quick walk from the hotel, and there were lots of food options in walking distance. It was a great setup overall!