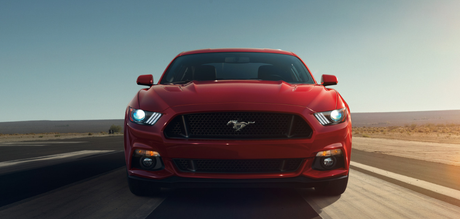 When Man of Many received an invitation from Ford Australia to to attend the simultaneous global reveal of the 2015 Ford Mustang in Sydney, exploding fist bumps were shared all around. The latest addition to the iconic lineage of the shark nosed, long hooded muscle car pays tribute to its 50 years of sleek design with a modern touch up. Although a number of mouth watering features have been added, the news on everyone's lips is the global release of the pony car for sale in 110 countries, bringing the thrill of freedom, independence, the open road, and envious stares worldwide.
With deep set glaring eyes and aggressive brow, the face of the 2015 Mustang has not lost its sex appeal. If possible, it's even sexier. Its slightly lower roof and hood, wider set body, and short fastback cabin and rear deck borrowed from its chic sporty European cousins imparts an exotic flair to this new model.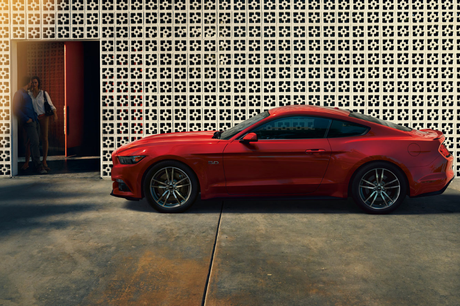 Without a doubt, this cars most defining feature is its deep guttural grow of the 5.0L 420 horsepower V8 engine, which will draw a single unguarded tear of respect from the eye of even the manliest of men. If you don't quite feel the need for such a powerful piece of equipment, not to worry, owners of the 2015 Mustang are given the choice of 2 additional respectable engines, a 3.7-liter V6 engine with projected 300 horsepower or the remarkable 2.3-liter EcoBoost four-cylinder that gets an easily respectable 305 horsepower.
Ford's going even further to let you be you in an exceedingly crowded world. Tailor the beast's performance to your individual preferences with the twitch of the thumb using Ford's performance tracking and customization smartphone app. Put some hair on your chest and pay respects to tradition with a six-speed manual transmission or take it easy with an updated automatic option. As always you can choose from a wide variety of stripes and body colors to fit your style.
If you're looking at this last option with skepticism, you're probably not the only one, but rest assured Ford's EcoBoost engine is designed to achieve equivalent power and torque with approximately 20% better fuel efficiency and 15% reduced greenhouse emissions than larger engine displacement and naturally aspirated engines.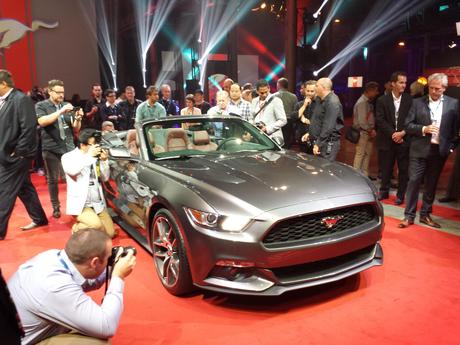 Peeking inside the Mustang's interior, the designers have keyed into the 50 year legacy's quintessential features, while giving it a modern look with airplane inspired center console features and a metallic accent running the length of the dash.
This model is packed with a number of red hot tech including Ford SYNC connectivity system with enhanced voice recognition, a high-res touch-screen display, AppLink control of 60+ smartphone apps, an embedded performance tracking application, blind spot monitoring and automated collision avoidance systems, a rearview camera, and MyKey driver safety and awareness system. I'll give you a moment to take all that in. Ready? As if that's not enough, a rumored secret feature has been confirmed to be burnout control. Yes, burnout control. Now the ever impressive burnout can be had at the click of a button.
We know, we can't wait to jump behind the wheel of this beautiful beast to satisfy our primal urge for independence and freedom either. Patience, young grasshopper. You'll have to wait till July of next year when it's projected to hit the showroom floor.
Check it out