On April 19th of 2015, the 50th Anniversary of the Academy of Country Music Awards was celebrated at the AT&T Stadium in Arlington Texas. I honored the accomplishments of artists in the Country Music Industry over the past year. Singers, song writers, celebrities, and the public came together to honor those nominated. The red carpet at the ACM Awards was where all the attendees paused to show off their fashion choices.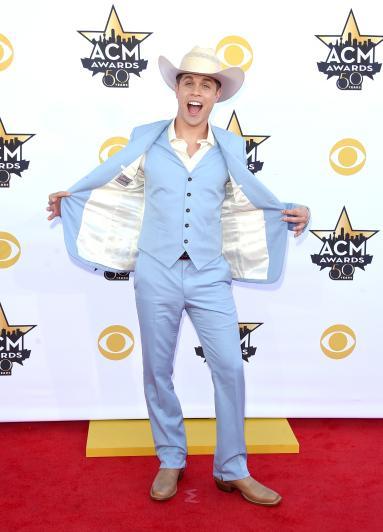 Singer, song writer Dustin Lynch chose the brighter end of the color spectrum with his robin's egg blue three-piece suit and he is not afraid to show it off. It is a nicely tailored suit and Dustin's ivory colored 10 gallon hat compliment it well, but I get a flashback of the baby blue prom tuxes if the late 70's when I look at him. Time to invest in some new outfits, Dustin; maybe check out
Stylzz
to find your next look!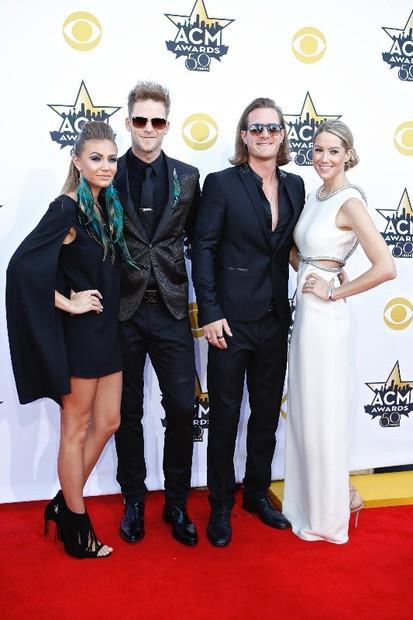 Next is the singing duo Florida Georgia Line, who arrived on the red carpet of the Academy of Country Music Awards with their wives and distinctive pairs of men's sunglasses. They celebrated winning "Top Vocal Duo" at this year's ceremony. Tyler Hubbard's wife Hayley went for a black mini-dress with matching cape, long blue feathered earrings, and fringed sandals, while Brian Kelley's wife Brittney chose a less edgy look with her long white gown with silver fabric trim. Both the guys stuck to basic black, but Tyler revved his outfit up with an embossed jacket and Brian took the more casual approach with his open shirt and jewelry accessories.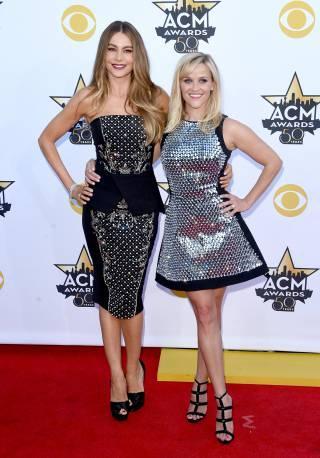 Last, but not least: Two delightful movie celebrities who showed up to celebrate the 50th AMC Awards this year were Sophia Vergara and Reese Witherspoon, who recently had released their new movie together: "Hot Pursuit". They arrived on the red carpet sporting the "metallic" trend. Sophia chose a strapless black dress with a silver metallic embellished strip down the front of her dress, with more a peplum style waistline that was cut to hug her curves. Reese also decided to shimmer in her short-sleeve, thigh-length silver metallic dress with an A-line cut and black fabric trim down both sides. The cut of Reese's dress looks fantastic on her and her accessorizing with the black strappy sandals goes perfectly, but the jury is out on the large metallic links that make up the front of the dress because it sort of reminds me of a knight in shining armor.