In 2015 I managed to catch a record breaking 20 musicals and plays on stage in both the North East (Sunderland Empire or Theatre Newcastle) as well as trips to London to see them in the West End. You can read through the normal list 2015 Theatre. This number was certainly boosted by the Wicked UK Tour visiting Sunderland which I just had to go and see more than once, three times to be exact. This was also down to getting some fantastic deals with ATG Theatre Card, as for less popular touring shows at the Sunderland Empire I do get some discounts. This is nice and means you can buy last minute tickets for some shows, obviously depending on how popular they are.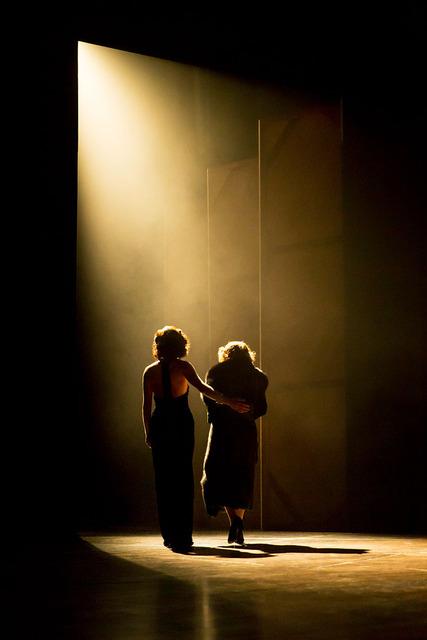 The show I mentioned in my 2014 at the Theatre you know just the small one starring Imelda Staunton . . . Gypsy I went to see twice in London! Let's say goodbye to 2015 . . .
January unfortunately I never actually went to the theater this month, so it wasn't a very good start to the year in Theatre terms. I honestly cannot remember what was even touring, I'm guessing nothing that I fancied going to see though. I guess that 20 shows is even more impressive considering it was then done in 11 months instead of 12 months!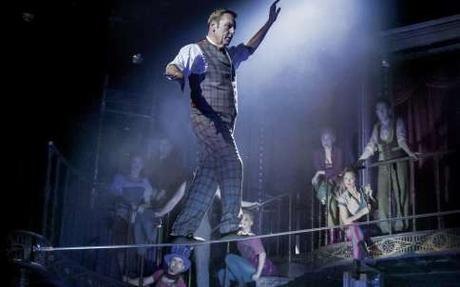 February saw me log my first show of the year and that was at the Theatre Royal in Newcastle where I went to see the UK Tour of Barnum the Musical. Which in all honesty wasn't the best show I have ever seen, it was quite poor which was a shame. Considering I wanted to see it after watching parts of a documentary series about the West End and this was a show they were trying to get going again. Brian Conely was as entertaining as ever though. Read the full review here.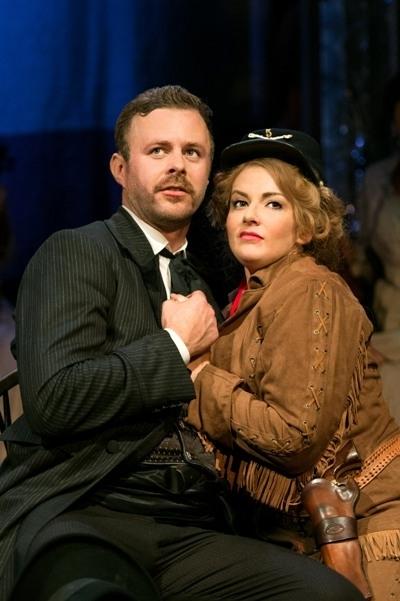 March was again a one show month and this time it was a trip to the Sunderland Empire to catch the UK Tour of Calamity Jane starring Jodie Prenger a performer I had always wanted to see on stage after being impressed with her to win the I'd Do Anything show in the search for Nancy. She did not disappoint and has a brilliant voice. I was impressed with the show as well, as had never actually seen Calamity Jane before so thoroughly enjoyed that experience, even if the first act of the show was spoilt by an audience member singing along and shouting out obviously getting confused that it was pants season or something. But the management sorted this out for the second act and everyone enjoyed it a lot more. You can read the full review here.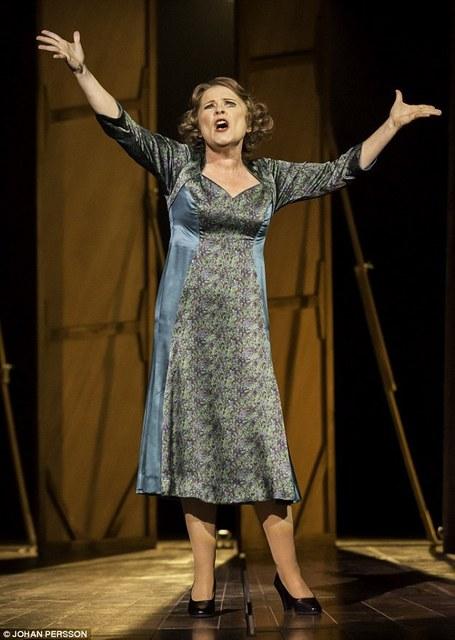 April is when everything picked up and I managed four shows in this month or should that be two shows, one of them three times. Oh yes you have guessed it this was when Wicked was in Sunderland for what felt like forever haha. But I managed to see it three times and even had a cast change in one of the shows which was very good. Instead of writing separate reviews I combined them all along with photos of how they had greenified the theater along with my views from the different seats. Full review here. This month also saw my first trip to London somewhere in-between all the defying gravity I went and got entertained by Momma Rose and her daughters in Gypsy which is the best thing I have ever seen on stage. I have always wanted to see Gypsy performed as fell in love with the film version years ago and considering it hadn't been on the West End stage for 40 years, starring a favorite of mine Angela Lansbury remember I made a visit to London last year to see her in Blithe Spirit. This time taking on the Momma role was none other than Imelda Staunton, she was unreal and the best performance I have ever seen by anyone on stage ever. The best thing is that wasn't the reason I was going to see it, but she really surprised and blew me away. You can read the fill review here.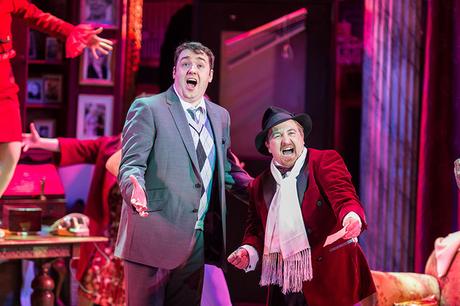 May was a month for two shows, one I had never seen The Producers, which is certainly a funny night at the theater. Honestly if you think the film version is amusing you should certainly go and see the stage show as it really is something else in terms of comedy. It also had Jason Manford in one of the leading roles, and in all honesty he was much better than I ever expected when it came to the singing nice to be surprised at times. Read the full review here. The second show was a one I had seen before Spamalot starring Pasquale and his son believe it or not. While I still love the jokes and with it being pretty much the Monty Python musical I wasn't really impressed with Pasquale's ad-libbing. The songs are still as witty as ever though, in all honesty I had bought these tickets before the casting was announced! I might have changed my mind had I known before hand, read the full review here.

June was another two show month and two brand new shows for me. The first was Dirty Rotten Scoundrels which all honesty I didn't know very much about in terms of story, but had seen the rave reviews it was getting during it's West End run at the Savoy. So when it was touring I thought this was the perfect opportunity to go and see what all of the hype was about. It certainly didn't disappoint and was hilarious from start to finish with some lovely songs and moments in it. Read the full review here. The second show was a more well known one in terms of songs and that was Oklahoma, which was also on a UK Tour. Another exciting casting moment for this was finding out that Belinda Lang was in it, who is that I here you ask well Bill aka the Mam from 2 Point 4 Children that great 90s show! Anyway the show was ok, nothing mind blowing but did what you expected. Read the full review here.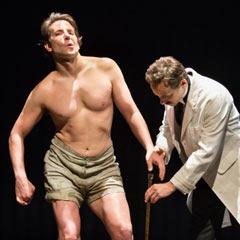 July I went to see two musicals and a play. The first was Top Hat on it's UK Tour, which was fantastic I love tap dancing and all that! But I didn't get to see the main actor it was the understudy which took the edge of it a little bit, I mean he was still good but with the reviews the other actor had been receiving I was really looking forward to that. Although I shouldn't really complain when I bought the ticket at the very last minute and was sat in the front row. Read the full review here. A Day later I traveled to London as was going to see AC/DC at Wembley Stadium so obviously decided that a show on the Friday night would have to happen. Guess who was going to be in a play at that time? None other than Bradley Cooper in The Elephant Man along with Patricia Clarkson which transferred directly from Broadway, something which seems to be happening even more now, used to just be the other way round. Anyway it was an expensive experience, but a very good and interesting production. Read the full review here. I also tried to take a selfie with Bradley Cooper at the stage door which was an absolute failure, you can see the result of that here! I still haven't quite got over that 5 months later. I then went to see a brand new Elvis musical called Love Me Tender which features all of his songs, some of which you may not actually be that familiar with, but I tell you what it was probably one of my favorite theater experiences of the year. It was refreshing and put very good use to the incredible Elvis songs with a story very similar to Footloose, it was funny and heart tugging as well, what more do you want from a musical? Read the full review here.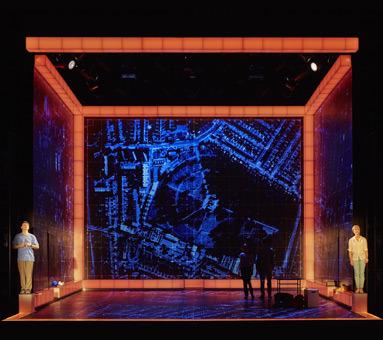 August was time for another play this time the very highly acclaimed The Curious Incident of the Dog in the Night-Time, another great thing about the tickets for this one was that I bought them on Boxing day in an incredible ATG Ticket sale. Still running in the West End as well as being on a UK Tour, that is when you know it is going to be good. It sure was just that, it was thought provoking and also made you feel a little bit sad at times, but it really did help to highlight how an autistic person thinks and sees the world. I think it is eye opening and gives the audience a brilliant understanding of how someone can be very different, but not appear to be. Read the full review here.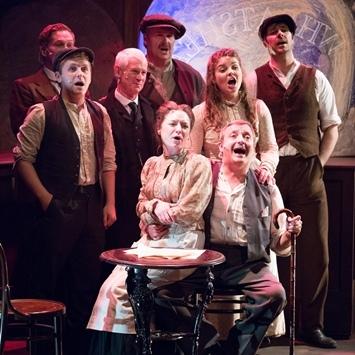 September contains a very special and unique show, a new musical Geordie the Musical and no not about the band but about the accent and the people on the Tyne. It was a truly fantastic show that I really hope does appear again. I went to see this at my local theater in South Shields, The Customs House. It had a lot of classic Geordie Folk Songs and really was such an entertaining show. Read the full review here. The other musical I went to see this month was eventually managing to get tickets for the Jersey Boys which was on another tour, last year we didn't manage to get tickets in time and it was sold out. We made sure to get tickets this time and it was a very strange theater experience in all honesty. The older women in the crowd were going crazy dancing and signing along to this one, I had seen the film and was actually quite surprised that it was pretty much word for word of the stage show, especially considering how well received the stage show is and that the film did not go the same way, its exactly the same thing? But it was an enjoyable experience, read the full review here.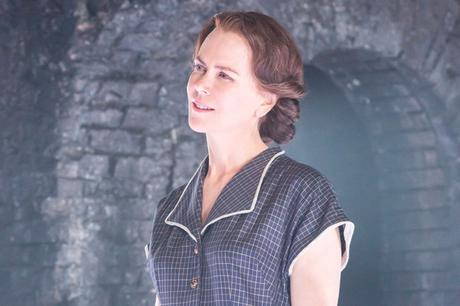 October had another trip to London and believe it or not it was totally to see Gypsy again before it closes in the following month. Good news had come just before this that it had been recorded for a few performances to be shown live on the BBC over Christmas, so everyone will be able to see Imelda in all of her glory. The show had undergone a cast change the day before with a new Louise/Gypsy Rose Lee, which was nice I guess so it wasn't all the same. I managed to get front row tickets as well which was an even more special experience. Read the full review here. We also went to meet Imelda Staunton at the Stage Door after the show and she as just lovely, doesn't take photos with fans though but loves talking to people. Considering this was an over night stay that meant I could go and see a Matinee on the Wednesday, I opted to take the chance to see Nicole Kidman on stage in Photograph 51, I will admit that I was a little naive in terms of not finding out the subject matter of the play before buying the ticket, but yes I fell for a Hollywood star on stage. Luckily though while the subject matter of the play was very heavy Kidman really did show that she is a fantastic actress, she owned the stage from start to finish. Read the full review here. I went to the stage door but Kidman did not come out, which was a little disappointing! I finished off the month with the UK Tour of Handbagged, another play. Doing well two plays in one month! This one about what may or may not have happened behind closed doors with The Queen and Maggie Thatcher was a truly fantastic experience. I really do admire how it was put together and throughly enjoyed it more than I first expected it really is funny and educational at the same time (well for some parts). Read the full review here.
November turned out to be another month in which I failed to see anything at the Theatre unfortunately, maybe I should make sure in 2016 that I attend each month as well, which may just mean that I then have to pick something I may not have usually went to see?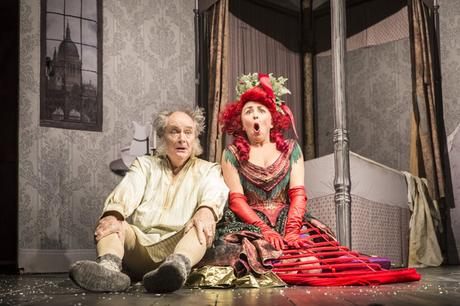 December saw me finish the year off with another trip to London, this time keeping in the festive spirit and going to see A Christmas Carol starring Jim Broadbent as Scrooge. A production which I found very strange in all honesty and did not really enjoy well any of it. Which was a massive shame as I really had been looking forward to it a lot, thought it would be perfect not long before Christmas but left me thinking that I should have just re-watched A Muppet Christmas Carol or Scrooged again instead. Read the full review here. It was also very unsuccessful trying to get a photo with Jim Broadbent at the stage door as well. I am not the biggest Pantomime fan that is why you don't see any reviews, can kinda take them or leave them preferring the latter!
So