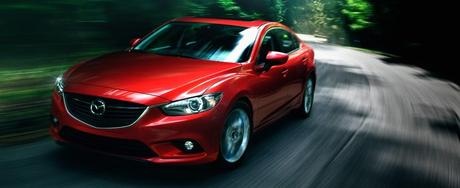 2014 Mazda6 midsize sedan. (Credit: Mazda Motor Corporation)
According to Mazda North American Operations (MNAO), its 2014 Mazda6 midsize sedan will feature the regenerative engine braking system known as i-ELOOP. When coupled with SKYACTIV technology, the Mazda6 will achieve best-in-class fuel economy amongst competing gasoline-powered vehicles with an EPA-rated 28 city/40 highway/32 combined mpg. When not i-ELOOP-equipped, the 2014 Mazda6 still achieves highway fuel economy at 38 mpg.
With its name derived from "Intelligent Energy Loop," i-ELOOP is a capacitor-based regenerative engine braking system that converts a vehicle's kinetic energy into electricity as the car decelerates.  The electricity captured is then stored for later use to power all the vehicle's electrical components, such as headlights, climate control and audio systems.  This reduces the need for the engine to burn extra fuel in order to generate electricity and, therefore, improves fuel economy without sacrificing driving performance.  In order to efficiently recapture the kinetic energy and convert it into electricity, i-ELOOP utilizes a 12- to 25-volt variable voltage alternator, a DC/DC converter and a low-resistance, high-capacity electric double layer capacitor (EDLC).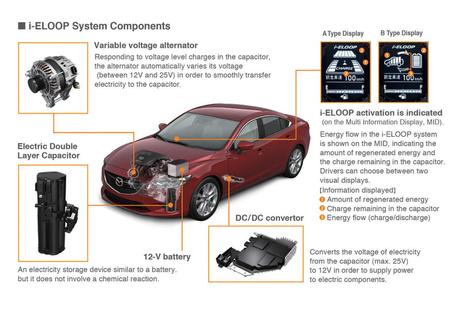 i-ELOOP, Mazda's capacitor-based regenerative engine braking system. (PRNewsFoto/Mazda North American Operations) Click to enlarge.
Conventional alternators are constantly charging the battery in an effort to keep up with a vehicle's electrical loads, which means using engine power to operate the alternator, which, in turn, consumes fuel.  With the i-ELOOP system in operation, the alternator is free-wheeling, creating almost no parasitic drag on the engine, which reduces the amount of fuel used.  Upon vehicle deceleration, the engine and alternator continue to spin as the vehicle slows down, working off of the vehicle's inertia.  To take advantage of this free energy, i-ELOOP's special variable-voltage alternator kicks in and generates short bursts of electricity that is stored within the capacitor.  The capacitor then meters power out into a smooth, continuous flow to satisfy energy loads.
While the increased engine braking caused by the hard-charging alternator is too small for drivers to feel, the smooth power delivery coming from the capacitor means the electrical systems do not operate differently with i-ELOOP. Exact fuel savings will vary based on electrical load and individual driving habits.
On sale now, the 2014 Mazda6 starts at $20,990 manufacturer's suggested retail price (MSRP) and is available in three trim levels—Sport, Touring and Grand Touring. Featuring a 2.5-liter gasoline engine as standard equipment, Mazda6 vehicles offer 184 horsepower at 5,700 rpm and 185 lb-ft of torque at 3,250 rpm. Sport ($22,695 MSRP) and Touring ($23,645 MSRP) models are available with six-speed manual or automatic transmission. Fuel efficiency when paired with the manual transmission for non-i-ELOOP cars is rated by the EPA at 25 city/37 highway/29 combined mpg and increases to 26 city/38 highway/30 combined mpg with the automatic.