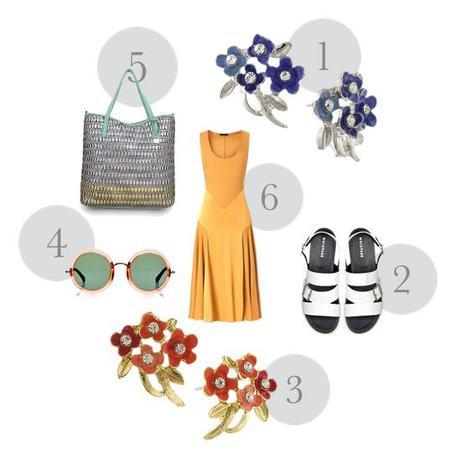 Create your own trend board for a dose of style inspiration!
1. & 3. Happy florals. Just as those scrumptious chocolate chip cookies aren't complete without milk, flowers are a staple for spring. For feminine charm, add bright blooms to your wardrobe via these adorable blue bouquet earrings or orange bouquet earrings for an instant style upgrade.
2. Get strappy. Springtime means a lot more time with the sun and breathing room for your feet. Have a favorite pair ready to wear for when you're going to the farmer's market or having Sunday brunch with friends.
4. Sun shades. If your sunglasses have scuff marks and scratches, or had them for too long, you might be overdue for a new pair that upgrades your style.
5. Schlepper tote.  An all-day tote is the most useful bag a girl can have. Choose one that is both fun and work appropriate so it can also function as a beach tote come summer.
6. Color me bright. Garish colors are a must for spring, even if it might be that one yellow dress you have. It's an instant mood booster and a way to challenge your fashion A-game if you're one to always stick to neutrals.