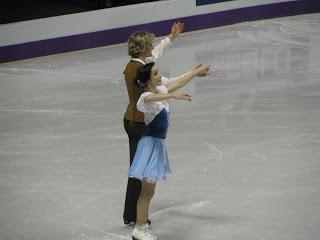 What a wonderful night at the arena!! But first let's backtrack to the Ladies' Short Program - I only saw the final two groups (I opted for lunch at The Works, which was fabulous! I tried poutine for the first time - pretty tasty!) I was very, very disappointed that Ashley left her triple-triple on the practice and warm-up ice. It's time to step it up and do it when it counts! There wasn't much to be excited about among the ladies I saw. Kanako Murakami was probably the highlight for me. 
On to the Short Dance - Team USA was amazing! I've loved Chock/Bates' short dance all year, and they put out another outstanding and engaging performance tonight. The Shibutanis looked much more confident and had their best SD performance of the year. And then there was Davis/White, who had an absolute blast and made everything look so easy. Their Giselle SD should be the model for all short dances. 
I thought the scoring was very interesting. After the top two teams, the rest of the top ten are extremely close. There could be lots of shifting after the free dance. I thought Weaver/Poje looked amazing after being out with Kaitlyn's injury (she's a rock star for being back on the ice so quickly), and Cappellini/Lanotte were one of my favorites, too. I didn't see much difference between Bobrova/Soloviev and Pechalat/Bourzat, so I think the scoring was fair there. So glad the hot mess that is Ilinykh/Katsalapov were buried in the standings.
Here are my photos from dance and pairs practice, the ladies SP, and the short dance! I also had one video from dance practice of Meryl Davis doing her gorgeous spiral and a video from the short dance with a little Gangnam Style flavor.