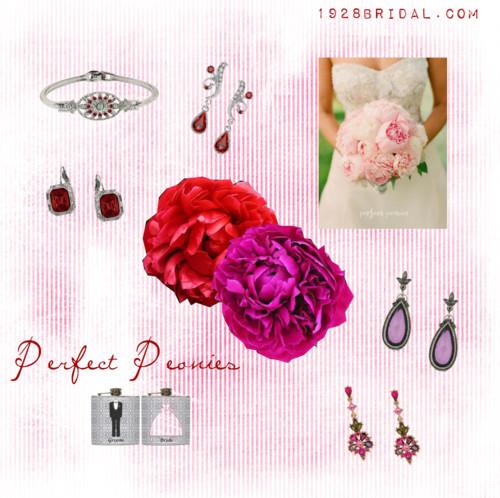 While small buds of freshly picked wildflowers were the popular floral choice for the past few years, this year brides are still looking for that English garden feel, but are opting for more opulent options!
Soft, lush and romantic, the peony is the most requested flower from our 2013 brides and it is easy to see why! This blooming bud lends itself perfectly to vintage inspired weddings as well as adding a touch of luxury to more modern style weddings and grows in a variety of vivid colors, like red, purple, hot pink, and coral!
Brides are also using this fancy flower as inspiration when choosing wedding jewelry for their gown! More brides are opting for bold colored gem earrings and necklaces that match their flowers, as a way to add a pop of color and creativity to their look!
Imagine how beautiful a glittering pair of rich red button earrings would look against a bright white dress or a light pink gemstone statement necklace would shine against a soft gold dress! Pure Perfection!
1928 Bridal offers a gorgeous array of colorful options to match any floral creation! Shown above are a few of my favorites. For a ravishing red, try these Bridal Siam Red Swivel Drop Earrings for an elegant pop of color! Looking for a little more fun?! These Rose Gold Garden Party Dangle Earrings will add a flirty edge to match your vivid purple peonies!
So have some fun and add some color to your big day!