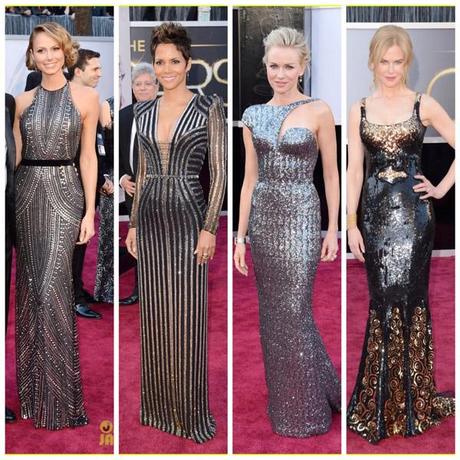 Last night's Oscars did not disappoint. But if you didn't tune in, this is what you missed in the way of entertainment: Channing Tatum ballroom dancing with Charlize Theron, a number of extremely inappropriate jokes courtesy of Seth MacFarlane,  and J. Lawrence hitting the ground in Dior (literally) as she accepted her Oscar for Best Leading Actress.
And here is the recap of Red Carpet Trends: structured sequins and back baubles.  The photo above doesn't even begin to tackle the list of stars who wore a sequined gown—most of which had a very 1920s/flapper/art deco feel (you can add Sandra Bullock and Jessica Chastain to the list of favs).
Last night's leading ladies (Jennifer Lawrence– best leading actress & Anne Hathaway—best supporting actress) appeared to have called each other before the big show: each wearing pale pink and showcasing the continuing trend of back baubles (but don't get me started on the front of Anne's dress, woof).
In other news, Kristen Stewart and Selma Hayek are currently battling for top place on my 2013 worst dressed list. Seriously, Selma, that hair.