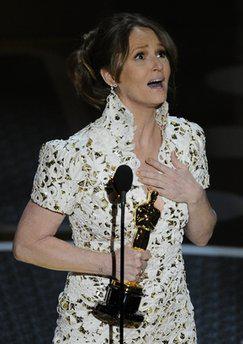 If I were to describe this year's Oscar telecast in 3 words or less I would say underwhelming and disappointing. There were no major upsets in a year when mass upsets were predicted. The show lacked a punch and the presenters drew little laughter from the audience. Co-hosts James Franco and Anne Hathaway were duds as emcees. There were a few nice moments but overall I felt let down. Here's a bullet pointed rundown:
Well the show opened up with one of those Billy Crystal-like openings, with hosts James Franco and Anne Hathaway inserting themselves into scenes from this year's best picture nominees. The segment was not particularly funny or inspired and they missed an opportunity by opting not to use Franco's own 127 Hours as one of the mocked films. Alec Baldwin appeared in this segment and his presence left me wanting him to fill the hosting shoes. This lead into a monologue which was lame and unfunny and seemed like it was written by the cohosts. James Franco came off as a stiff and was completely aloof (high) while Anne Hathaway had a good presence but just wasn't funny, which is what people hope for in these shows. I was thinking that the duo would have been better off using the lines that Ricky Gervais wrote for them jokingly on his blog, which Franco responded too by saying Gervais bombed at the Golden Globes. Gervais's performance was immeasurably better than here and this show would have been better off with Gervais as host. This opening should serve as a lesson to the Academy to have proven comedians host these shows and stop trying to appeal to a younger demographic
I liked how they paid tribute to Gone With The Wind, but the tributes to films stopped here and from hereon they decided to salute aspects of film
The highlight of the night came early on when 94 year old Kirk Douglas, virile as ever, presented the Best Supporting Actress trophy. After he garnered some sincere laughter, he presented the award to Melissa Leo who followed his lead, dropped the f-bomb which became much talked about throughout the night, and finished up a nice speech by addressing her ad scandal
Justin Timberlake presented some award and I noticed his stage presence and wondered why they didn't hire him to host if they were going to go young
The foreign language film again proved to be an upset, due to most not being able to see all the films, with In a Better World beating out the probable favorite Biutiful
I liked the No Country For Old Men foes Javier Bardem and Josh Brolin presenting in white suits.
It shouldn't be a surprise that Aaron Sorkin and David Seidler, winners of the two writer's awards, gave two of the best speeches. 
Odd couple and costars Helen Mirren and Russell Brand were amusing presenters with their French translation bit.
Why didn't Monique and Christoph Waltz show up to present the supporting awards?
I liked Christian Bale's humble acceptance speech
There was a nice clip about the invention of the talkie as a segue into the Original Score award, whose nominees were nicely presented by an orchestra. I was glad to see Trent Reznor win a well deserved award though he gave a low-key speech
Billy Crystal's appearance generating laughter and again left me wanting someone else to be the host
I was disappointed Banksy didn't win and was disappointed that the camera didn't try to single him out in disguise in the audience (if he showed at all)
Randy Newman gave a great speech for Best Song
Tom Hooper did a great job directing The King's Speech, but his speech was boring and I really thought it should have been David Fincher's year
Though I was rooting for Annette Bening, I was glad to see Natalie Portman win the Best Actress Award and was surprised how well she kept it together during her speech
Sandra Bullock was fabulous and funny as a presenter, personally addressing the Best Actor nominees
Colin Firth gave a fine and eloquent speech for his expected win
I really liked the speech of The King's Speech being read over The Best Picture montage before the presentation of the award by Steven Spielberg
I said I would be happy either way The Best Picture went, and The King's Speech is a wonderful film, but something keeps irking me that The Social Network should have taken home the award being a film of its time
The Bronx kids singing Somewhere Over the Rainbow alongside the night's winners was corny, unnecessary, and probably largely unwatched
OK so maybe it wasn't as bad as I first thought, when I look over it. There were many moments, wins, and speeches I enjoyed but I do think I got it write when I said underwhelming. All you can hope is that next year's show is an improvement.
Well to put it bluntly, I got my butt handed to me this year in my annual Oscar contest. I had 21 people enter and of the 21, 7 scored higher than me while 1 tied. The outright winner, with no need for a tie breaker, was Eleanor Morse with an impressive 19 out of 24 correct. Thank you to all who entered. Here is the tally of the winners:
19/24-Eleanor Morse18/24-Brimicbed18/24-Mark Davey17/24-Andrei Dumitriu17/24-Justin Boldt16/24-Nathan Godwin16/24-Neil Lapinsky15/24-Me15/24-Tulia Deea14/24-John14/24-PAL14/24-Tommy Kaiser14/24-Zach Smith13/24-Austin Tam13/24-Feowyn MacKinnon11/24-Robin Altman10/24-Christina Kaiser10/24-Maureen Kaiser10/24-Melissa Gardner9/24-Adam Kohler8/24-Dae'quan