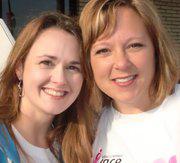 The 2011 Mom Makeover Winner is Nikki Cihi of Peoria!(on the left)
Nikki will be enjoying:
1. Enjoy at Half Day of Beauty, 3 ½ hours worth of pampering, at Skin Dimensions Day Spa. This package ($170 value) includes:
* Custom Facial
* 30 Minute Massage
* Spa Manicure & Pedicure
* Makeup Application
2. Hair Cut, Color and Style by Melinda Stoneking: Melinda styles hair at her salon Silver Couture at 4609 North Prospect, Peoria Heights 61616.
3. The winning mom will get a personal shopper to help her find a new outfit! Belle Mie was created to bring the ladies of Peoria fashionable clothing by designers that Peoria has never seen! With impeccable customer service and personal shopper assistance available, Belle Mie customers are happy to shop and feel good about getting dressed! Fashion for the clothes minded is what Belle Mie is all about!!
4. OSF Saint Francis Women's Services is proud to help women take good care of themselves. They are giving out a 3-month RiverPlex membership to the lucky winner! OSF Saint Francis Medical Center is proud to be part of RiverPlex. a state of the art Wellness and Recreation center located on the beautiful riverfront in downtown Peoria. In collaboration with the Peoria Park District(PPD)this facility offers the community unsurpassed opportunity to improve health and well being in medically based fitness center.
Nikki was nominated by her friend, Ann, wrote:
My name is Ann, and I would like to nominate my closest friend, Nikki for the makeover contest. Nikki is a caring, selfless, and supportive mom and daughter. She is currently is not only the mother of two kids, but she is also the primary care giver for her dad who has had a stroke and is no longer able to completely care for himself. Nikki is one of those people that I can rely on any time, any day and if it is within her power, she is always there to support me in any way. The last few years have been hard on her, not only did her dad suffer the stroke, but her son was a St. Jude patient (who is now in remission).
Thank you to our sponsors and this year's judges!