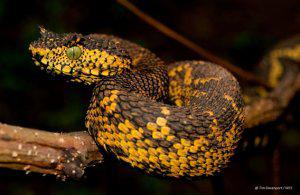 Matilda's horned viper. Photo by: Tim Davenport.
Despite some conservationists warning about the possible problems of unearthing new species to poachers in the media, their existence should celebrated by conservationists and animal lovers alike! Here is just a selection of some of the good news we have had from researchers this year:
Frogs the size of Tic Tacs belonging to the genus Paedophryne were discovered in Papa New Guinea
Three different species of pit vipers – two in Southeast Asia and the beautiful Matilda's horned viper in Tanzania
A new species of bottlenose dolphin in Southeast Australia
The Italian sparrow was finally confirmed as a distinct species
A new species of titi monkey in Brazil
In Vietnam, researchers were shocked by the new peculiar species, the ferret – badger
Over 300 species of flora and fauna were described by the California Academy of Sciences and other scientific institutions in the Philippines
A colourful new species of mushroom in Borneo named after SpongeBob SquarePants
This is just a selection of the new species that researchers have discovered this year. With camera traps and DNA analysis becoming common practice whilst identifying new species, hopefully similar discoveries will continue throughout 2012!
Haley Dolton