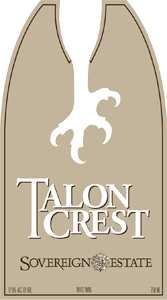 My wife and I purchased this wine from Sovereign Estate Winery during our recent visit. It is 100% Seyval Blanc, which is a variety that we had never previously tasted. Although the winery is located in Minnesota, the grapes were purchased from another state due to a limited supply of local grapes. The bottle does not indicate where the grapes are from. Also, although I'm calling this a 2010 vintage wine, the bottle does not list a vintage. Perhaps some grapes from another vintage were used in this wine, as well.
The winemaker, Thijs Vershuuren, is originally from France, and came to the US after working in many vineyards and wineries in France. Consequently, there is a definite French influence in his wines. They aren't the typical "new world" wines.
This wine has a very fragrant nose, with peach and floral aromas. (I'm not that familiar with the various floral scents, but I'd describe this as honeysuckle.)
On the palate, I taste peach, some grapefruit, and some honey. There are some light floral notes on the finish.
I'd call this an off-dry wine, as there seems to be a bit of sweetness to it. Alcohol content (12.9%) also suggests that there may be a bit of residual sugar. The acidity balances the sweetness perfectly.
My wife says this is her one of her favorite white wines. I would agree, especially for dry (or off-dry) white wines. This wine gets an "Excellent" rating.
I'm very impressed with this wine from their first bottling. I'm excited to see what this winemaker, Thijs Verschuuren, does in the future.
This wine sells for $18.99, and it is only available at the winery. If you're in or near the Twin Cities metro area in Minnesota, I'd recommend stopping by the Sovereign Estate Winery and trying out their wines.
Wine Details
Producer: Sovereign Estate Vineyard & Winery
Vintage: 2010 (none listed on bottle)
Appelation: USA, produced and bottled in Minnesota
Alcohol: 12.9% ABV
My Rating: Excellent