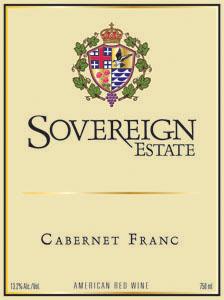 This is another wine from Sovereign Estate Winery. I had previously reviewed a white wine, the Talon Crest.
This wine is a red wine made from Cabernet Franc grapes. Cabernet Franc is one of the parents of the well-known Cabernet Sauvignon, and has some similar characteristics.
Like the Talon Crest, the winery could not list the vintage on the label due to federal regulations, but it is from the 2010 vintage. The grapes come from Washington state.
I get plums, dark cherries, and cocoa on the nose.
There's similar flavors on the palate, with dark fruits, black pepper, and cocoa. The tannins are smooth, and the wine is well balanced. This is a very enjoyable wine.
I'm amazed at how well everything goes together. I actually find it difficult to pick out individual flavors to describe the wine because they all blend together so well. This is a good, complex, flavorful wine.
This isn't as fruity as I typically like, but that's just a personal preference. The winemaker learned winemaking in France, and this is, by his description, a French style wine. I haven't had many French wines, and most of what I have had could probably be described as "New World" style wines. This is different. It is more like the "Old World" French wines than you'd expect from a Minnesota winery.
This wine is really good. However, it really needs to be decanted. The winemaker suggested decanting the wine for two hours, and I think that might be a good choice. Unfortunately, I don't have a decanter. (Yes, I know. I really should get one.) I did use the bottle-top aerator, as I typically do on red wines, but I think this maybe needs more time to open up. I could tell it was opening up while it sat in the glass. I'll definitely have to get a decanter for next time.
I'm giving this wine an "Excellent" rating. However, this is probably not the best choice if you want one you can "pop and pour." This really needs time to open up. Also, this wine would do well with additional aging. The winemaker said that this wine would do well being aged for 5-10 years.
This isn't what I would typically expect from a Minnesota winery. This is absolutely amazing, especially for a new winery. If you're in Minnesota, visiting Sovereign Estate Wines to taste their wines is definitely worth the trip. I think you'll be impressed.
Wine Details
Producer: Sovereign Estate Vineyard & Winery
Vintage: 2010 (none listed on bottle)
Variety: Cabernet Franc
Appelation: USA, grapes from Washington, produced and bottled in Minnesota
Alcohol: 13.2% ABV
My Rating: Excellent