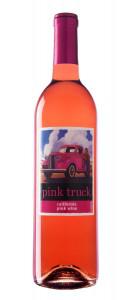 The Pink Truck is part of the Red Truck line of wines, and is their only rosé ("pink") wine.
The winemaker describes this as an "off-dry" wine. The residual sugar is not listed on the tech sheet, but the alcohol level is only 10.5%. This generally indicates a fairly sweet wine.
The blend is 65% Zinfandel, 21% Syrah, 7% Symphony, and 7% Grenache. It's starting to sound like White Zinfandel, but they have other grapes, so hopefully they improved on the basic White Zin.
I'm getting strawberries and red cherries on the nose, with similar fruits on the palate. There is a definite sweetness from the sugar. There's enough acidity to balance the sweetness, though. There's good balance here. I'm guessing the other grapes used help with the overall balance.
There's not much complexity here, but definitely better than the White Zinfandel I've had in the past.
I'll give this a "good" rating. If you're looking for a light, sweet blush wine, this would be a good choice.
Wine Details
Producer: Red Truck Wines
Vintage: 2009
Appellation: California
Varieties: 65% Zinfandel, 21% Syrah, 7% Symphony, and 7% Grenache
Alcohol: 10.5% ABV
Acidity: 0.65 g / 100 ml
pH: 3.21
Suggested Retail Price: $8.99
My Rating: Good