This is not my first Castle Rock Pinot Noir. I previously had the 2009 Castle Rock Pinot Noir California Cuvée, which I liked very much. When I found this wine on a good sale, it was a fairly easy decision to purchase it.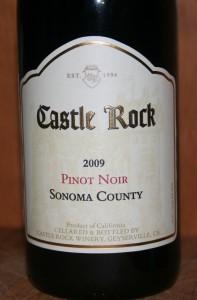 Castle Rock Winery
 produces several Pinot Noir wines from different regions of California. This wine was made from grapes grown in Sonoma County, which is located along the northern coast of California. According to Castle Rock's winemaking notes, the grapes were harvested in September 2009, with a Brix level of 24.0. It was aged in 100% French Oak for 5 months, and bottled in February 2010.
I haven't had a Pinot Noir in a while, so I'm excited to taste this. I have two Riedel Pinot Noir tumblers (no stems), so I got those out for this evening.
The wine in the glass is a very deep, dark red. Beautiful.
Dark fruits on the nose, along with a bit of smokiness. There's a bit of vanilla, too. Smells good.
Plums and dark cherries hit the palate first. There's some mocha, too. This is really good. Nice, smooth finish. Very soft tannins. I really should get Pinot Noir more often.
I'm having this with a hamburger with colby-jack cheese and cooked onions, along with some fresh red bell pepper (from our garden!). The food brings out more of the fruit in the wine, and I'm noticing some berries (strawberries in particular).
As the wine opens up more, I'm noticing more smokiness on the finish. Very good.
I'll give this wine a "Very Good" rating. Definitely worth buying. I got this on a "Nickel Sale" at Dolce Vita Wine Shop, so it only cost me $15 for 2 bottles. A bargain at that price!