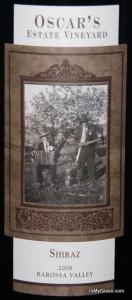 I went into the wine store knowing that I wanted an Australian Shiraz, but it still took a while for me to pick one out. Australia produces a lot of Shiraz, so there's a lot of choices on the shelf. I decided on a price range, and then I had about 4 or 5 wines that looked interesting. I'm not sure why I ended up picking this one. Maybe I just liked the label. (It's a nice label, isn't it?)
This Shiraz is called the Oscar's Estate Vineyard Shiraz. It is produced by B & B Wines. I have been unable to find a website for this winery, but there is some useful information on the back label. The wine is named for the father of the vigneron, Darren Zimmermann. His father, Oscar, is featured in the photograph on the label along with Oscar's brother. The vineyard where these grapes were grown and where the photo was taken is located on Roennfeldt Road in Marananga. This is located in the Barossa Valley in South Australia.
The nose is very fruity, but there's also a noticeable smell of alcohol. This wine might be a bit hot. The fruit is somewhat jammy with some dried fruit notes.
I get dark cherries, plums, and jam on the palate. It's a more concentrated fruit flavor, like dried fruit. It's a juicy wine. There's a hint of vanilla, too, and it finishes with some cocoa. It has a fairly good balance except for the alcohol. (The label lists the alcohol at 15.2%.) The alcohol flavor seems to mellow a bit as the wine sits (although it could be that I'm mellowing as I drink it).
I'm going to give this wine a "Very Good" rating. If the alcohol was toned down a bit, it might have gotten a higher rating.
I bought this wine for $13.99. If you don't mind the heat from the high alcohol, it is probably worth the price.