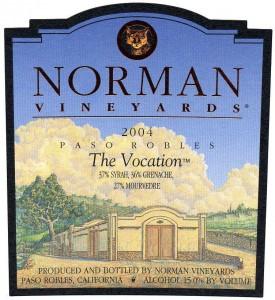 This wine, from Norman Vineyards, is a Grenache-Syrah-Mourvèdre (GSM) blend from Paso Robles, California. GSM wines are also popular in Australia as well as Southern Rhone appellations. This is, however, a blend that I have not had much experience with, so I'm not entirely sure what to expect.
The label lists the blend as 37% Syrah, 36% Grenache, and 27% Mourvèdre. This wine spent 16 months in oak barrels, consisting of 50% new French oak. The wine was bottled in June 2006, so it has had over 5 years to age in the bottle.
When I open the bottle, I notice some crystals on the cork. These are most likely from tartaric acid, and is not unusual for wines that have had time to age in the bottle. Alder Yarrow at Vinography has a good article about sediment (including tartaric acid crystals), and why it is a good thing.
I pour a glass. The color is a deep garnet. It almost looks black in the glass.
First impressions: This is good. Really good. Very fragrant nose. Nice fruit on the palate. There's dark fruits, like plums and black currants, but there's also some lighter berry flavors, perhaps strawberry and raspberry. It's juicy. There's some oak, too. Good oak. Smokey. But not overbearing. It's delicious. I'm also picking up a bit of spice. Very smooth tannins, and a lingering finish.
The acidity is just a bit high for my preference, and it can get to be a bit much if you aren't drinking this with food. It went great with a savory tomato pasta sauce.
This wine geta my "Excellent" rating. It is on sale at Haskell's right now at $12.49 a bottle. Suggested Retail Price is $32.